Markelle Fultz, Aaron Gordon Lead Magic to Shock Win vs. LeBron James, Lakers
Markelle Fultz, Aaron Gordon Lead Magic to Shock Win vs. LeBron James, Lakers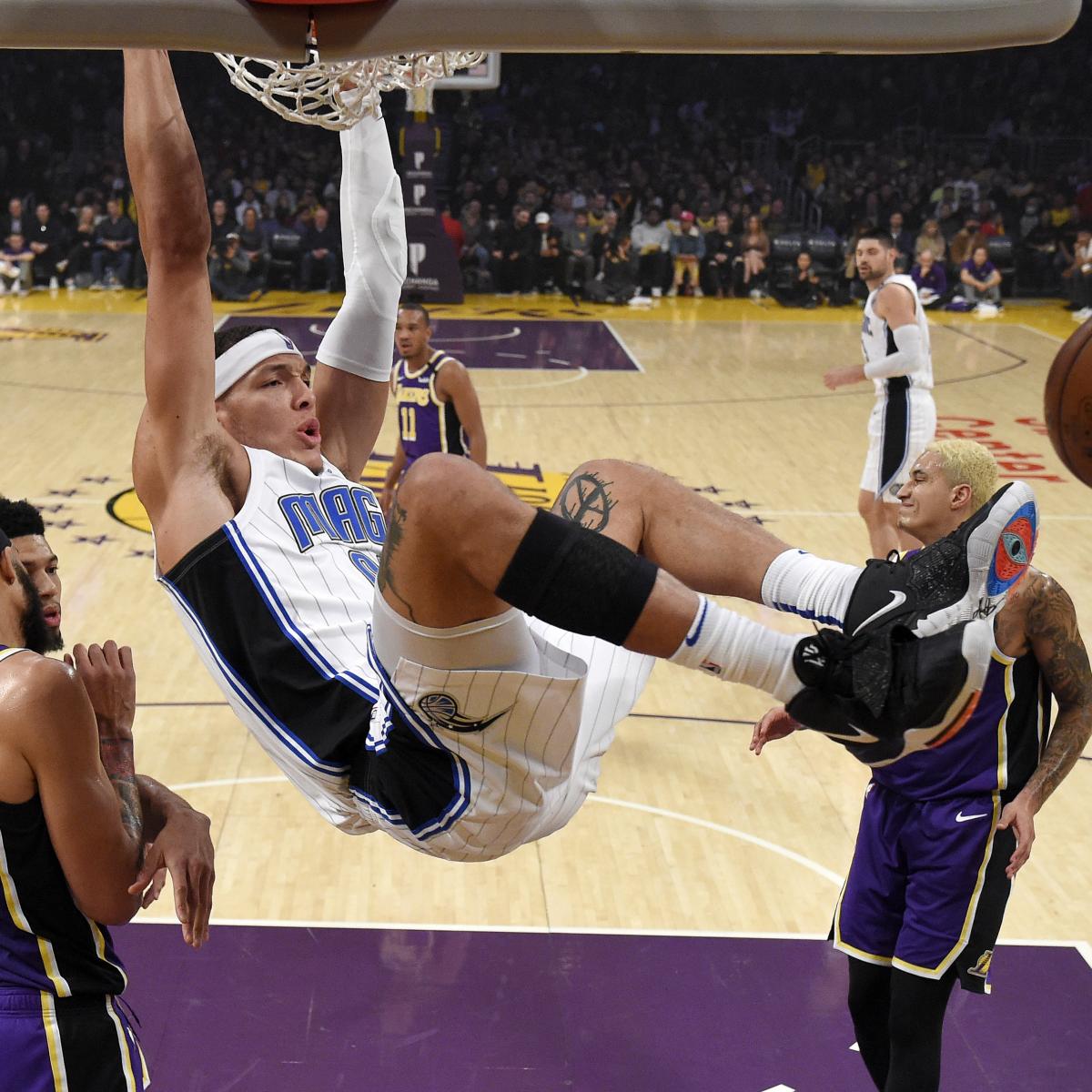 Mark J. Terrill/Associated Press
The Orlando Magic snapped the Los Angeles Lakers' nine-game winning streak by upsetting them 119-118 at the Staples Center Wednesday night. 
It should have been a lot easier victory than it ended up being. The Magic led by as many as 21 points before the Lakers erased a 20-point deficit in eight minutes to take a 94-93 lead with just over 10 minutes remaining in the final quarter. From there, it was a back-and-forth affair down the stretch. 
Markelle Fultz's two-point bucket gave the Magic some breathing room up 116-112 with 38.6 seconds left, but LeBron James sunk a three-pointer to pull the Lakers within one. Fultz again came up big to extend Orlando's lead to 118-115 at the 15.4-second mark.
Aaron Gordon's made free throw with 1.7 seconds left kept the game from going to overtime, as Quinn Cook nailed a three-pointer as time was expiring.
Ultimately, Orlando avenged their Dec. 11 meeting with the Lakers, which L.A. won 96-87. 
The 33-8 Western Conference-leading Lakers were without All-Star forward Anthony Davis, who missed his fourth game in a row with a bruised gluteus maximus suffered due to a hard fall during the team's 117-87 victory over the New York Knicks on Jan. 7. Veteran point guard Rajon Rondo (finger) was also out. 
Reserve guard Alex Caruso took an elbow to his mouth in the early going and was evaluated for a concussion, per team reporter Mike Trudell, which had inconclusive results and kept him out for the remainder of the game.
The Magic, meanwhile, improved to 20-21 without Evan Fournier (right quad), D.J. Augustin (knee), Michael Carter-Williams (shoulder) and Jonathan Isaac, who suffered a knee injury on Jan. 1.
Notable Performances
ORL G Markelle Fultz: 21 points, 11 rebounds, 10 assists, 1 steal
ORL F Aaron Gordon: 21 points, 6 rebounds, 3 assists, 2 steals
ORL C Nikola Vucevic: 19 points, 4 rebounds, 2 assists, 1 steal
ORL F Wes Iwundu: 19 points, 4 rebounds, 2 assists, 2 steals
ORL G Terrence Ross: 15 points, 4 rebounds, 3 assists, 1 steal
LAL F LeBron James: 19 points, 3 rebounds, 19 assists, 1 steal
LAL G Quinn Cook: 22 points, 4 rebounds, 1 assist, 1 steal
LAL G Troy Daniels: 17 points, 1 rebound, 1 assist
LAL G Kentavious Caldwell-Pope: 17 points, 6 rebounds, 3 assists, 1 steal
LAL C JaVale McGee: 14 points, 9 rebounds, 3 blocks
What's Next? 
The Magic will stay in Los Angeles to play the Clippers on Thursday.
The Lakers will begin a five-game road trip in Houston on Saturday.
NBA News
via Bleacher Report – NBA https://ift.tt/2gMI6gF
January 15, 2020 at 10:02PM