Gary Paffett and Alex Lynn disagree over Berlin Formula E clash
Gary Paffett and Alex Lynn disagree over Berlin Formula E clash
Gary Paffett and Alex Lynn disagree over who was at fault for their early clash in ABB FIA Formula E's Berlin E-Prix.
Lynn had tried to pass Paffett for fourth at the very first corner of the race when the Jaguar driver dived down the inside of the long Turn 1 bend, but his HWA rival clung on through Turns 2 and 3.
But on the fourth lap, Lynn moved to the inside under braking for Turn 9 and remained on the racing line as Paffett stayed alongside and clipped the outside wall as his Jaguar rival moved past.
Lynn was given a warning by the race director for the clash as part of FE's new approach to driver conduct and Paffett lost an initial three places.
Paffett then progressively slid down the field to finish 16th, while Lynn retired when a suspected loss of coolant caused the rear-axle to seize up.
Asked why he slid down the field, Paffett told Autosport: "Difficult to know.
"It started with Alex Lynn going down the inside of Turn 9 and [he] basically opened up [turning the wheel] and put me into the wall on the exit of Turn 9 and I lost a couple of places.
"That meant after that I really struggled with car performance overall, struggled with a lot of oversteer in the car.
"I just lost a lot of pace in the car. I don't know if it was just a result of a lot of pick-up or whether he damaged the car because he really forced me into the wall.
"It was very hard work after that, we struggled for pace in the whole race after."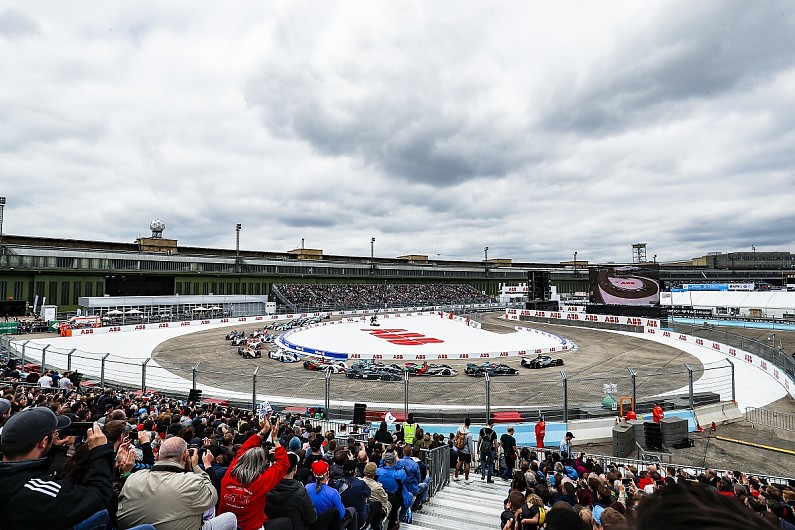 Asked if he felt there was too much contact between drivers in his race, Paffett said: "Some contact is OK [but] sometimes it's a lack of respect and people don't leave you the room.
"There has to be overtaking so sometimes you get a bit of contact side-to-side but there is a limit and some people don't seem to know where it is."
When Paffett's comments were put to Lynn, the Jaguar driver said he was not at fault for their coming together.
"From my side, I passed Gary and I don't know why he stayed on the outside," Lynn told Autosport. "I did exactly the same to Stoffel [Vandoorne] and he conceded.
"So as far as I'm concerned I just drove around the corner and Gary drove himself wide."
Lynn impressed in the early stages of the Berlin race by holding off a charging Daniel Abt and battling Vandoorne for what was then for third place.
He stopped on track with just 15 minutes left in the race.
Speaking while his Jaguar was in parc ferme conditions, Lynn said: "Right now it just really hurts with the pace we had.
"I had an alarm for two corners and the low pressure was flashing and I felt a loss of drive, but at that moment it's [thinking] 'hopefully that's going to clear and it's just a glitch'.
"But coming out of the last corner as I went to accelerate the rear axle totally locked up."
Racing News
via All news – Autosport http://bit.ly/2uOa9Ei
May 26, 2019 at 02:54AM