Lakers Trade Rumors: Rounding Up Top Buzz Entering 2019 NBA Draft Lottery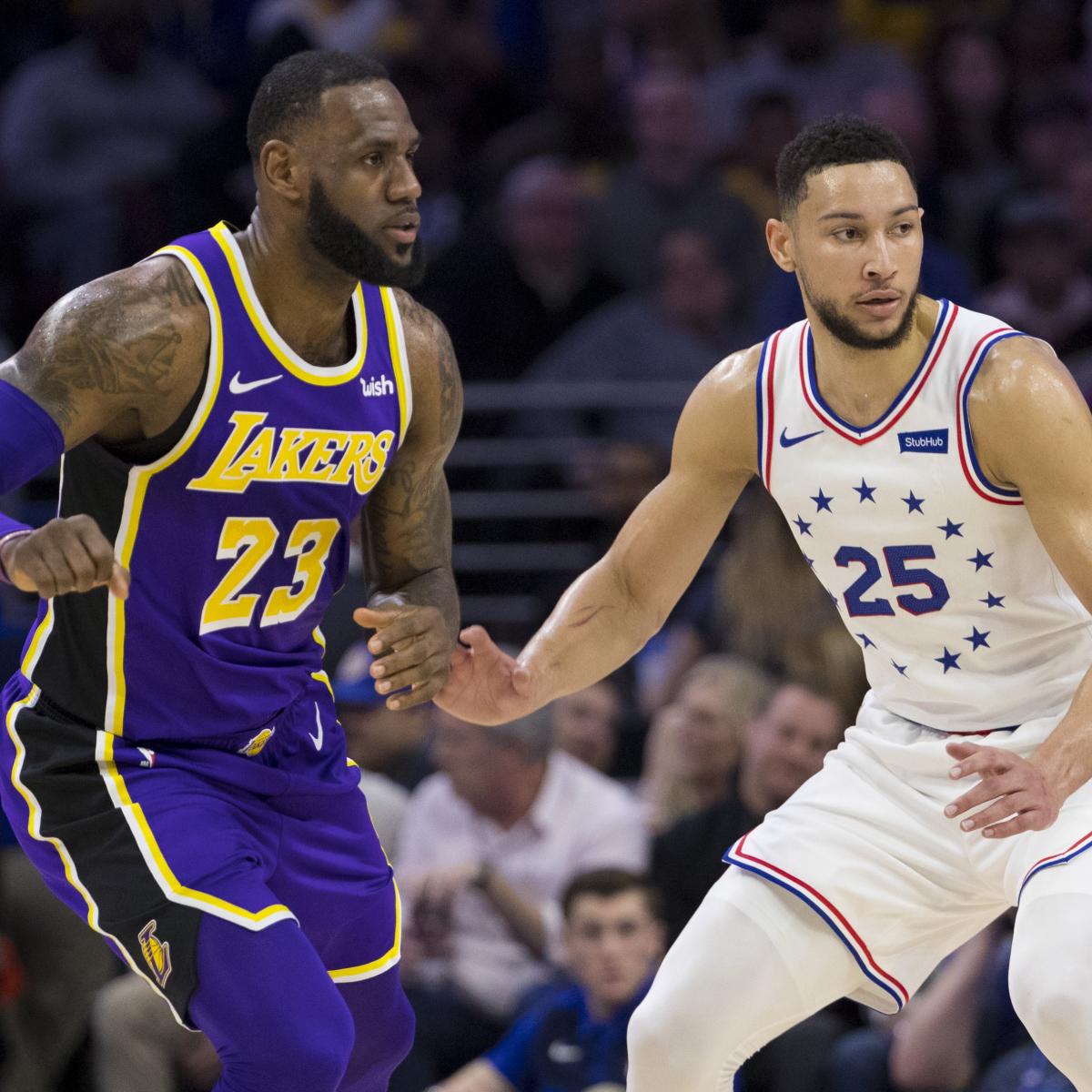 Mitchell Leff/Getty Images
After missing out on the postseason, the Los Angeles Lakers are expected to make plenty of transactions in the offseason to improve their roster. 
LeBron James needs a better core around him to contend in the Western Conference, and once new head coach Frank Vogel evaluates the team's needs, we should hear more about the players the franchise is interested. 
The first step to revamping the roster could be the 2019 NBA draft, where the Lakers are slated to pick in the lottery. 
But the buildup to the draft has produced more rumors about far-fetched exits than acquisitions that will happen in the weeks and months to come. 
According to Tom Haberstroh of NBC Sports, a league executive told him that the Philadelphia 76ers could explore a trade involving Ben Simmons and LeBron James. 

Mitchell Leff/Getty Images
The report was met with plenty of skepticism, and it is easy to say it does not make sense from the Lakers perspective to even explore this deal. 
Giving up on the James era in Los Angeles after one year would be a silly mistake made by the team's front office, especially after it installed a new coaching staff including Vogel and Jason Kidd Monday. 
From a pure salary standpoint, the deal does not make much sense either, as the Sixers are likely going to try and keep Jimmy Butler and Tobias Harris in free agency. 
If the Sixers were to trade for James, they would have to commit a large chunk of salary to the superstar, instead of keeping Simmons' rookie deal on the books. 
The rumored trade talks would not favor the Lakers either since the addition of Simmons could block the progress of the young stars on their roster, including Lonzo Ball. 
Ball has also been a topic of trade rumors in the last week, with Joe Cowley of the Chicago Sun-Times reporting the Chicago Bulls could check in with the Lakers about Ball's status if they fall anywhere between No. 3 and No. 6 in Tuesday's draft lottery. 
In April, Cowley reported the Bulls and Lakers had initial conversations about a deal for Ball, but nothing came to fruition. 

LM Otero/Associated Press
Letting go of Ball would make more sense than trading James, but it still would be a deal that would leave many questioning the team's strategy.
Ball now has an opportunity to develop under Kidd, who will be an assistant on Vogel's staff. 
Although the prospects of trading for a top-five pick are intriguing, the Lakers should only consider that type of deal if they are absolutely in love with a prospect they feel they can't live without. 
Unless an offer comes around that they can't refuse, and it would have to be a great one, the Lakers could stay put on the trade market until at least the start of free agency.
NBA News
via Bleacher Report – NBA http://bit.ly/2gMI6gF
May 14, 2019 at 01:05PM