NBA Mock Draft 2019: Latest Projections for 1st-Round Prospects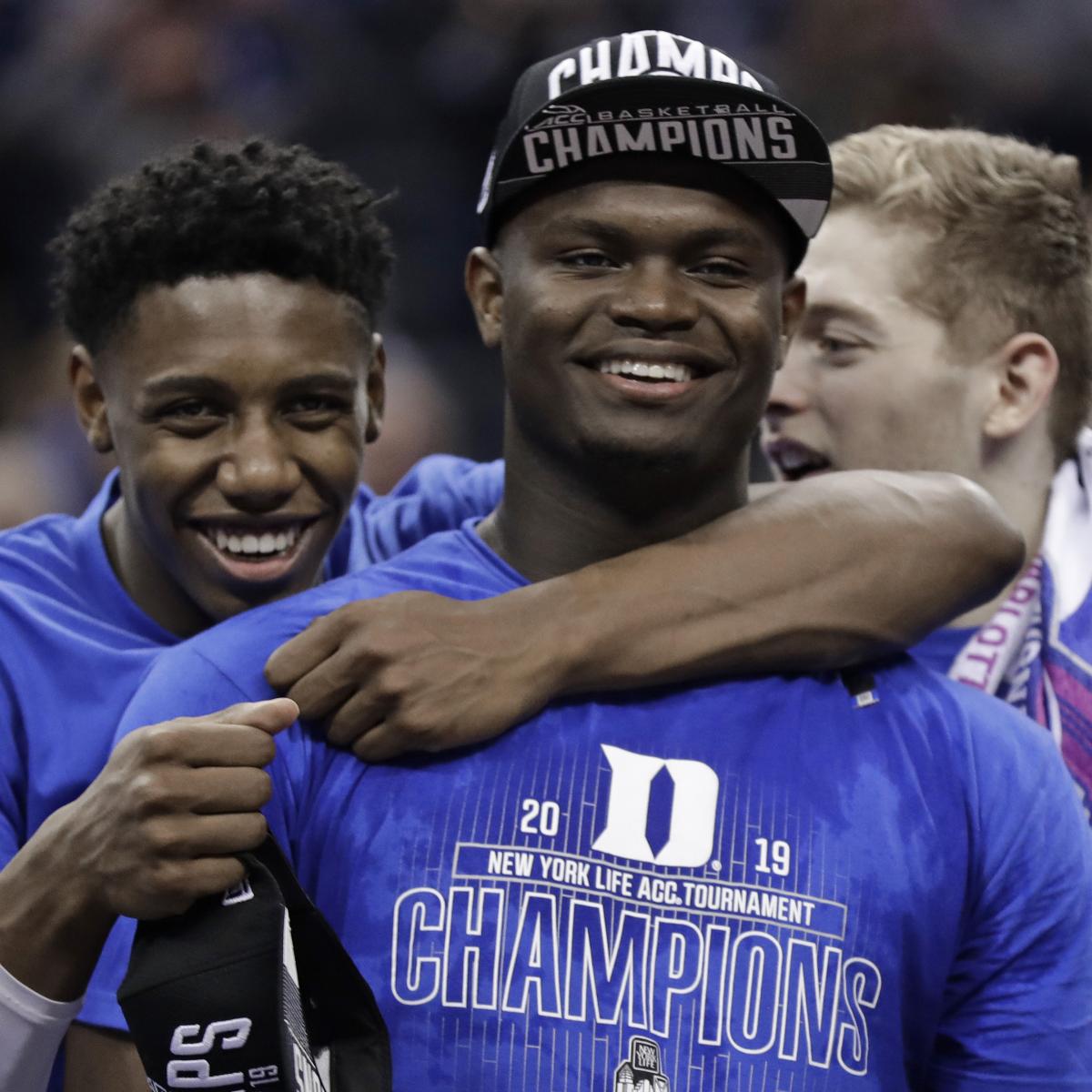 Chuck Burton/Associated Press
For the 16 teams playing in the 2019 NBA playoffs, the ultimate goal is to win a championship.
But for the other 14 teams on the outside looking in, their immediate objective is to strike gold in this draft this summer.
And this year, the top prize is none other than Zion Williamson, a generational player that could potentially change a team's fortunes.
The Duke superstar is just the tip of the iceberg, though. This draft class is stacked with talent and most of the teams in the lottery are eager for ping pong balls to fall in their favor.
Here's the latest projections on where the picks in the first round may shake out.
2019 NBA Mock Draft
1. New York Knicks: Zion Williamson, PF, Duke       
2. Phoenix Suns: Ja Morant, PG, Murray State    
3. Cleveland Cavaliers: RJ Barrett, G/F, Duke
4. Chicago Bulls: Jarrett Culver, SG, Texas Tech       
5. Atlanta Hawks: Cam Reddish, F, Duke      
6. Washington Wizards: De'Andre Hunter, F, Virginia
7. Memphis Grizzlies: Jaxson Hayes, C, Texas
8. Atlanta Hawks (from Dallas): Rui Hachimura, SF/PF, Gonzaga
9. New Orleans Pelicans: Sekou Doumbouya, PF/SF, Limoges CSP/France
10. Minnesota Timberwolves: Darius Garland, PG, Vanderbilt
11. Los Angeles Lakers: Coby White, PG/SG, North Carolina

12. Charlotte Hornets: PJ Washington, PF, Kentucky

13. Miami Heat: Brandon Clarke, PF, Gonzaga 
14. Boston Celtics (from Sacramento): Romeo Langford, SG, Indiana
15. Detroit Pistons: Bol Bol, C, Oregon 
16. Brooklyn Nets: Nassir Little, SF, North Carolina
17. Orlando Magic: Kevin Porter Jr., SG, USC 
18. Indiana Pacers: Keldon Johnson, SG/SF, Kentucky
19. Boston Celtics (from Los Angeles Clippers): Goga Bitadze, C, Buducnost (Montenegro)
20. San Antonio Spurs: Grant Williams, PF, Tennesse
21. Boston Celtics: Nickeil Alexander-Walker, SG, Virginia Tech
22. Oklahoma City Thunder: Tyler Herro, SG, Kentucky
23. Utah Jazz: Matisse Thybulle, SF, Washington
24. Philadelphia 76ers: Cameron Johnson, SF, North Carolina
25. Cleveland Cavaliers (from Houston): Talen Horton-Tucker, SF, Iowa State
26. Portland Trailblazers: Bruno Fernando, C, Maryland
27. Brooklyn Nets (from Denver): KZ Okpala, SF, Stanford
28. Golden State Warriors: Carsen Edwards, PG, Purdue
29. San Antonio Spurs (from Toronto): Dylan Windler, SF, Belmont
30. Milwaukee Bucks: Luguentz Dort, SG, Arizona State
Notable Top Prospects
Zion Williamson
For the New York Knicks—or any team with the No. 1 pick for that matter—it's Zion Williamson or bust.
The transcendent player out of Duke is equal parts athletic phenomenon and marketability.
He was made for Madison Avenue, so it would be storybook fodder if he were to land at Madison Square Garden.
The 6'6, 285-pound swingman is powerful, explosive, nimble and has the kind of instincts with the ball that hasn't been seen since LeBron James.

Williamson is a virtual unicorn, with a versatile set of skills and talents that propelled him to become the best player in college basketball.
And he's the best player in this draft class and it's not even close. More than that, he's got no real ceiling.
The Spartanburg, South Carolina native was a stat sheet filler in his only season in Durham, averaging 22.6 points, 8.9 rebounds, 2.1 assists, 1.8 blocks and 2.1 steals per game.
Not only was he effective, he was efficient, too. His player efficiency rating of 40.83 led the country and he took home the coveted Naismith Award, Wooden Award and was voted player of the year by the Associated Press and the U.S. Basketball Writers Association for his efforts.
If Williamson combines hard work with his natural gifts and highlight-reel flourishes, he could be the best player in the NBA when he reaches his prime.
That could mean everything for the Knicks, who have been relegated to a laughing stock in the league.
They haven't made the playoffs since 2013 and could use the jolt to the system and the promise of premier basketball in the Mecca.
Fans have grown tired of only being treated to great basketball by opponents who deliver their best performances in the Garden.
They want a superstar of their own to get behind and Williamson is that player.
He may not turn things around right away, but give him time, he's going to be otherworldly on the biggest stage.
Ja Morant
Murray State's do everything point guard played himself into the No. 2 spot with a breakout season for the Racers, leap-frogging RJ Barrett in the rankings.
It's also a matter of need.
The Phoenix Suns have been clamoring for a suitable backcourt mate for its burgeoning star, Devin Booker.
Ja Morant could be the perfect compliment to the high scoring guard.
In his second year, the Dalzell, South Carolina native averaged 24.5 points and 5.7 rebounds per game. He also led the nation in assists with 10 per outing.
In addition to having superior court vision, Morant is athletic, creative and is a virtuoso in the open court and is excellent in transition and pick-and-roll plays.
Already rising on the boards with his stellar season in Murray, the 6'3″, 175-pound floor general overcame his first-year anonymity to become a great come-from-nowhere story.
He added to that narrative with an outstanding showing in the NCAA tournament.
In an upset win over Marquette, he logged the first triple-double (17 points, 11 rebounds and 16 assists) since Draymond Green's back in 2012.
He followed that up with 28 points and five rebounds against Florida State. The Racers lost to the Seminoles, but Morant cemented his place as the top point guard in the draft with his ability to make the right pass and the right play when it mattered most.
Morant has the potential to be a star and that could mean that things turn around sooner than expected for the Suns.
Phoenix needs a oncourt leader with the ball in his hands and they may get everything they want in Morant if they win the chance to pick second overall.
Follow Maurice Bobb on Twitter, @ReeseReport.
Statistics obtained from ESPN.com.
NBA News
via Bleacher Report – NBA http://bit.ly/2gMI6gF
April 16, 2019 at 06:03AM