F1's top three will quickly pull clear of midfield – Alfa's Vasseur
F1's top three will quickly pull clear of midfield – Alfa's Vasseur
Alfa Romeo team boss Fred Vasseur thinks Formula 1's top three teams will rapidly pull clear of the midfield again, despite the gap appearing to have closed over the winter.
Mercedes, Ferrari and Red Bull were in a class of their own last season, but pre-season testing at Barcelona suggested their advantage has been trimmed back by the chasing pack.
While Vasseur said things may well be closer at this weekend's season-opening Australian Grand Prix, he thinks the top three will stretch clear once they start bringing upgrades.
"It is close because they were fighting in 2018 for the championship and probably they started a little bit later than us," said Vasseur.
"But now they will be full push on the 2019 regulations, and they will develop much faster than the midfield teams and the gap will increase.
"It was not the case last year [that they pulled away] because at one stage you have a kind of convergence of performance after two or three seasons with the same regulations, but now we are starting from scratch."
Asked where he felt Alfa Romeo stacked up, Vasseur said: "It is difficult to know and honestly I think even Sunday evening the picture won't be a good one.
"All the teams are in a different situation in terms of preparation and so on, and if you have a look at the last 10 years, Melbourne is not very often representative of the season for different reasons.
"It is very early, the track is a green one and it is more about tyre management.
"Also the big topic is that the variation of temperature in Melbourne is always huge from one day to another, and tyre management is never easy."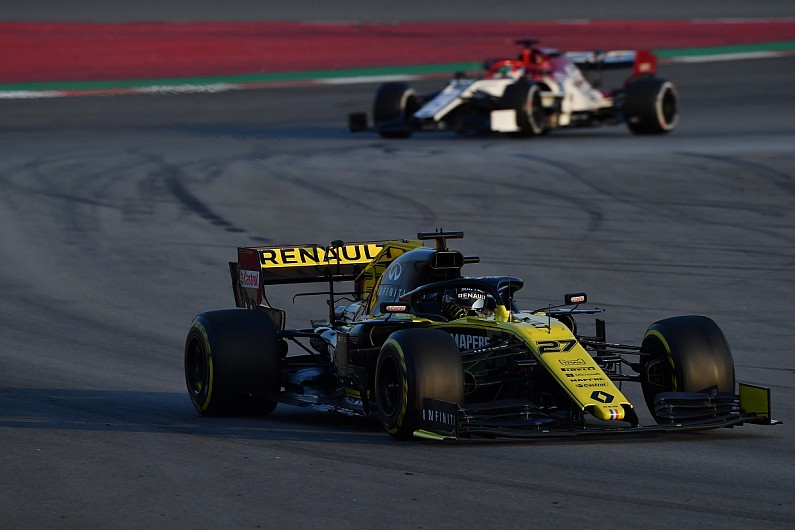 While most expect the fight at the front of the midfield to be between Haas, Alfa Romeo and Renault, no one is yet sure about a clear order.
Renault's Nico Hulkenberg said pre-season testing had offered some contradictory data about where his team stacked up and whether it had closed the gap to the top three.
"Some things suggest it's closer, some things suggest maybe less," he said.
"I don't like to speculate on it much before. It's important we come as prepared as possible and bring the A-game.
"This weekend will be the first true teller in respect to this.
"What the gap is to the top three teams and where we actually really stand, I'm not entirely sure. So let's just find out this weekend."
Haas driver Kevin Magnussen predicted the fight for fourth would be much tougher than in 2018, and did not rule out other teams getting involved.
"It's going to be very hard this year, even harder than last year, because Renault have momentum, they took over Lotus and started building up," he said.
"Now is when they should really close in the gap to the frontrunners.
"They should be, they're a factory team, they've got the kind of resources that the top three have. So if we can take the fight to them again, that would be amazing.
"But Racing Point have got resources now as well, and they should be gaining momentum. Toro Rosso have got a closer tie with Red Bull. It looks like it's going to be even harder this year than it was last year.
"So we need to up our game if we want to keep fighting the big boys in the midfield."
Racing News
via All news – Autosport https://ift.tt/2uOa9Ei
March 14, 2019 at 02:51AM