NBA Slam Dunk Contest 2019: Top Contenders, Predictions for Exciting Event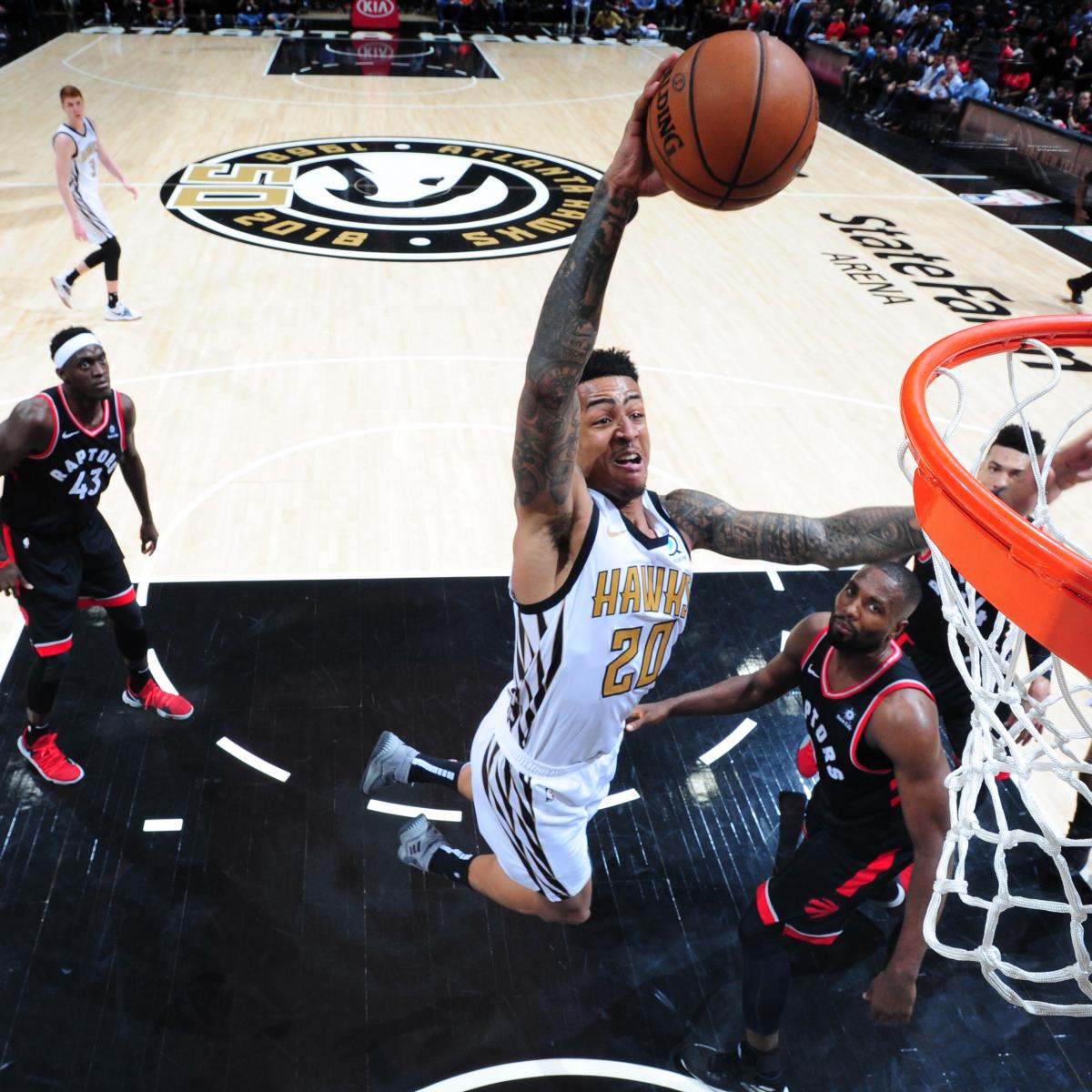 Scott Cunningham/Getty Images
The 2019 NBA Slam Dunk Contest features a handful of potential future stars and, as always, a field of high-flyers.
Dennis Smith Jr. is out for revenge after being bounced from the opening round of last year's event, while his three competitors are first-timers: John Collins, Miles Bridges and Hamidou Diallo.
If these aren't household names for casual hoop fans yet, they could be in short order with a strong showing at All-Star Saturday.
Let's examine the rim-rocking credentials of all four contenders then predict how this might play out.
2019 AT&T Slam Dunk
Time: Saturday, Feb. 16 at 8 p.m. ET (third event)
Place: Spectrum Center in Charlotte, N.C.
TV: TNT
Miles Bridges, Charlotte Hornets
Buzz City's top freshman has serious bounce, as Dewayne Dedmon learned earlier this year when he wound up on the wrong side of Bridges' poster.
At the combine, Bridges measured in at 6'6.75″ in shoes with an 8'7.5″ wingspan. While he didn't test his vertical there, we have every reason to believe he would've posted a jaw-dropping number if he had. Before his two-year career at Michigan State started, he shared a video showing he could touch the top of the backboard.
He might best combine the power and grace aspects of thunderous throwdowns, and considering he'll have the backing of his home crowd, he'll be a popular pick to take home the trophy.
John Collins, Atlanta Hawks
When this four-player field was released, oddsmakers tabbed Collins as the favorite to win the contest, per OddsShark.
If you've ever seen Atlanta's springy sophomore stretch to smash a lob pass or out-leap everyone for a putback hammer, you'd understand why.
At 6'10", Collins is taller than your typical slam dunk champion. But as the 6'11" Dwight Howard previously proved, hyper-athleticism can impress even in super-sized packages.
Hamidou Diallo, Oklahoma City Thunder
Diallo comes with the least name recognition, as he's a rookie second-rounder averaging fewer than 12 minutes per game.
That's not to suggest his selection lacks merit, though. The 6'5″ shooting guard has effortless hops—he flashed a 40.5″ vertical at the combine—and sometimes makes you wonder if there are jetpacks powering his legs:
He's made more dunks (22) than jumpers (13) in his brief career, so it's not a stretch to say slamming is sort of his thing.
Dennis Smith Jr., New York Knicks
While we mentioned above that Smith participated last year, we should've added an asterisk to his first-round exit.
Before he was knocked out of the competition, he provided its most electric finish.
The 6'3″ lead guard is the shortest player in this field, meaning he might have more flight time than anyone. He showed it last year, although missing his initial attempt likely muted his score. It'll be interesting to see whether that has him holding back a bit this time around to guard against a miss or if he'll still be full-go out of the gate.
Prediction: Smith Tops Bridges in Final Round
If you've seen the work of these aerial artists, it isn't easy picking against any of them.
But two things have us ultimately leaning Smith's direction.
For starters, he has the experience edge over everyone else. Only he knows what it's like to have an NBA stage to himself. Only he has felt all eyes of the arena upon him. Only he understands what wows judges and what leaves them a little underwhelmed.
Then, you have to factor in the cinder block on his shoulder. If the hoops world largely agreed his dunk was the best of last year's competition, imagine how he felt finding out that wasn't enough.
"I did some dunks," Smith told reporters. "They didn't get scored the way I thought they would."
Smith, a North Carolina native, should be literally and figuratively at home when he gives this a second shot. That comfort level, combined with his explosive athleticism, will help make the second time the charm.
NBA News
via Bleacher Report – NBA http://bit.ly/2gMI6gF
February 13, 2019 at 04:10AM