NBA Celebrity All-Star Game 2019: TV Info and Analysis for Celebrity Showdown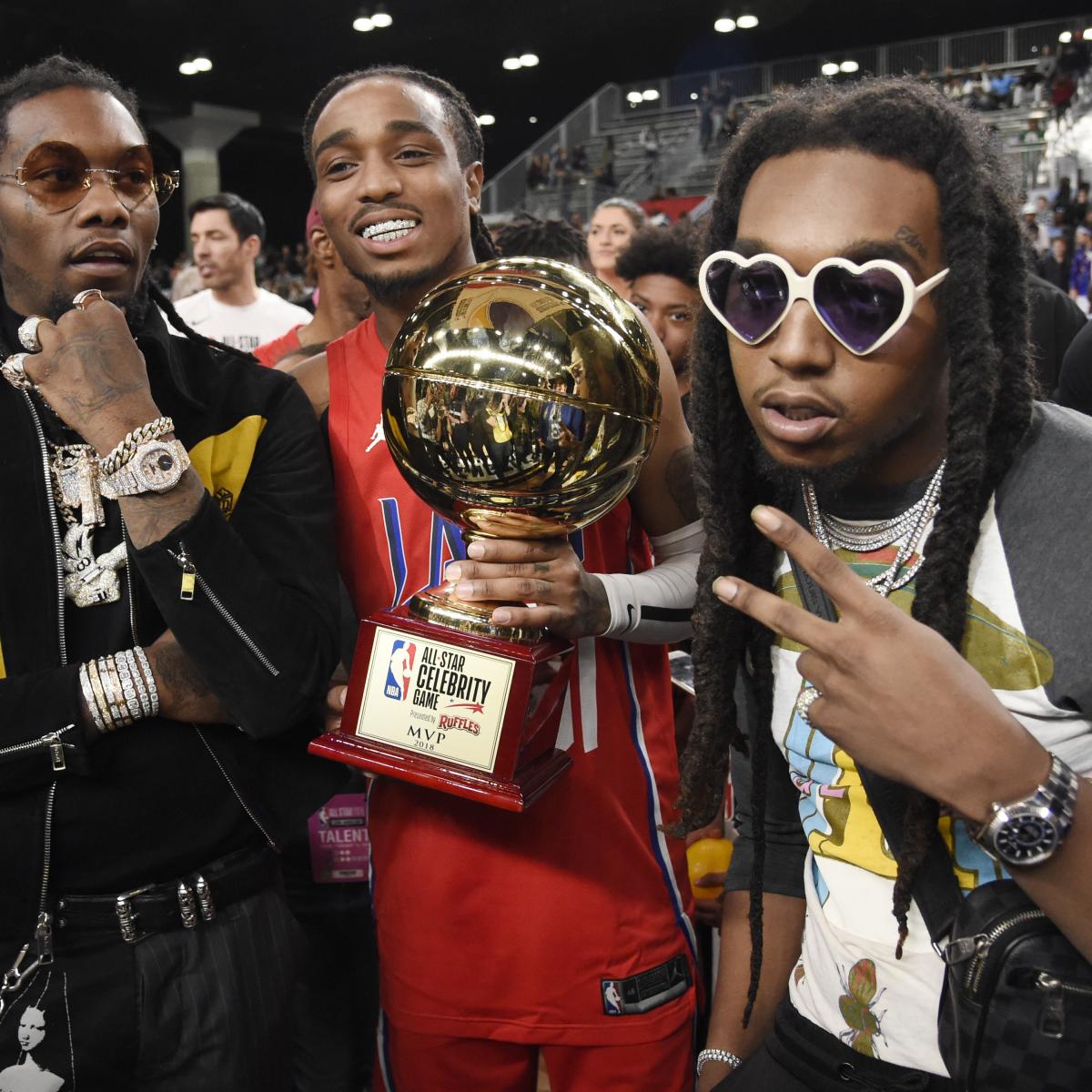 Chris Pizzello/Associated Press
As NBA All-Star festivities descend upon Charlotte, North Carolina, the favorite celebrity of the weekend will unofficially be Charlotte Hornets point guard Kemba Walker, who was selected for his second consecutive All-Star Game and will be the only Hornet representing the hosting city as an All-Star.
Before some of the NBA's shiniest stars take the court for the skills challenge, three-point contest and AT&T Slam Dunk contest on All-Star Saturday Night followed by the actual All-Star Game on Sunday night, celebrities from all over entertainment will try their hands as ballers in the Celebrity All-Star Game on Friday night.
Last year, the likes of Justin Bieber and Jamie Foxx were featured in the Celebrity All-Star Game. Quavo, one-third of Grammy-nominated hip-hop group Migos, took home the Celebrity All-Star MVP. This year, Quavo will return to defend his crown. He'll suit up with a new cast of characters—some more acquainted with a basketball court than others.
Coaching the home side will be Dawn Staley, the head coach of the University of South Carolina women's basketball team. As a player, Staley became the NCAA's all-time steals leader as well as a WNBA star and three-time Olympic gold medalist. Staley is inducted into the Naismith Basketball Hall of Fame.
The away team will be led by Sue Bird. Bird has been a pioneer for the women's game, and 2019 will be her 17th season in the WNBA as a cornerstone member of the Seattle Storm. The 2002 No. 1 overall pick has won three WNBA titles and is currently serving as a basketball operations associate  in the NBA for the Denver Nuggets.
Check out television information, full home and away rosters as well as a dive into six players who could take home the game's MVP below.
TV Information
Date: Friday, Feb. 15
Time: 7 p.m. ET
Channel: ESPN or WatchESPN
Rosters
Home
Mike Colter (Luke Cage actor)
Chris Daughtry (recording artist)
Terrence J (on-air host and actor)
Famous Los (comedian)
Dr. Oz (television and radio personality)
Rapsody (rapper)
Bo Rinehart (NEEDTOBREATHE vocalist and musician)
JB Smoove (actor, comedian)
Steve Smith (Former NFL wide receiver, NFL Network analyst)
A'ja Wilson (2018 WNBA Rookie of the Year)
Jay Williams (ESPN college basketball analyst)
Jason Weinmann (hometown hero)
Away
Ronnie 2K (Director of Influencer Marketing, 2K Sports)
Ray Allen (Naismith Basketball Hall of Famer, two-time NBA champion)
AJ Buckley (SEAL Team actor)
Bad Bunny (Grammy-nominated recording artist)
Stefanie Dolson (center for WNBA's Chicago Sky)
Marc Lasry (co-owner of the Milwaukee Bucks)
Hasan Minhaj (actor, comedian and host of Netflix's Patriot Act with Hasan Minhaj)
Quavo (Grammy-nominated recording artist)
Adam Ray (comedian, About Last Night podcast)
Brad Williams (comedian, About Last Night podcast)
Amanda Seales (actor, comedian, recording artist)
James Shaw Jr. (hometown hero)
Roster information courtesy of NBA.com
Six Potential Celebrity All-Star Game MVPs
Quavo
Quavo is the reigning Celebrity All-Star MVP, so respect where respect is due. In L.A. last year, the rapper scored a game-high 19 points and had fans calling for him to join the NBA. In addition to his 19 points, Quavo contributed five rebounds, three assists and two steals.
His stamina should be even more enhanced after accompanying Drake (known NBA fanboy, it should be noted) on the 43-date Aubrey & The Three Migos Tour to end 2018.
While performing on stage every night after traveling from city to city would certainly challenge anyone's fitness, Quavo and Drake played basketball to stay in shape. Should Quavo continue to ball out, he'll become to first celebrity to win back-to-back MVPs since four-time MVP Kevin Hart.
A'ja Wilson
If Wilson can win WNBA Rookie of the Year against other professional basketball players, how could she not be favored to win MVP against mostly non-athletes? 
Wilson was selected No.1 overall in the 2018 WNBA Draft by the Las Vegas Aces. On Friday night, she will be reunited with her collegiate coach, Dawn Staley. Together at South Carolina, Staley and Wilson won an NCAA championship in 2017—the first in school history. Since then, the two have won the FIBA Women's World Cup in 2018.
In other words: they can probably handle a Celebrity All-Star Game.
Wilson will also be serving as a Slam Dunk Contest judge on Saturday night.
Stefanie Dolson
Just as with Wilson: if Dolson can excel against other professional basketball players as a member of the Chicago Sky in the WNBA, how could she not be considered for MVP in this game?
At 6-foot-5, Dolson makes a living in the paint. Her skill out of the University of Connecticut made her the No. 6 overall pick in 2014. While at UConn from 2010-14, Dolson became just the fourth player in Huskies history with at least 1,000 points and 1,000 rebounds.
Suddenly, Quavo's 19 points seem less impressive.
Dolson played in the 2018 Celebrity All-Star Game. She even tried to coach up teammate and professional golfer Bubba Watson—proving she's a versatile asset.
Jay Williams
Before a nearly fatal motorcycle accident ended a 21-year-old Williams' NBA career in 2003, he was one of the baddest ballers out there. Williams was promising enough for the Chicago Bulls to take him No. 2 overall out of Duke in the 2002 NBA Draft. Just 75 games later, he was forced to retire.
Even so, the 37-year-old has hung around the game as Williams is now a college basketball analyst for ESPN. Recently, Williams launched a new ESPN+ original series called The Boardroom alongside Kevin Durant. Maybe KD has given Williams some tips between takes on set. 
Williams is taking this game seriously. "Training has already started!!!" he tweeted, while also noting he's "coming" for Ray Allen.
Ray Allen
Allen holds the record for most made three-pointers in NBA history—though Stephen Curry may have something to say about that sooner than later. 
However, regardless of how long he will hold that record, nobody can take away the most famous three of Allen's storied career. In the closing seconds of Game 6 in the 2013 NBA Finals, Allen sunk an improbable game-tying three in the corner for the Miami Heat. The Heat would go on to win the championship.
Since officially retiring from the NBA in 2016, Allen has been inducted into the Naismith Basketball Hall of Fame. The two-time NBA champion and 10-time All-Star is no stranger to celebrity sports events, as he's been known to host celebrity golf tournaments.
From 1996 to 2014, Allen spread his talents across four NBA franchises—the Milwaukee Bucks, Seattle Supersonics, Boston Celtics and Miami Heat (in that order)—and one Spike Lee film. Let us pray Friday night brings out Jesus Shuttleworth.
Steve Smith Sr.
Doubt Steve Smith at your own risk. It doesn't matter that Smith's storied athletic career took place on a football field over 16 years. He has proven time and time again that he's a fierce competitor regardless of the setting. 
Even on an NFL Network set—his new professional home—Smith doesn't back down. Ahead of a Thursday Night Football game in September, Smith went at Hall of Fame wide receiver and NFL Network colleague Michael Irvin.
"It ain't no route I couldn't run that you hoped you could run," Smith said when Irvin dared to say Ravens quarterback Joe Flacco hadn't had a reliable receiver since Anquan Boldin. "I got a doctorate in route running! You got an associate's degree, playa." 
Smith finished his career in Baltimore after spending his first 13 seasons with the Carolina Panthers, and there should be a lot of love for him in North Carolina still on Friday night—even if the Panthers released him and bad blood existed.
More than anything, we can only hope that Smith—the best trash talker ever—is mic'd up for the entire game. 
NBA News
via Bleacher Report – NBA http://bit.ly/2gMI6gF
February 12, 2019 at 09:27AM