Fantasy Basketball 2019: Lineup Advice for NBA Week 18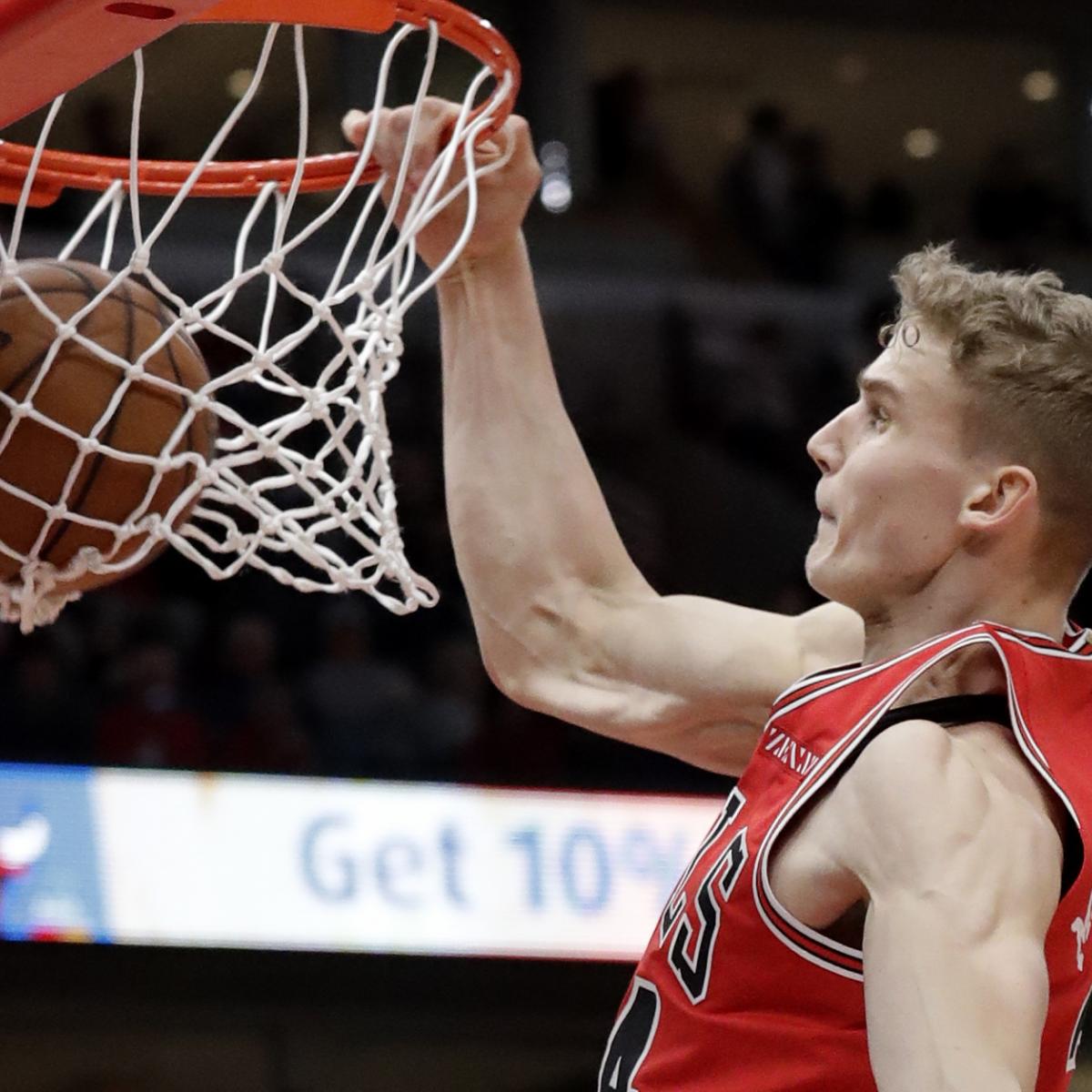 Lauri Markkanen has turned into a huge asset for the Bulls and fantasy owners.Nam Y. Huh/Associated Press
The 2018-19 NBA season is once again flying by, and fantasy owners have reached a critical point when it comes to earning a spot in the fantasy playoffs.
As we hit Week 18, it is becoming more critical with each game to put the best possible lineup on the floor for your matchups. The time for experimenting is long over.
We have identified a couple players to consider starting, sitting and adding for your lineup based on the limited schedule, as the NBA hits the All-Star break this week.
There are 11 games scheduled Wednesday night, and three more on Thursday before the All-Star weekend in Charlotte, North Carolina.
Start 'em
Lauri Markkanen, Power Forward, Chicago Bulls
It doesn't matter that the Bulls rarely win and that new coach Jim Boylen has not affected anything close to a turnaround with the team. They have a true stud in Markkanen, who is averaging 18.4 points and 8.5 rebounds per game for the season.
More than the season-long numbers, Markkanen is trending up at this point in the season. He is averaging 21.2 points and 11.7 rebounds per game over his last 10 games, and it has been even better in the four games he has played in February, with Markkanen averaging 27.8 points and 12 rebounds.
The Bulls play two games this week, beginning with Monday night's game against the Milwaukee Bucks and continuing with Wednesday's game with the Memphis Grizzlies, followed by the All-Star break
Markkanen is the 50th ranked fantasy player, per ESPN, and he should continue to rise as he demonstrates that he is one of the Bulls' most important players.
Lou Williams, Shooting Guard, Los Angeles Clippers
It's not often that we are in the habit of recommending a 32-year-old shooting guard who comes off the bench, but Williams has been a factor all season for the Clippers, and he has been on top of his game recently.
Williams is averaging 19.2 points and 5.3 assists for the season, and he has picked it up recently. He is scoring 21.4 points and handing out 6.7 assists per night in his last 10 games
Williams has had some dominant games coming off the bench, and he has games this week against the Minnesota Timberwolves and the Phoenix Suns.
The Clippers have plenty of momentum after their come-from-behind 123-112 victory over the Boston Celtics Saturday night, and Williams should be primed for a couple of big efforts.
Sit 'em
Donovan Mitchell, Shooting Guard/Point Guard, Utah Jazz
Mitchell is one of the more underrated players in the NBA, but that's not the case from a fantasy perspective.
Fantasy owners know that Mitchell has been productive all season, and he is averaging a robust 22.4 points and 4.0 assists per game.
His numbers have been especially notable in the last 10 games, scoring 25.5 points and handing out 5.4 assists per game over that span.
Nevertheless, our recommendation this week is to sit Mitchell because he has just one game and it's on the road against the Golden State Warriors
This is a risky maneuver because Mitchell has been so productive, but the Warriors will go all out to win their last home game before the All-Star break and concentrate on stopping Mitchell.
Mitchell scored 19 and 17 points in earlier meeting with the Warriors, but he has had two rough shooting nights—including a 5-of-26 effort in a 108-103 Utah victory on December 19.
Marcus Morris, Power Forward/Small Forward, Boston Celtics
The Celtics have been a streaky team all season, and their hot streak appears to be over after losing back-to-back home games to the Los Angeles Lakers and Los Angeles Clippers.
Morris has been a steady performer throughout the season with an average of 14.6 points and 6.0 rebounds per night, but his numbers have dipped a bit with a mark of 13.6 points and 5.9 rebounds per night over the last 10 games.
The Celtics have a key road game at Philadelphia coming up Tuesday night and a home game against the Pistons Wednesday. The Celtics are 2-0 against the Sixers so far this season, and Morris has averaged 19.5 points in the two games. But this game is in Philadelphia, and the home team will be in a payback mode.
Morris is averaging 14.0 points in three games against the Pistons this season.
He is not going to perform as well this week, and it's time to drop him.
Add 'em
Bobby Portis, Power Forward, Washington Wizards
Now that he has been rescued from the Chicago Bulls, Portis has an opportunity to play with more freedom with the Wizards.
Two games does not necessarily prove anything, but Portis is off to a solid start with the Wizards. He is averaging 20.0 points and 9.0 rebounds in his first two outings with his new team, and that should mean he will continue to get a good opportunity to play significant minutes.
He is averaging 28.5 minutes in the two games with Washington, significantly more than he played for the Bulls.
Portis and the Wizards have two games this week on the road against the Detroit Pistons and Toronto Raptors, and his impressive start with Washington should continue.
Terry Rozier, Point Guard, Boston Celtics
While everything we said about the Celtics in our look at Morris still holds, Rozier could play a key role in Boston's two games this week against the Sixers and Pistons.
That's because Kyrie Irving suffered a sprained knee in the Saturday night loss to the Clippers, and he will likely be limited in the short term.
Adam Himmelsbach of the Boston Globe reported that Irving had an MRI Sunday and has a right knee strain. He is listed as day-to-day.
With that injury as the backdrop, Rozier becomes the main man in the Boston backcourt for the time being. Rozier is averaging 9.1 points and 4.3 assists per game, but those numbers go up to 14.2 points and 5.9 assists per night as a starter.    
NBA News
via Bleacher Report – NBA http://bit.ly/2gMI6gF
February 11, 2019 at 04:12AM