Stephen Curry Scores 20 as Warriors Beat Giannis Antetokounmpo, Bucks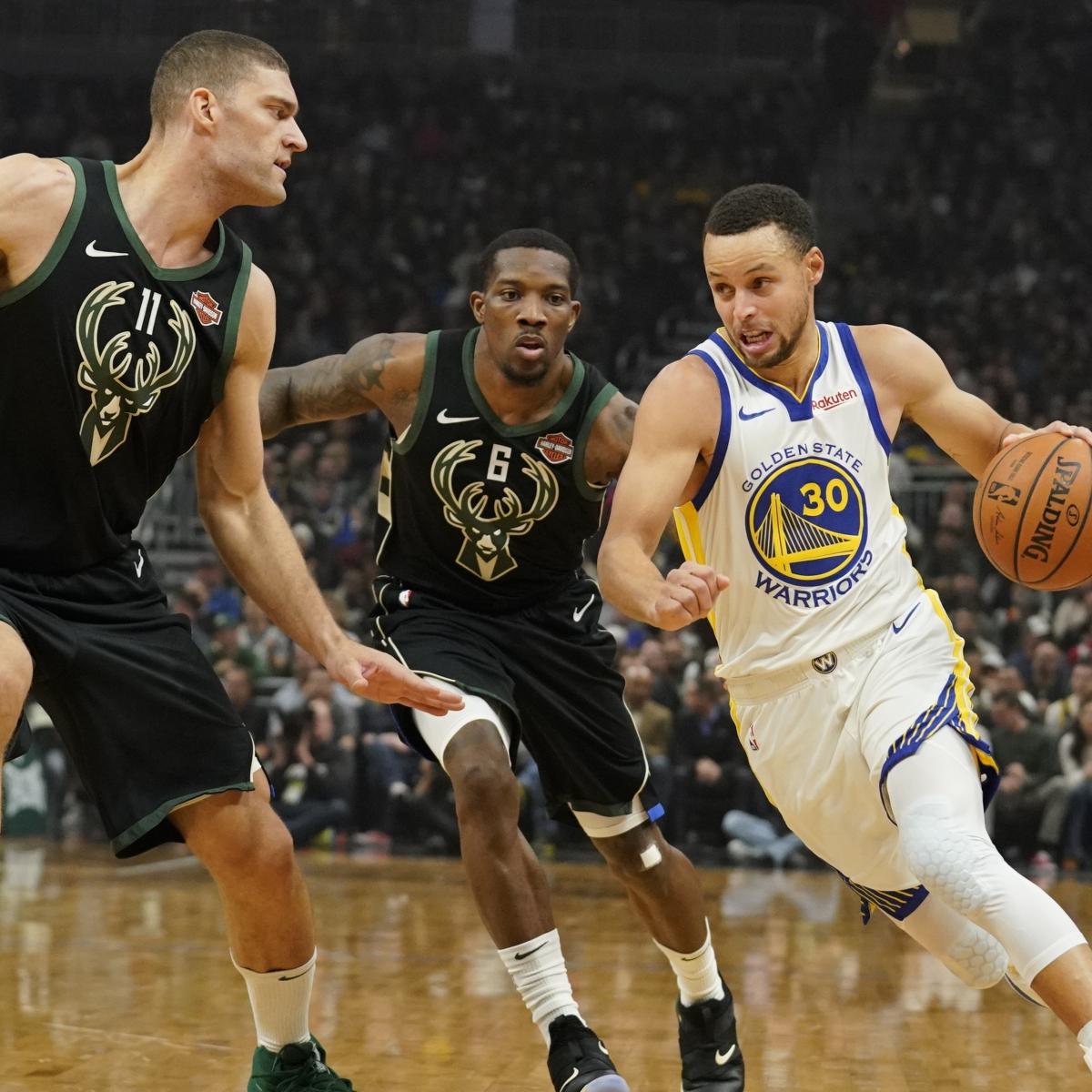 Morrry Gash/Associated Press
The Golden State Warriors finished their five-game road trip in style by defeating the Milwaukee Bucks 105-95 at Fiserv Forum on Friday night. 
The Warriors, who improved to 18-9, have now won three straight thanks to 20 points apiece from Stephen Curry and Klay Thompson. 
Giannis Antetokounmpo led the way for the Bucks with 22 points, 15 rebounds and five dimes as Milwaukee dropped to 16-8 on the year. 
Continued Bench Woes Show Why Bucks Traded for Hill
Aside from the salary-cap implications, the Bucks acquired George Hill from the Cleveland Cavaliers on Friday because they need bench help in a big way. 
Just look at Friday's performance. 
After entering the night ranked tied for 23rd in the league in bench scoring at 33.5 points per game, Milwaukee had five players combined for 20 points off the pine.

Enter Hill, who could serve as a catalyst for change. 
While Hill isn't a microwave scorer who's going to rocket the Bucks' second unit up the charts, he's the kind of efficient playmaker who can offer some sorely needed stability. 
To wit: Prior to Friday's deal, Hill opened the season by averaging 10.8 points per game on 51.4 percent shooting from the field and 46.4 percent from three. What's more, he's drilled 52.5 percent of his pull-up attempts and 44.4 percent of his catch-and-shoot opportunities from beyond the arc, according to NBA.com player-tracking data. 
For a team that's looking to compete with the Toronto Raptors for Eastern Conference superiority, maintaining that kind of production will be key. Not only will it give the Bucks a bit of the depth the Raptors already have in spades, but it will help take some pressure off the likes of Antetokounmpo and Khris Middleton. 
At this rate, the reserve reinforcements can't come soon enough. 
Jerebko Proving to Be One Of Summer's Most Underrated Signings
Given the star power that consumes the Warriors, it's easy to overlook their bench. 
But on a night when Kevin Durant (11 points, 3-of-14 shooting) was effectively silenced and Curry failed to find a rhythm, it was hard to ignore the production head coach Steve Kerr got from one overlooked member of his second unit: Jonas Jerebko. 
An unheralded offseason signing who arrived in the Bay Area on a one-year deal at the veteran's minimum, Jerebko proved his worth throughout the Warriors' road trip with 20 points against the Raptors, 12 against the Hawks and another 12 on Friday thanks to four conversions from deep. 
Nick Friedell @NickFriedell

Jonas Jerebko having another solid night off the Warriors bench. He knows what he's doing and his teammates have gained trust in him quickly. He has been as asset for Steve Kerr early in the season.