NBA Rumors: Latest Trade Buzz Surrounding John Wall, Otto Porter Jr. and More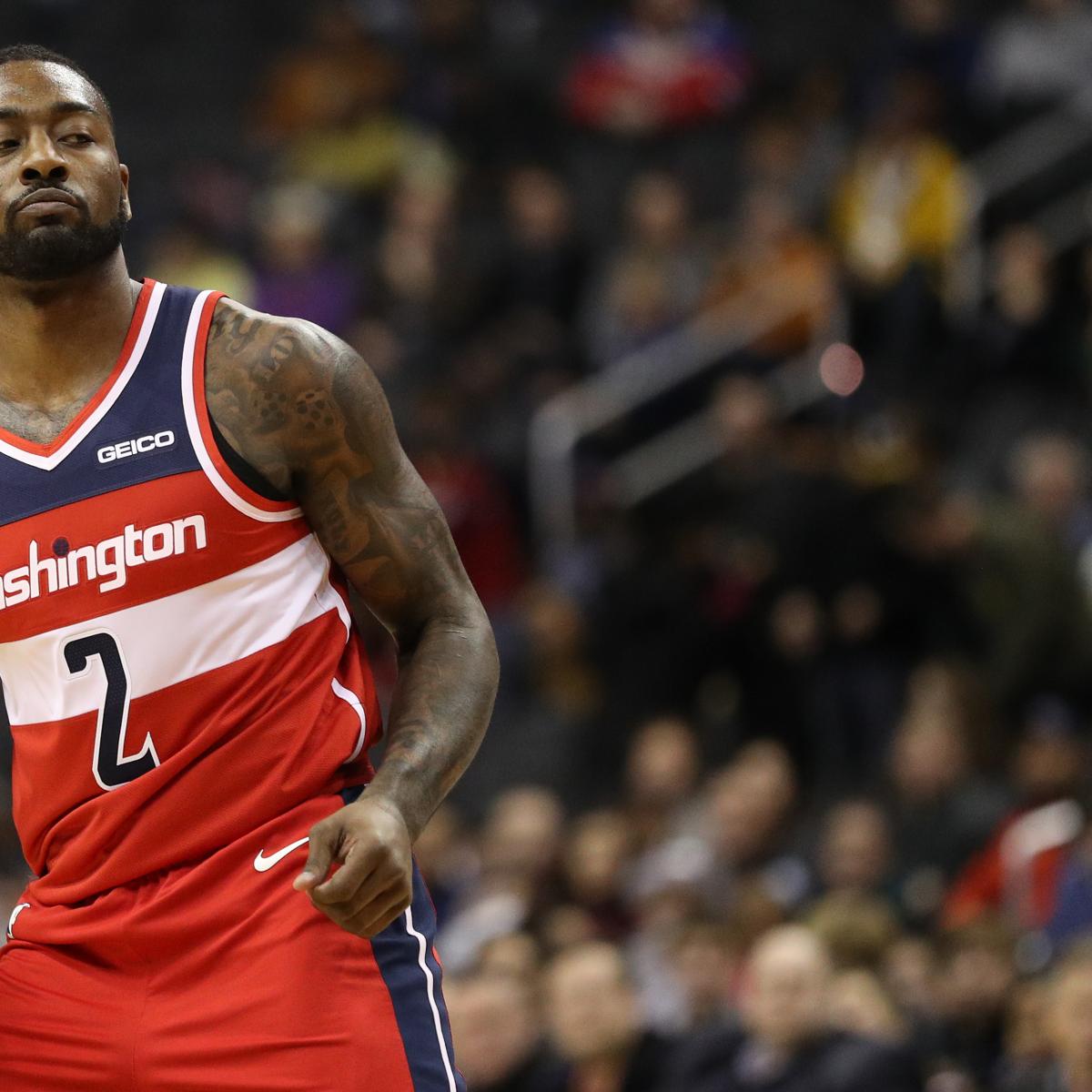 Patrick Smith/Getty Images
Things haven't exactly gone as planned for the Washington Wizards this season. They're not quite out of the playoff mix yet, but they are sitting at 11-14 and likely more interested in building for the future than trying to make a run.
This is exactly why the Wizards could be willing to part with former No. 1 overall pick John Wall. The former Kentucky standout hasn't lived up to his draft status or the $19.1 million salary he's set to earn this season.
However, this doesn't mean Wall is a terrible player that can't help a potential contender or a struggling team. He's averaging a solid 21.3 points and 8.4 assists per game while playing an average of just under 35 minutes per game.
According to Marc Berman of the New York Post, the New York Knicks could try to acquire Wall if the price is right.
"Some in the league believe the Knicks are stocking up their young assets and will make a major play for Wall if he becomes available," Berman recently wrote.
Adding Wall obviously wouldn't be about winning now for the Knicks but would rather be a move to add a point guard worth building around. New York has been lacking at the position for some time, and Wall would give the Knick promise at the point if not a true superstar.
According to ESPN's Ian Begley, though, New York hasn't yet had serious discussions about making a move.
Ian Begley @IanBegley

Knicks haven't had any internal discussions about a potential trade for John Wall; a report earlier said there was belief around the NBA that NYK would make a significant push for a Wall deal. Also, teams are interested in Damyean Dotson, but BK & DET haven't reached out to NYK.
Perhaps the Knicks won't trade for Wall before February's trade deadline. Perhaps no one will. This still doesn't mean the Wizards won't be dealing someone sooner rather than later.
According to Jason Jones of The Athletic, the Sacramento Kings are interested in acquiring forward Otto Porter Jr. should Washington make him available. James Ham of NBCSports.com echoed the notion that the Kings are following Porter:
"NBC Sports California can confirm an earlier report that the Kings have kept in contact with the Washington Wizards in regards to the availability of small forward Otto Porter. Nothing is imminent, but according to a league source, the Kings definitely like the potential fit with the six-year pro if the deal is right."
Unless the Wizards, who have won three in a row, continue stringing together victories, we're likely to hear about more teams monitoring their potentially available players. Washington doesn't appear ready to blow up the roster right now, but that could change if the Wizards decisively fall out of playoff contention.
Teams are also monitoring Phoenix Suns forward Trevor Ariza, according to Marc Stein of the New York Times:
Marc Stein @TheSteinLine

The Suns' Trevor Ariza is seen by rival teams at the top of the list of players who will be made available via trade after Dec. 15, league sources say
Ariza, a 14-year veteran who is averaging 10 points and 5.5 rebounds per game this season, could help another team at both ends of the court. However, he isn't available right now. Per the NBA's collective bargaining agreement, Ariza cannot be moved until December 15 because he only signed with Phoenix this past offseason.
Though the trade rumors are swirling around Ariza, he isn't in any hurry to move on from his current team.
"I'm not one to get somewhere and then just duck out," Ariza said, per Gina Mizell of The Athletic. "I'm one to be in it, regardless of whatever the situation is. Fight until the end."
The end could come in just over a week, and Ariza is a name to keep an eye on as that December 15 mark approaches.  
NBA News
via Bleacher Report – NBA https://ift.tt/2gMI6gF
December 7, 2018 at 06:04AM