Lakers Rumors: Anonymous Exec Says Magic Should Fight LeBron on Signing Carmelo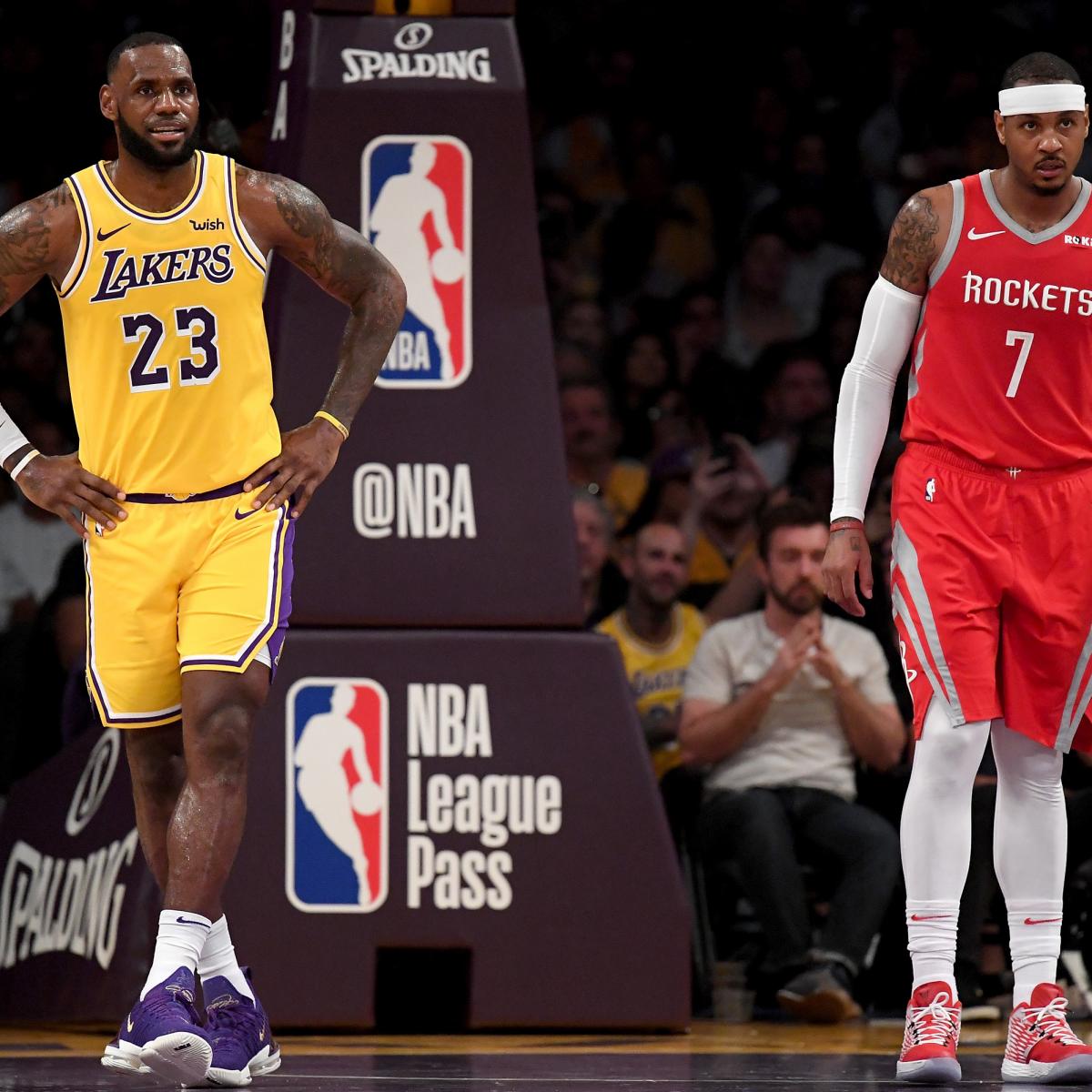 Harry How/Getty Images
LeBron James may reportedly want the Los Angeles Lakers to acquire fellow banana boat member Carmelo Anthony, but not everyone believes it would be a great fit.
The Athletic's Joe Vardon reported Thursday that James wants Anthony in purple and gold after the forward's stint with the Houston Rockets came to a sudden end last month after just 10 games. And while satisfying James has to be a top priority in L.A., a rival executive thinks Lakers President of Basketball Operations Magic Johnson should take a stand.
"Not really, no," one rival exec told Vardon when asked if there is any market for Anthony. "If LeBron really wants him, it might not matter. Magic should fight him on it. I know I would."
Anthony has been under scrutiny ever since a 2017 offseason trade teamed him up with Russell Westbrook and Paul George. The Thunder never could find much of a rhythm and suffered a disappointing first-round exit as Anthony struggled to adapt to playing as a third wheel, and as a result, the OK3 lasted just one season.
Oklahoma City traded Anthony to the Atlanta Hawks over the summer in a deal that ultimately led to a buyout of the 10-time All-Star. After drawing interest from the Lakers and Miami Heat, Anthony opted to sign with the Rockets for the veteran's minimum of $2.4 million.
The 34-year-old struggled to adapt to his bench role in Houston, averaging a career-low 13.4 points on 40.5 percent shooting and 5.4 rebounds. And with the team off to a 4-6 start after coming within one game of the NBA Finals a season ago, the Rockets decided to pull the plug just one month into the season.
Anthony has been away from the team since Nov. 8 as both sides attempt to find him a new home, though the 16th-year veteran can't be traded until Dec. 15. Vardon noted that any trade could save the Rockets $2.6 million in luxury tax.
Los Angeles, meanwhile, has recovered from a slow start, as the Lakers are 11-3 in their last 14 contests, winning four in a row. However, Brandon Ingram's recent ankle injury combined with Michael Beasley's shortcomings could create the need for a move at forward.
James previously told Bleacher Report's Howard Beck that he hopes to one day play on the same team as Anthony. With the former scoring champ currently available, now is as good a time as any to make that happen.
Still, it's not clear how much interest, if any at all, general manager Rob Pelinka and Co. have in bringing Anthony to town.
NBA News
via Bleacher Report – NBA https://ift.tt/2gMI6gF
December 7, 2018 at 05:50AM