Kyrie Irving Says He Was Injured on 'Weird Play' vs. Knicks, Will 'Be All Right'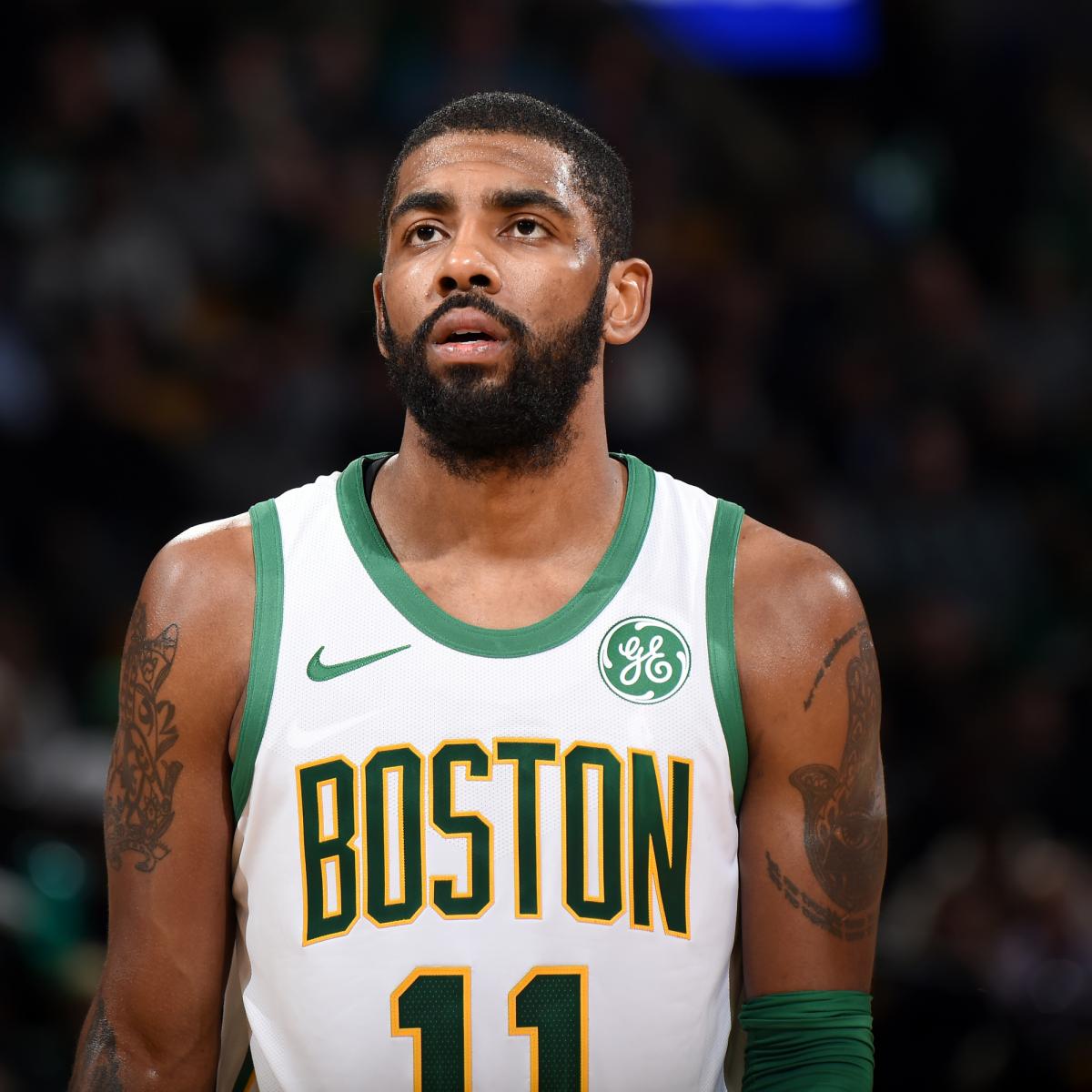 Brian Babineau/Getty Images
Kyrie Irving's postgame interview following the Boston Celtics' 128-100 victory over the New York Knicks on Thursday night featured his shoulder wrapped and being iced, but it doesn't appear as though the injury is of a serious nature.
Irving discussed the matter with reporters after the game, per Boston Celtics on MassLive (at one minute, 34 seconds):
"It was just a weird play at the end of the game," Irving said. "I don't know. It's like I got caught up as I was trying to get the ball out and pass it to Marcus for a 3. It just caught me weird on my shoulder. So it's probably an AC joint or something like that. I'm not diagnosing myself, I'm pretty sure. I saw the doctors afterward and they said AC joint or something going on there, but I'll be all right."
Irving could be seen grabbing at his shoulder following a play with about four minutes remaining in the game. With the game well in hand, he would check out for good at the 3:34 mark.
He finished the game with 22 points, eight assists and four rebounds.
Happy 24th Birthday to Giannis Antetokounmpo

D-Rose Turned Back the Clock and Put Up 50

Dubs Trolled Fergie So Hard It Became a Challenge

CP3-Rondo Blowup Was a Long Time Coming

NBA Let Players Know They Have to Cover Branded Tattoos

The NBA Is Back and the Soccer World Is Pumped

Boban Is Back to Break It Down for Another Season

Players Battle Campers in Rivalry of the Summer

Happy 30th to KD!

Andrew Bynum Is Making an NBA Comeback

Kobe's Hottest Kicks 👟

The Kyrie-I.T. Trade Shook the NBA 1 Year Ago Today

Dyckman Courts Are the Red Carpet of Streetball

Giannis' Youngest Brother Could Be the True 'Greek Freak'

#JamesGang Got AAU Hoops on Lock 🔒

11 Years Ago, KG Joined the Celtics

LeBron's School Opens in Akron 💪

Embiid Putting the World on a Poster This Offseason

Kobe's 'Mamba Mentality' Runs in the Family
Right Arrow Icon
While the 26-year-old guard isn't concerned by the injury, Matt Vautour of MassLive.com reported Irving will be checked out as a precaution.
Irving has dealt with a number of injuries throughout his career. Most recently, the point guard was limited to just 60 games a season ago and missed the Celtics' run to the Eastern Conference finals after undergoing knee surgery in April.
Boston has started to hit its groove after struggling to a 10-10 start, winning its last four games by an average of 21.8 points. Irving has played a big role in the team's recent success, scoring 20-plus points in each game during the streak. The former No. 1 overall pick is averaging 23.3 points in his last 12 appearances, dating back to him missing a Nov. 9 contest against the Utah Jazz.
If the injury winds up sidelining Irving, Celtics coach Brad Stevens can turn to either Terry Rozier or Marcus Smart at the point. If Stevens opted to start Smart at the point, it would open the door for either Jaylen Brown or Gordon Hayward to return to the starting lineup.  
NBA News
via Bleacher Report – NBA https://ift.tt/2gMI6gF
December 7, 2018 at 09:33AM