Celtic v Kilmarnock: How Steve Clarke has thwarted Brendan Rodgers
Celtic v Kilmarnock: How Steve Clarke has thwarted Brendan Rodgers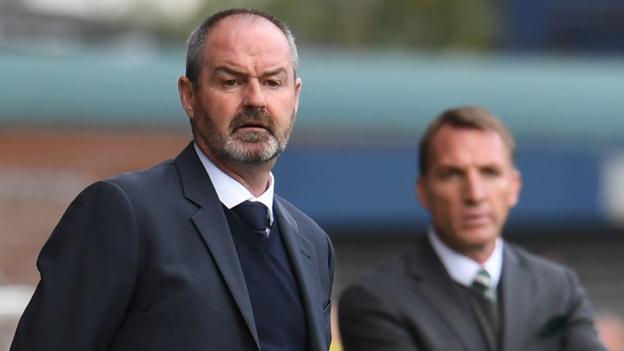 Scottish Premiership: Celtic v Kilmarnock
Venue: Celtic Park Date: Saturday, 8 December Kick-off: 15:00 GMT
Kilmarnock could not have asked for a better fixture in which to extend their lead at the top of the Scottish Premiership – if their recent record is anything to go by.
Over the past 16 months, Steve Clarke's side have faced Celtic four times and have yet to lose to the Scottish champions, who are targeting an eighth consecutive league title.
But how has the Rugby Park boss – who has guided his side to 31 points from their first 16 league games – managed to thwart Rodgers at every turn?
Here's what Sportscene's Michael Stewart, James McFadden and Steven Thompson had to say after each of those four matches…
Parking the bus at Celtic Park
Celtic 1-1 Kilmarnock (28 October, 2017) – Clarke's Premiership debut
Thompson: "He couldn't have asked for a harder start, but Kilmarnock were excellent. In the first half, they sat very deep and did park the bus, but it was effective. You heard Brendan Rodgers saying Celtic didn't really have that quality in the final third. Well, Kilmarnock's two banks of four forced Celtic to play in front of them and forced them wide. Celtic couldn't get through because they were narrow. Just watch the way Chris Burke is going over to double up to make sure that they have two players marking [Patrick] Roberts."
Stewart: "You have to look at how compact they are. They're so difficult to break down. Celtic are moving Kilmarnock from side to side, but after a split second it's four and four. Celtic are renowned for popping the ball about and breaking you down and when you make a mistake they open it and get in to the space. There's undoubted progress in the result that Kilmarnock have picked up there."
Suffocating the champions
Kilmarnock 1-0 Celtic (3 February, 2018) – Premiership fixture
Stewart: "In this tactical battle you see Kilmarnock setting up in a 4-4-2. Celtic tried to get [Olivier] Ntcham and [Charly] Musonda in the gaps between but there was no space. Far too much of the play was in front of Kilmarnock and they could then pressure them. They tried to play everything through the middle and Kilmarnock were just closing them down, outnumbering them and winning the balls. There's no doubt that it was a tactical victory for Steve Clarke."
"The flip side of that is that they weren't just difficult to beat – they were also very dangerous on the counter attack. They had a plan when they were on the ball. [Jordan] Jones, was very much central to that. You see him winning the ball off Ntcham and driving his team 30, 40, 50 yards up the park. Jones was the one who was causing all sorts of problems."
Discipline and organisation
Celtic 0-0 Kilmarnock (9 May, 2018) – Post-split Premiership fixture
McFadden: "I think Kilmarnock would have went there and believed that they could have got something. But everybody else would have been expecting them to lose. They'd lost the three previous and didn't want to go in to the top six and not register a point. So for them it's a good point. Listening to Steve Clarke talking about how they were organised suggests he'll be pleased with that."
Thompson: "Under Steve Clarke they've drawn two and won one. So effectively Celtic haven't beaten Kilmarnock this season under his stewardship."
Exploiting errors
Kilmarnock 2-1 Celtic (23 September, 2018) – Premiership fixture
Thompson: "Celtic will analyse these goals and know that they should have done an awful lot better. Jack Hendry is not shuffling across to get over to the space. Eventually he does react but it's too late and Chris Burke is in acres of space. The second goal is just poor again. Hendry loses his marker, he gets the wrong side, he gets caught up with his own player. A fantastic run and header from [Stuart] Findlay, but again to lose a goal from a set play is very, very sloppy."
Stewart: "The intensity isn't in Celtic's game anymore. Take the responsibility and go attack and commit to the opponents. You see this gap in midfield for Celtic – there's nobody there. So many midfielders are too deep or too far forward. At the moment there is a lack of intensity off the ball, which means a lack of options. Which means they're breaking down their own play."
Soccer News
via BBC Sport – Football https://ift.tt/OHg7x6
December 7, 2018 at 01:30PM