Kyrie Irving, Celtics Cruise Past Kevin Knox, Knicks; Jayson Tatum Drops 17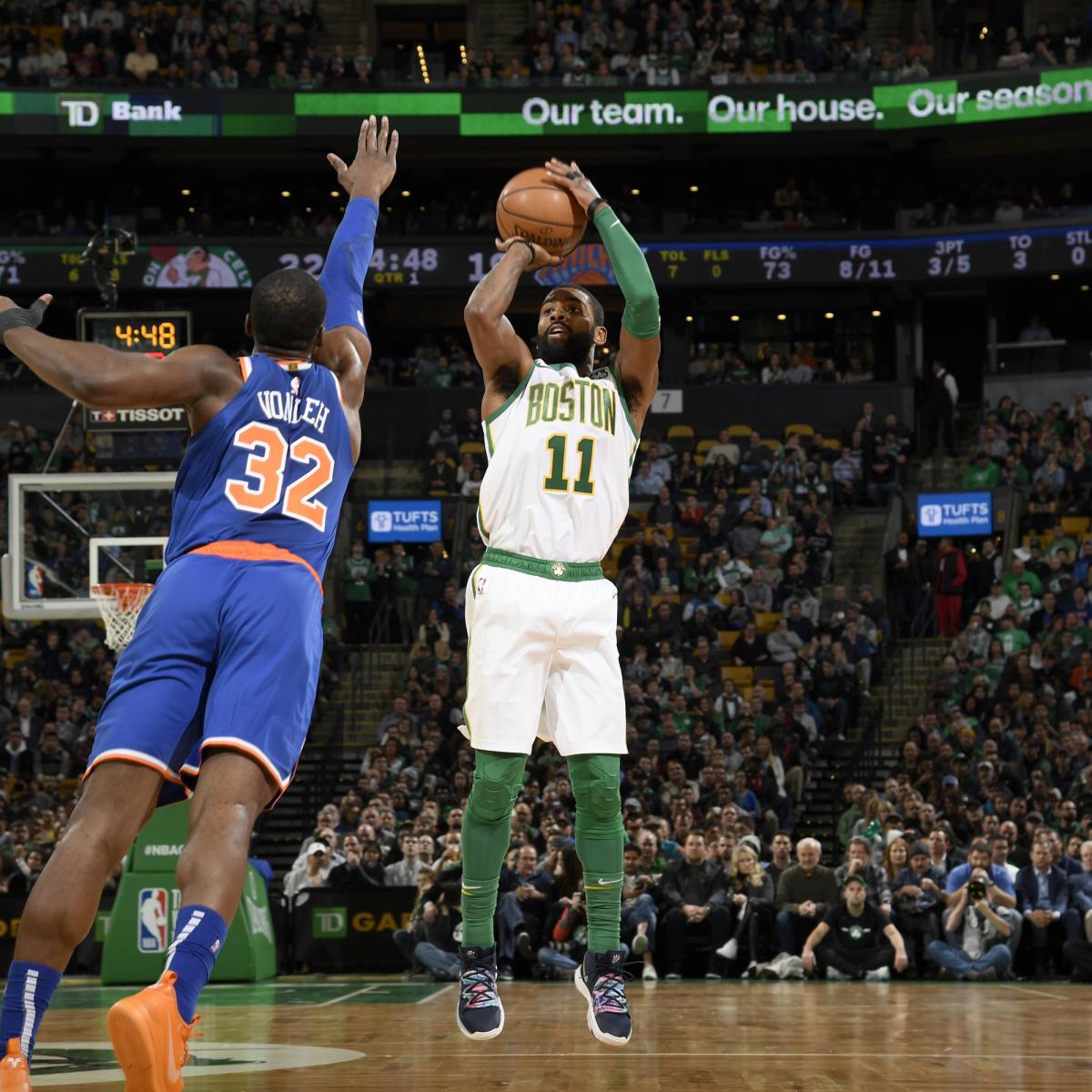 Brian Babineau/Getty Images
The Boston Celtics defeated the New York Knicks 128-100 at TD Garden on Thursday night. 
Kyrie Irving led the way for the Celtics with 22 points and eight assists, while Gordon Hayward (eight points and six rebounds) and Jayson Tatum (17 points and five rebounds) also contributed to the victory.
Rookie Kevin Knox had 11 points for the Knicks in a losing effort.

Jaylen Brown Has Sixth Man of the Year Potential in New Bench Role
Jaylen Brown played a key role in helping Boston get to Game 7 of the Eastern Conference Finals a season ago, but he's coming off the bench as he recovers from a lower back bruise.
If he stays there, it could pay big dividends.
As Nicole Yang of Boston.com pointed out, the Celtics had the best offensive rating (124.6) and the second-best net rating (19.2) in basketball with Brown on the sidelines. That's a small sample size, but it's worth mentioning how well the team's played with Marcus Smart and Marcus Morris in the starting lineup.
Some players may take issue with a bench spot after they've established themselves as a productive starter, but Brown has made it clear he can handle whatever role coach Brad Stevens puts him in.
"People make it a bigger deal than it really it is," Brown said, per Yang. "At the end of the day, it's basketball. [Gordon] Hayward came off the bench the other day and had 30 points. That's a mindset thing; that's a choice. Coming out and having the right mindset, coming out and playing the right basketball, it will take care of itself."
He brought the right mindset Thursday. He put up a season-high 21 points on 7-of-10 shooting while playing 25 minutes in his first game since Nov. 24.
Brown is coming off a breakout season in which he established new career highs in scoring (14.5 ppg), field-goal percentage (46.5), three-point percentage (39.5) and rebounds (4.9). Even with that strong performance, the 22-year-old has established a team-first mentality.
"However we can keep this going, playing the right way and continuing to win, I'm 100 percent for," Brown said, per Yang.
And that approach could be a game-changer, as the No. 3 pick of the 2016 draft has put his ego aside and shown he can be a team player.
Boston has won four in a row and shows no signs of slowing. As long as the starting lineup continues to jell, Stevens has no reason to make drastic changes. And it doesn't hurt to have playmakers such as Brown and Hayward coming off the bench to provide a spark. 
What's Next
Both teams will be back in action Saturday. Boston (14-10) will head to the Windy City for a tilt against the Chicago Bulls at the United Center, while New York (8-18) returns home to host the Brooklyn Nets.
Where to Watch: NBA games and related coverage are available through Fubo.TV/welcome.
This article will be updated to provide more information soon.
Get the best sports content from the web and social in the new B/R app. Get the app and get the game. 
NBA News
via Bleacher Report – NBA https://ift.tt/2gMI6gF
December 6, 2018 at 07:37PM