Lakers News: LeBron James Discusses Playing Time, Team's Transformation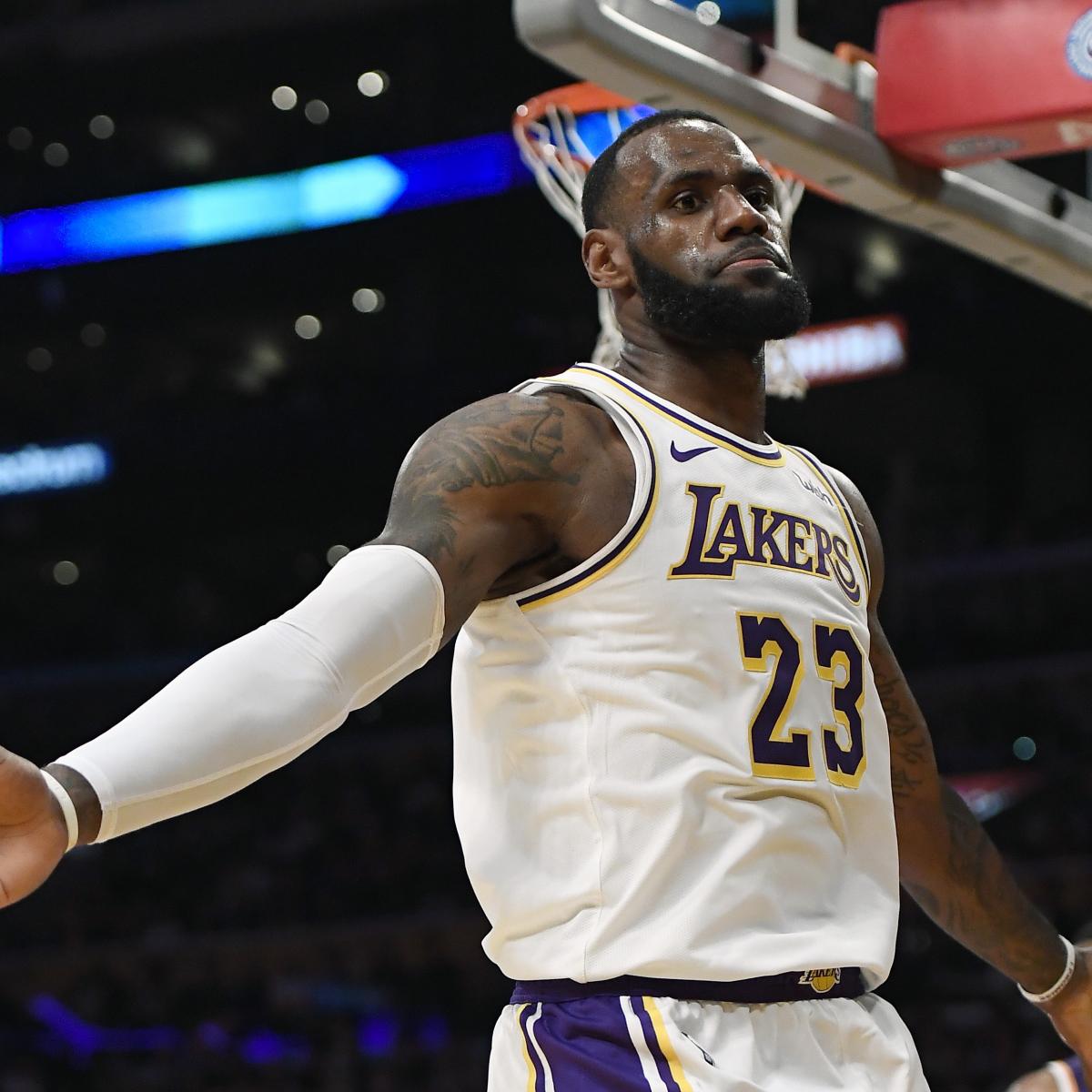 Kevork Djansezian/Getty Images
LeBron James is a workhorse.
He did everything for the Cleveland Cavaliers, the Miami Heat and now, he's doing the same thing with the Los Angeles Lakers.
But doing it all isn't a long-term plan for winning, according to long-time Laker Kobe Bryant.
"It's a balancing act," Bryant told Lakers play-by-play announcer Bill MacDonald at the "All-Access" event, per ESPN's Dave McMenamin. "They were struggling, Bron got the ball, took control, decided to start playing point, doing everything, doing everything.
"That's not the recipe for winning championships by no means, but it is a recipe to keep your head above water, to give yourself a little breathing room, and now it's going back to teaching how to play the way that we want to play."
Magic Johnson agreed.
He was over the moon when James signed a four-year, $153.3 million contract to play with the Purple and Gold this past summer, but he doesn't want to overwork his new superstar.
Bleacher Report @BleacherReport
"We are trying to make sure that we watch his minutes but also that we don't run everything through him because now it is Cleveland all over again and we don't want that," Johnson said in an interview on SiriusXM NBA Radio, per ESPN's Ohm Youngmisuk. "We want to get up and down."
When asked about the president of basketball operations's comments, James shrugged.
"I don't know what asking me to do too much is, to be honest," James told reporters after practice Tuesday per McMenamin . "I just play my game."
Luckily for Lakers fans, he's still playing his game at a very high level.
With averages of 27.8 points, 7.7 rebounds and 6.7 assists per game, James has L.A. rolling on a three-game winning streak and a 14-9 record, good enough for fifth place in the loaded Western Conference.
And he's doing all of this while playing a career-low 34.7 minutes per contest.
That's a sign of the team's focus to keep James' workload on an even keel, but if the 16-year veteran had his druthers, he'd play every minute of every game.
"I want to play 48 minutes a game," James said. "Seriously. But it's not going to happen. It's not smart. It's not smart on anyone's behalf, but it's just the competitive side of me. If you ask any competitive guy that's been in my case, do they like coming out? There's not going to be one that's going to say yes. But at the end of the day, you got to do what's best for the team, and you got to be able to protect yourself as well. So I love everything that's going on with our ballclub and this franchise since I got here."
James' workmanlike approach to playing the game of basketball notwithstanding, it's best for the team if he lets the Lakers young core continue to develop.
"I understand the logic behind it," James said. "I understand what Magic and Kobe are saying because we want to continue to grow the young guys. We want to see how much our young guys can grow and be the best they can be. I mean, Magic and Kobe know who I am. I know who I am. They know what they're going to get out of me."
So it's up to head coach Luke Walton to make sure he doesn't overuse the four-time MVP.
And James will listen, despite rumors to the contrary.
"We have pretty good dialogue about how he's feeling, but there's definitely times that I take him out he seems frustrated," Walton said. "Definitely wants to stay on the floor. A lot of that is depending on how the flow of the game is. I like to not have him close the entire fourth quarter. If he starts the fourth, I try to find a couple minutes here or there to sit him out just to keep him a little more fresh for those final couple minutes. But it's kind of a game-to-game type of thing."
LeBron Likes Team's Progression

Kevork Djansezian/Getty Images
The Lakers are climbing the ladder in the NBA power rankings.
That's due to the collective improvement by the team and LeBron James, who has won three championships, notices.
"I love where we're at," he told Lakers.com reporter Mike Trudell. "I love where we are, and where we're thinking about passing the ball and getting everybody involved."
He also added that the team needed to improve in several areas such as free throw shooting and cutting down on turnovers, but loved how they were stepping up on the defensive end.
It's all part of why L.A. has the ninth best record in the league.
"Winning," James said when asked what he liked about what the team is doing, per Trudell. "We put in the work in, and that's the reason why we're winning. Every day, we come out here and get each other better. We critique each other when guys are not doing their job, from the top to the bottom."
The Lakers are currently fourth in league in pace at 104.1 and 15th in offensive efficiency at 108.0. But where they are differentiating themselves is on defense. They are ranked seventh in the league at 106.1.
The recent acquisition of Tyson Chandler has to be a factor in that, which James acknowledged, but overall, the team has been focused on making it difficult for their opponents to score the ball.
"Defensively we've been in tune, and offensively we've been playing together," James said. "Besides the turnovers, which we want to get better at – that's always a topic of conversation and point of emphasis for us, but we've been defending and we've been playing together."
L.A. has been playing great defensively, but can they keep it up?
"This is what we preach around here every day," James said. "So it has to be sustainable. It needs to become the norm, and it is the norm for us now."
It's also the norm for the 14-time All-Star to play well when it matters.
"You know what you're going to get out of me every game," James said. "Am I going to play well every game? Am I going to shoot the ball well every game? No. But you know who I am, and when it's time to — when it's really, really, really money time, you know who is going to be there."
Another reason why the Lakers are playing well is the progression of Kyle Kuzma.
The second-year forward out of Utah can still fill it up on offense—he's averaging 18.2 points per outing over the last five games—but his focus lately is to change the perception that he doesn't play defense.
"I think the narrative is I don't play defense," Kuzma told Lakers.com reporter Joey Ramirez. "If you watch how the season progresses, I have been getting better and better every single game, just making the effort. I just want to be a complete player. All great players do it on both ends."
Head coach Luke Walton has utilized Kuzma to defend players on the perimeter and, according to Walton, he's beginning to excel in that role.
"He's done a nice job on those type of players, we're finding out," Walton said. "It's good for him to have a mission out there to be able to focus on defensively. We're looking for matchups that we can use his size and strength and athleticism to give us an advantage. He's done a really good job of that."
Walton's not the only pleased with Kuzma's progress.
"He's not allowing anybody to just put a cap on him and say he's a scorer," James said. "He wants to be more than that. He's been continuing to get better and better. Not only offensively, but defensively as well. He's just playing all-around solid basketball."
If James, Kuzma and the rest of the cast can keep this up, the Lakers will continue to surprise people this season.
NBA News
via Bleacher Report – NBA https://ift.tt/2gMI6gF
December 5, 2018 at 09:05AM