Clint Capela's Growth and Importance Becoming Increasingly Clear for Rockets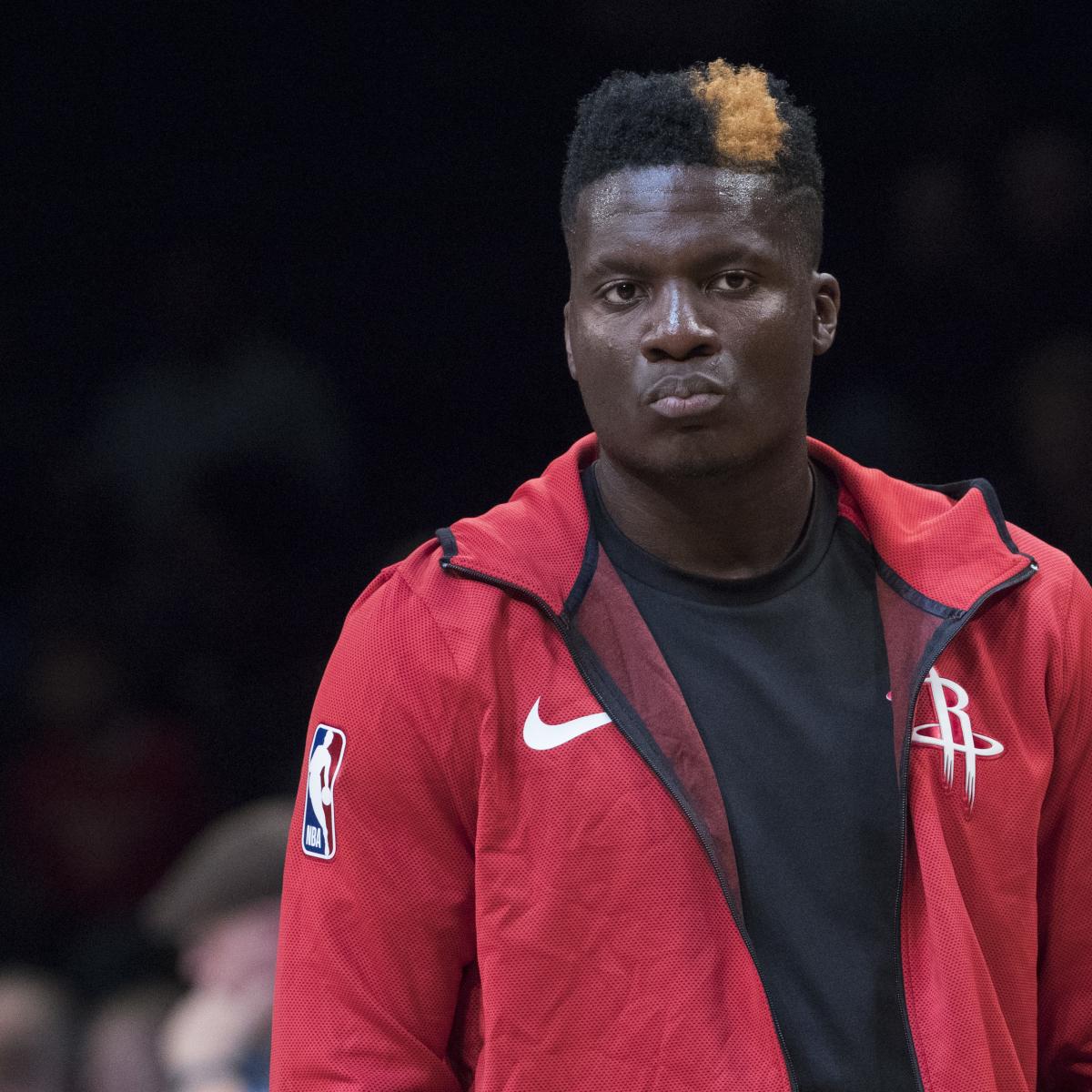 Mary Altaffer/Associated Press
Even in ugly defeats, bright spots can emerge.
Such was the case for the Houston Rockets on Thursday night, as they continued to facilitate growth from a key piece even while a 98-80 loss to the Russell Westbrook-less Oklahoma City Thunder dropped them to an unexpected 4-6 record in 2018-19.
Clint Capela functioned as one of the team's few beneficial contributors, dropping 17 points, seven rebounds, three assists, one steal and one block on 8-of-12 shooting while continuing to show off an expanded two-way arsenal.
Think of the Rockets, and two players spring to mind before any others.
Capela, as you might have guessed, isn't one of them. Last year's MVP is an obvious choice, especially since James Harden has remained the most effective player on the roster during the 2018-19 campaign. Chris Paul follows just behind, attempting to shake off a slow start and work his way toward the 10th All-Star appearance of his Hall of Fame career.
But while the backcourt standouts are the driving forces behind Houston's attempt to recover from a slow start and ascend back toward the top of the Western Conference hierarchy, Capela's importance to this team can't be overlooked. The Rockets seem to know that, continuing to allow the big man to anchor their improving defense while beginning to diversify his role.
Growing pains are inevitable, as was the case Thursday night, though that was more due to Paul George's two-way brilliance (20 points, 11 rebounds, six assists, six steals) and the ice-cold shooting of Paul (10 points on 11 field-goal attempts) and Carmelo Anthony (two points on 11 field-goal attempts). But the long-term results should still help justify the peaks and valleys—important to remember on an evening that falls firmly into the latter category.
For all that Capela did well in 2017-18, his job description was narrow enough that he could become marginalized against the wrong matchups. Dominant as he was in the pick-and-roll game and when serving as the last line on the interior, his passing limitations, inability to play on the perimeter and struggles switching onto smaller players exposed him in certain situations. The Golden State Warriors, as they do for so many opposing teams and players, served as the primary boogeyman.
Throughout the entirety of 2017-18, Capela averaged 27.5 minutes of run and produced 13.9 points, 10.8 rebounds, 0.9 assists, 0.8 steals and 1.9 blocks while shooting a league-best 65.2 percent from the field. But take a gander at his performances against the eventual champions during the regular season: 
Oct. 17: 12 points, four rebounds, one steal, one block in 18:10 (minus-23)
Jan. 4: 15 points, 10 rebounds, one block in 27:30 (minus-12)
Jan. 20: 18 points, five rebounds, four steals, one block in 30:04 (even)
Then, over the course of seven outings in the Western Conference Finals, the big man averaged just 10.3 points, 10.7 rebounds, 0.9 assists, 0.6 steals and 1.1 blocks against the Dubs. He shot 72.1 percent from the field and played 28.5 minutes per game, but his troops were outscored by 49 points with him on the floor.
"It's no secret everybody wants to always point out me and James, but he's the 'X' factor," Paul said, per Brent Zwerneman of the Houston Chronicle, after Game 5 of the penultimate round, which featured Capela thriving after four games of minimized impact. "When Clint doesn't play, we're in trouble."
Thus far in 2018-19, the Rockets seem to be taking that mentality to heart. After handing the pivot a five-year contract worth $90 million with incentives, they're letting him spend more time on the floor (a career-high 33.7 minutes per game) and start to expand his offensive role.
Though you won't find any specific claims to verify this line of thinking, it's not hard to connect the dots and see that these changes are geared toward making him more of an indispensable piece, one who's matchup-proof during both the regular season and playoffs.
Capela's primary impact continues to stem from his point-preventing prowess, and he's already been a driving force behind the team's rise out of its early-season doldrums.
TNT
Not only is he swatting plenty of shots, but he's also continuing to make scoring tough on the interior. Even more importantly, he's showcasing a willingness to play help defense and switch onto smaller assignments more frequently—an utter necessity if he's to log big minutes against five-out lineups employed by some of the league's deadlier offenses.
To demonstrate this numerically, look at Capela's matchup data on NBA.com, which shows how many possessions he's spent guarding individual players. Combining this with Basketball Reference's positional qualifications for each contributor, such that point guards were 1s, shooting guards were 2s and so on, you can calculate the average position he's guarded during each of the last two seasons:
2017-18: 4.18
2018-19: 3.69
That's not an insignificant change, as he's slid down nearly half a position. He's closest to true power forwards in both seasons (the number will naturally be smaller because five is the maximum value for any player), but the discrepancy has shifted sides toward smaller players during the current campaign. Perhaps it'll level out as the calendar progresses, but we saw this on display yet again during the loss.
When he wasn't banging bodies with Steven Adams—a tough, physical matchup for anyone—he was comfortable switching onto smaller assignments, as he frequently did against both Raymond Felton and Dennis Schroder.
TNT
Schroder is quick enough to blow by many guards, so switching on the pick and sliding to cut off his basket attack and force a kick-out feed to the perimeter is a positive outcome. This doesn't happen every time Capela cedes the speed advantage against a smaller adversary, but he's getting more comfortable through exposure.
Offensively, the altered style is no less significant.
Last year, Capela functioned as a roll man on a whopping 32.1 percent of his action, and he scored 1.34 points per possession to finish in the 91.3 percentile. This year, the frequency for his pet set has plummeted to 20.9 percent, and he sits in the 54.2 percentile by scoring 1.21 points per possession.
The Rockets aren't forcing the issue in the pick-and-roll game nearly as much and are instead letting the offense come to the big man naturally while asking him to become a better passer.
Of course, he can still throw down some jams off the roll: 
TNT
On the most basic level, Capela is nearly doubling his previous career high (1.0 assists per game in 2016-17) by averaging 1.9 dimes. But as we dive deeper, his involvement becomes even more obvious. He's touching the ball more frequently in the half-court set, and his average time with the ball per touch is also trending up.
He didn't have the ball in his hands long here, but look at the difficulty level on this backdoor feed to James Ennis III early in the first quarter: 
TNT
The same was true of this skip pass into the corner off a short roll, which PJ Tucker cooly drilled: 
Those aren't easy passes for a big to make, and the fact that Capela is willing to try them in live action speaks volumes about his growing confidence as a tertiary distributor. Mistakes are inevitable, but even the miscues set the stage for a more well-rounded arsenal that can pay off down the road.
Overall, that long-term growth is what matters most. All of these changes aren't working in seamless fashion quite yet. Though he can't claim sole responsibility for the disappointing 4-6 start, that record should immediately make the roller-coaster nature obvious.
That's fine.
Capela hasn't been as effective individually, with a box plus/minus that's shrunk from 3.0 to 1.0 as he attempts to navigate the nuances of this novel role. Turnovers have come with increased passing responsibilities, and his defense hasn't always slowed those smaller players.
While the Rockets are definitively better with him on the floor, featuring a net rating that rises 4.7 points per 100 possessions with his presence, they were still on the wrong end of a minus-3.6 net rating heading into Thursday night's affair.
But championships aren't won in November, and the Rockets should be more concerned with expanding their repertoire for postseason battles than executing perfectly during the season's opening salvo.

Tim Warner/Getty Images
If Capela can capably cover smaller assignments, the defense has an even loftier ceiling after assistant coach/defensive savant Jeff Bzdelik returns to the sidelines. If he's comfortable setting up teammates rather than serving exclusively as a dunkbot, that takes pressure off the backcourt stars—especially important while Paul doesn't look quite right.
Harden remains the unquestioned engine of this Houston outfit. Paul's importance can't be oversold. Ditto for Tucker, given his three-and-D proclivities on a roster that covets both talents.
But if this team is looking to lift its ceiling even higher—and we're assuming the key pieces recover from their slow starts and begin to jell as the campaign progresses—Capela's growing skill set could be just the boost the Rockets are looking for.
Adam Fromal covers the NBA for Bleacher Report. Follow him on Twitter: @fromal09.
Unless otherwise indicated, all stats accurate heading into games on Nov. 8 and courtesy of Basketball Reference, NBA.com, PBPStats.com, NBA Math or ESPN.com.
NBA News
via Bleacher Report – NBA https://ift.tt/2gMI6gF
November 9, 2018 at 07:17AM