Turner shrugs off 0-for-5 night to spark L.A.'s win
Turner shrugs off 0-for-5 night to spark L.A.'s win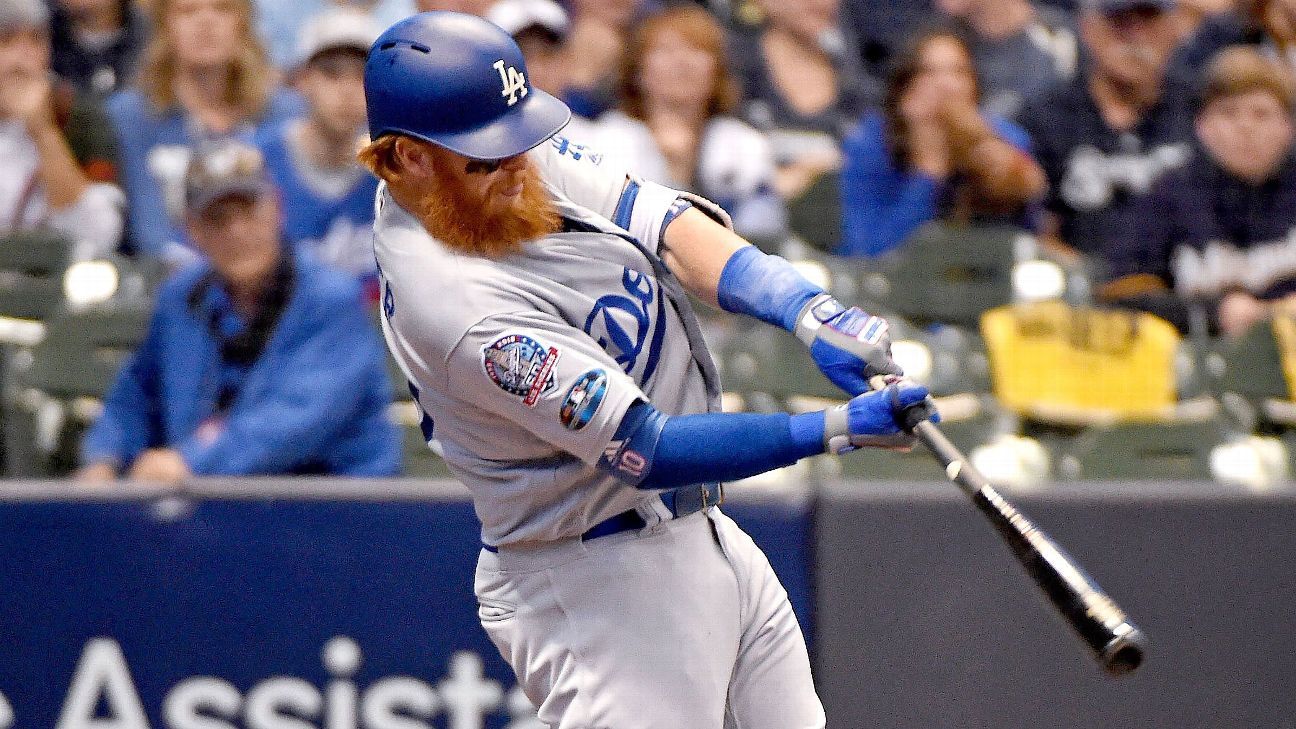 MILWAUKEE — It was admittedly the worst game of his career and one of the worst games in baseball history. Justin Turner — among the sport's hottest hitters since the start of August, including a first-round playoff series at the start of October — went 0-for-5 with four strikeouts and one error in Game 1 of the National League Championship Series, becoming the second player to ever put together such a performance in the postseason.
Less than 24 hours later, Turner ignited his team, as he so often has, launching the two-run home run that gave his Dodgers the 4-3 lead they rode to victory on Saturday afternoon, evening this best-of-seven series against the Milwaukee Brewers at one game apiece.
"It takes a special athlete to have a night like he had last night and to show up the next day in a big spot and want to have the bat in your hand," Dodgers manager Dave Roberts said. "Justin is that guy, and those are hard to come by."
The Dodgers trimmed a three-run deficit to one in the seventh, getting an RBI single by Cody Bellinger — his first hit in 16 at-bats this postseason — and a bases-loaded walk by Austin Barnes. Jeremy Jeffress came back out for the Brewers to begin the eighth and saw leadoff hitter Chris Taylor reach with an infield single.
Three pitches later, Jeffress tried to run a 2-0 splitter in on the hands of Turner, who quickly turned on it to unleash a 104.7-mph, 388-foot shot into Miller Park's second deck in left field, his bat momentarily pointing straight into the sky like a magic wand.
"That felt good," Turner said.
Before that swing, Jeffress had never allowed a home run off his splitter.
He had thrown 363 of them.
"I was just trying to get something up, and as soon as I hit it, it felt good," Turner said. "I knew it was a homer, and it's cool to run around the bases and see all your teammates going crazy, jumping up and down and waiting for you. That's pretty cool."
Turner went on to record the game's final out, after Kenley Jansen forced Christian Yelich into a slow roller with the tying run in scoring position. Turner recorded the final out on Friday, too, but it was on his own strikeout, while representing the go-ahead run with Chris Taylor on third base and two outs in the ninth inning.
It was Turner's first four-strikeout performance in a career that had spanned 975 games. He joined former Cincinnati Reds outfielder Reggie Sanders — from Game 3 of the 1995 NL Division Series, against the Dodgers — as the only players to go 0-for-5 with four strikeouts and one error in the same contest.
Roberts sensed anger from Turner, but didn't speak with him prior to Game 2. He didn't feel like he needed to.
"That was probably the worst game of my career offensively," Turner said. "But I think you just shrug it off to be about baseball. We have to go to sleep and show up and do it again today. Obviously I wasn't feeling good about myself last night and wasn't happy with the results, but today was a new day."
Turner has long been a spark for these Dodgers. He now has four postseason go-ahead home runs since joining the club in 2014, tied with Daniel Murphy for the most in that span. He is also the only player with multiple go-ahead home runs in the eighth inning or later over those last four years, his other being the walk-off in Game 2 of last year's NLCS against the Chicago Cubs.
Over the last two months of the regular season, with the Dodgers perpetually fighting for a sixth straight division title, Turner batted .357/.449/.618.
In the NL Division Series, while his team quickly dispatched the young Atlanta Braves, Turner went 5-for-14 with four walks and zero strikeouts.
And when the Dodgers desperately needed a win to stay even with the dangerous Brewers, Turner came through once again.
"If you're talking about the grind, the tough conversations, the identity of our ballclub — he's probably the face," Roberts said. "He personifies everything that I believe in as a baseball player, as a professional. He's the glue for our club."
MLB News
via http://www.espn.com – MLB http://www.espn.com
October 13, 2018 at 06:28PM