'Forza the Ants' – Roma back Glasgow junior side
'Forza the Ants' – Roma back Glasgow junior side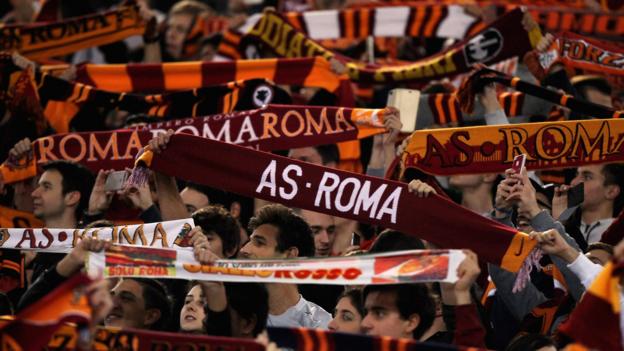 Glasgow junior side Saint Anthony's will be lucky to attract 100 brave souls on a cold, rainy afternoon.
But the West Region League Two side have the added backing of Serie A giants Roma for Saturday's meeting with Johnstone Burgh at McKenna Park.
To mark the UK's Non-League Day, the club's English language Twitter account announced they are "supporting the mighty Saint Anthony's FC".
Hashtags "Mon the Ants", "it's an Ants thing" and "Forza the Ants" were added.
During the international break, the Non-League Day campaign urges fans of senior clubs who are not playing to go along and support a non-league side.
But club media officer Martin McKenna told BBC Scotland that the Roma tweet came out of the blue – and the reason for it remained a mystery.
"We did have some Roma supporters visiting in 2003, one of them gave us a Roma scarf that still hangs in our committee room and we gave him a St Anthony's strip," he said.
"My brother friend had brought four of his Italian friends with him to experience McKenna Park, but that might be a massive coincidence.
"However, my cousin also recently noticed they tweeted support for a team in Namibia – I think they try to raise the profile of clubs around the world – and he messaged them suggesting they make us their Scottish team."
McKenna admits "it's a bit bewildering" but "welcome publicity" for a family club saved from financial problems by his grandfather Felix in the 1950s and for which his father, Felix Jnr, is club secretary.
"The first I knew about it was when my wife woke me this morning to tell me about the tweet and my phone has been in meltdown mode since," he added.
"It's gone a bit crazy and we now have 4000 followers from around the world – 3700 of them this morning."
St Anthony's lie 13th in the 15-team table, five points behind Saturday's visitors.
Soccer News
via BBC Sport – Football https://ift.tt/OHg7x6
October 13, 2018 at 06:18AM