Vikings RB Cook questionable against Cardinals
Vikings RB Cook questionable against Cardinals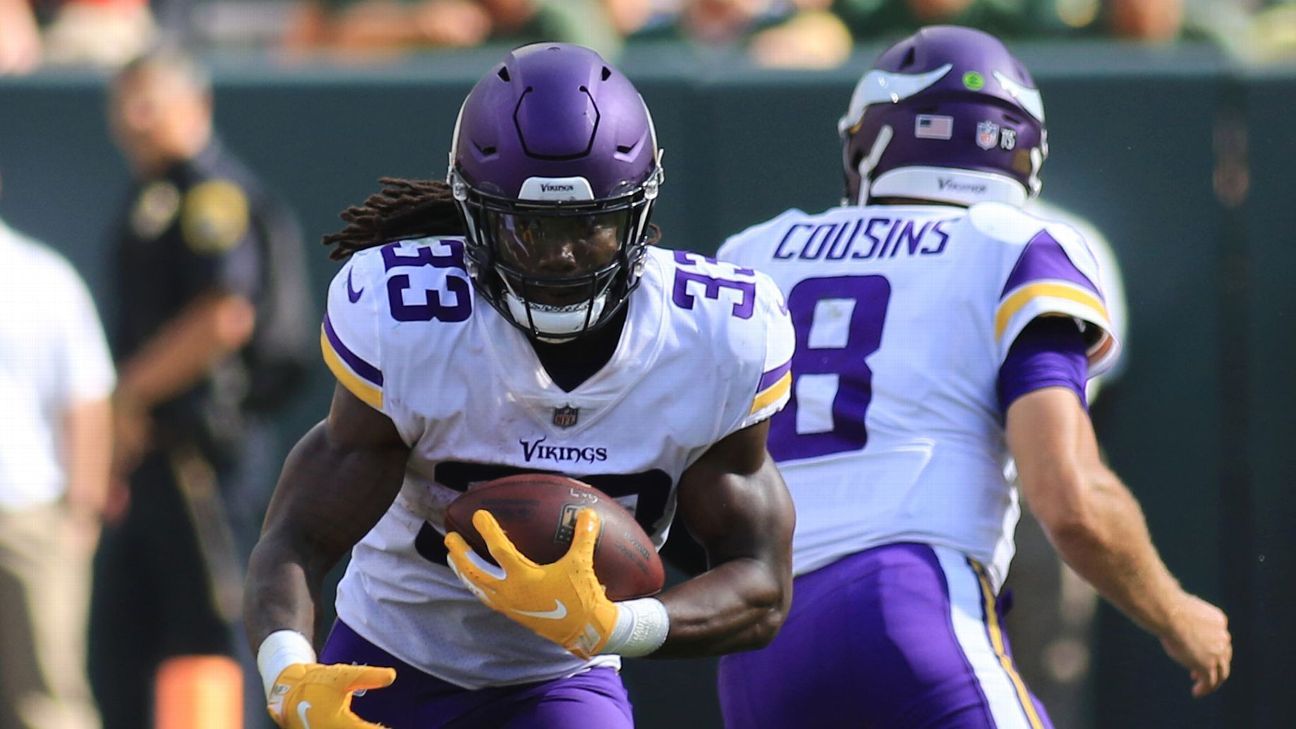 EAGAN, Minn. — Battling through the ups and downs of a hamstring injury that sidelined him for two games in the first five weeks, Minnesota Vikings running back Dalvin Cook remains focused on getting back to full health.
After practicing in full on Thursday, the first time he was able to go through an entire session prior to injuring his left hamstring in Green Bay on Sept. 16, Cook was back to being limited on Friday. He is officially listed as "questionable" for Sunday's game against the Cardinals.
Cook says he feels "way better" now compared to where he was nearly a month ago, but still considers himself "day to day."
"That's the tricky thing with these hamstrings," the running back said. "It's more of a feel thing and I'm just trying to feel through it each and every day."
The frustrations of coming back from a left ACL tear that cut his rookie season short only to have a new injury in the same leg force him to miss time haven't caused Cook to lose sight of his goal. Though he aims to top his 2018 production of 36 carries for 98 yards, Cook believes that if he's not fully healthy, his impact won't be as great.
"I think at this point, it's not a 'prove' thing," Cook said. "We're winning games and we're getting better each and every week. It's just about me getting healthy and going out there and being able to help my team. Going out there 80 percent, 70 percent, I'm not going to be able to help my team like that. We have a bunch of guys at 100 percent that can help my team win football games. At this point, it's just me getting 100 percent so I can be out there and be who I am so I can be explosive."
After missing the Buffalo game in Week 3, Cook returned on a pitch count against the Rams. He saw the field for 18 plays and took 10 carries a total of 20 yards. The running back said he did not re-injure his hamstring in Los Angeles and his absence from practice last week and during Minnesota's Week 5 win over the Eagles is because he's still trying "to get where I need to be at."
Cook also noted the "tricky" nature of hamstring injuries due to their ability to linger and the unknown regarding the risk of re-injury. During his sophomore season at Florida State, Cook sustained an injury to his same left hamstring on Oct. 3, 2015. Having dealt with these issues previously has given him the mindset to not rush back or ask too much of himself in practice.
"In practice, I really don't try to test it out as much because it's more of a rest thing with hamstrings," he said. "You try to rest it. When it's time, I do try to get some game reps in in practice, try to see where I'm at and evaluate myself. I feel way better than I've felt."
Cook is the only player on the Vikings injury report whose status is listed as 'questionable.' Minnesota ruled out left tackle Riley Reiff (foot), defensive end Tashawn Bower (ankle), safety Andrew Sendejo (groin) and defensive end Everson Griffen (not injury related) for the Cardinals game.
NFL News
via http://www.espn.com – NFL http://www.espn.com
October 12, 2018 at 02:51PM