Stadium Super Trucks banned from Supercars after CAMS court row
Stadium Super Trucks banned from Supercars after CAMS court row
The Stadium Super Trucks series has been banned from racing in Australia and dropped from Supercars support bills in a row that reached Victoria's Supreme Court.
The American series, created by former IndyCar and NASCAR racer Robby Gordon, has raced at Australian events since 2015.
But it was recently dropped from the October 19-21 Gold Coast 600 Supercars bill by national governing body the Confederation of Australian Motor Sport.
Gordon filed an injunction against that decision, but the Victoria court ruled in favour of CAMS and SST will be suspended from Australian motorsport for the foreseeable future.
Although the Gold Coast decision was only recently made public, a CAMS statement said it had suspended SST following an incident at Barbagallo in May when a stray wheel struck a pedestrian bridge.
"A number of safety related incidents were then analysed and CAMS' expert view was that the category posed a significant and increasing risk," said the statement.
"It was CAMS' view that the potential risks were too great to continue, particularly at a confined street circuit.
"These concerns were put to the category manager who failed to provide a satisfactory and suitable response to the dangers identified and the decision was then made to suspend the category in Australia."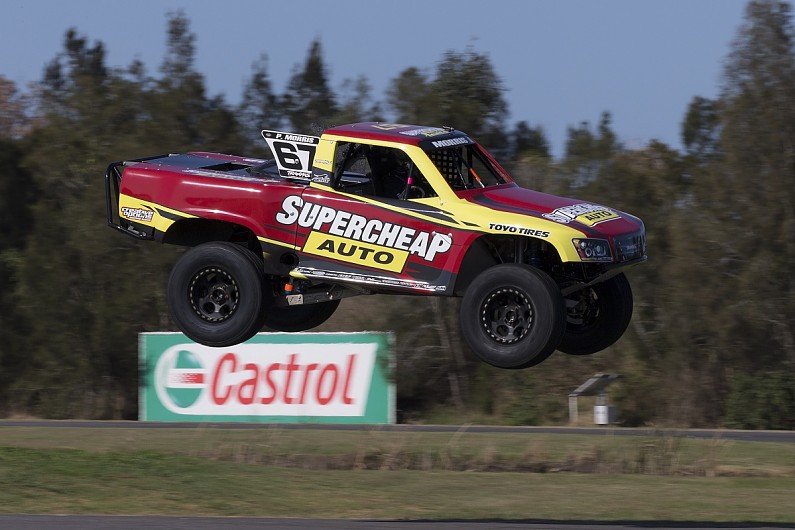 SST's Australian rights-holder Peter Adderton, chief of sponsor Boost Mobile, had argued that CAMS was motivated by a personal grudge against Gordon rather than a genuine safety concern.
CAMS and Gordon had clashed in 2017 when Gordon was fined for performing a burnout on a public street in his SST machine.
"I simply don't understand what CAMS is doing," Adderton told Autosort before the court hearing.
"The fans absolutely love it. It brings in a younger fanbase, it brings in people that aren't necessary interested [in traditional motorsport].
"I feel more it's an issue they have with Robby, as opposed to an issue they have with Super Trucks.
"That's very narrow, short-minded thinking.
"It's not a good sign for motorsport in Australia when we're losing fans, and here's a sport that really entertains people, and we have to go to court to get it on a circuit.
"That, to me, is a waste of everyone's time and money.
"If your job is the regulate the sport and you're not regulating – you're just burying your head in the sand because you don't like it for some reason or some person – then you're irrelevant."
Adderton also claimed CAMS should have discussed options for SST safety improvements rather than banning the series, but CAMS CEO Eugene Arocca insisted those talks had happened.
"We have been open with the category management about these risks and what action could be taken to enable them to return to action in Australia," he said.
"Suspending a category is always a last resort. Unfortunately we had no other alternative in this case as we believe there is a significant risk to competitors, spectators and officials."
Racing News
via All news – Autosport https://ift.tt/2uOa9Ei
October 12, 2018 at 04:09AM