Croatia 0-0 England: Jadon Sancho and Ben Chilwell's surreal experiences
Croatia 0-0 England: Jadon Sancho and Ben Chilwell's surreal experiences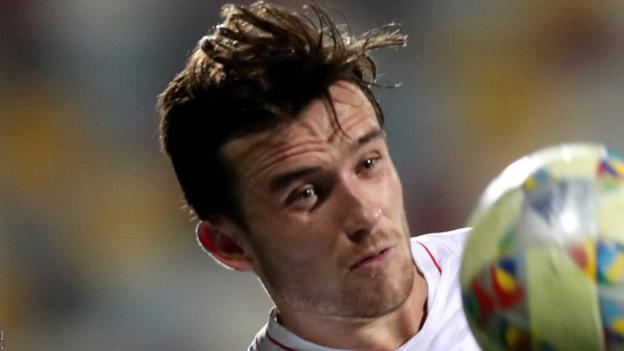 It is the moment every young footballer dreams of.
Emerging to the roar of the crowd, acknowledging your family in the stands, and lining up for the national anthem.
Yet for Leicester City full-back Ben Chilwell, the experience on his first start for England – against Croatia on Friday – was considerably more surreal, as he attempted to belt out God Save the Queen knowing everyone at the ground could hear every word.
With the hosts punished after a swastika was visible on the pitch before a European qualifier in 2015, the crowd for this behind-closed-doors contest in Rijeka was officially registered as zero.
And while there were 500 people present for the 0-0 Nations League draw – including the media, team delegations, police officers, security staff and Uefa representatives – no family members were allowed inside Stadion HNK Rijeka.
That also meant an unusual evening for Jadon Sancho, who – aged 18 years and 201 days – became the second youngest player to make his England debut in a competitive international, behind only Duncan Edwards.
'I would have loved for my family to have been here'
While Chilwell enjoyed the home comforts of Leicester's King Power Stadium when making his England bow as a substitute in September against Switzerland, there is nothing quite like your full debut.
And, while he delivered an assured display that drew praise from manager Gareth Southgate, the only tinge of disappointment was the absence of those closest to him.
"I would have loved for my family to have been here to watch," Chilwell, 21, told BBC Radio 5 live.
"I'm sure some of my mates would have flown out too. It is one of those things. They will have been watching at home.
"They got to watch it on TV and I spoke to them after the game and they were all very happy.
"It was a great moment, making my full debut. When I found out I was very happy and nervous."
Special night for Sancho
Friday was also a special night for Borussia Dortmund's Sancho, who left Manchester City in the summer of 2017 in an attempt to fast-track his career.
Barely six months have passed since he was lining up for England's Under-19 side, but his strong start in the Bundesliga – he has become the leading provider of assists in Europe's top five leagues – has enabled him to accelerate into Southgate's senior plans.
Despite only coming on as a substitute for the final 12 minutes against Croatia, he made a positive impression, twice skipping past full-back Josip Pivaric and earning the highest score of any player on BBC Sport's player rater.
"There was no hesitation in bringing him on – we know he can have an impact on the game," said Southgate. "When he did receive the ball, he was a threat."
Sancho is the first outfield player to make an appearance for England while playing for an overseas club since David Beckham against Belarus in October 2009.
"I thought he made an impact," said Three Lions captain Harry Kane. "He knows he's got to keep working hard now and I'm sure he'll do that."
England's youngest players
Player
Age
Fixture
Theo Walcott
17 years and 75 days
30 May 2006 v Hungary
James Prinsep
17 years and 252 days
05 Apr 1879 v Scotland
Tot Rostron
17 years and 312 days
26 Feb 1881 v Wales
Raheem Sterling
17 years and 342 days
14 Nov 2012 v Sweden
Clement Mitchell
18 years and 24 days
15 Mar 1880 v Wales
Michael Owen
18 years and 60 days
11 Feb 1998 v Chile
Micah Richards
18 years and 144 days
15 Nov 2006 v Netherlands
Duncan Edwards
18 years and 183 days
02 Apr 1955 v Scotland
Jadon Sancho
18 years and 201 days
12 Oct 2018 v Croatia
Marcus Rashford
18 years and 209 days
27 May 2016 v Australia
Soccer News
via BBC Sport – Football https://ift.tt/OHg7x6
October 12, 2018 at 04:30PM