England players 'need to show more personality' to engage better with fans
England players 'need to show more personality' to engage better with fans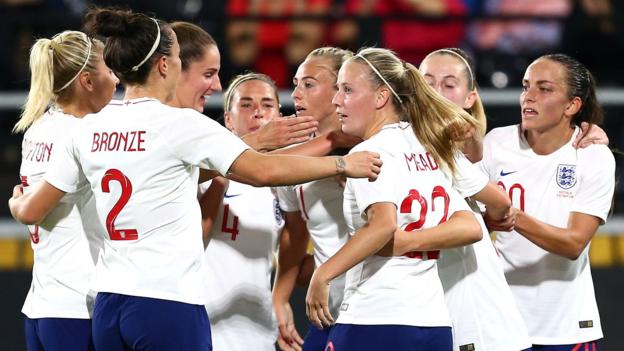 England's women's team needs to show more personality in order to engage better with fans, says former United States midfielder Heather O'Reilly.
The 2012 Olympics and 2015 World Cup winner thinks England lag behind the US when it comes to building the profile of the women's game.
"They're getting it done on the field," she told the World Football programme.
"But I'd like to see those women show a little bit more connection and personality to the fans."
O'Reilly, who recently won the NWSL with North Carolina Courage after spending the 2017-18 season at Arsenal Ladies, added: "Fortunately or unfortunately, I think that sort of differentiator is needed in the women's game.
"Not only do you need to get it done on the field but you need to enhance and create a little bit of brand so you stick with the fans. That's just the nature of the sport right now.
"It's up to the individual. Some players really embrace fame and some players really want to get down to business and play their football. But they need some characters to step forward and not be afraid of a little spotlight."
'Players can be interesting without being controversial'
England, who are ranked third in the world and are led by manager Phil Neville, will be among the favourites for next year's World Cup after finishing third in 2015.
After that tournament many players became household names, with attendances at England games growing since then. More than 25,000 fans watched the Lionesses' draw with Wales last April.
The FA also says players make over 200 appearances at schools and fan events each year and stay behind after games for signing sessions with fans.
But O'Reilly, who played 231 times for her country, says club media teams should shoulder some of the blame for a lack of interaction between players and fans.
"When I was playing for Arsenal I recognised that the media people were very cautious," she added. "In the US we have a little bit more of a free rein to show personality.
"Perhaps it will happen organically once these media folks recognise that these women are smart, and these players are smart; they know what to steer clear from and what to engage in.
"When they start to see it pay off, and people are in the stands and following social media, there'll be a lot more confidence that these players can hold their own.
"They can be interesting but not necessarily controversial. Those things aren't mutually exclusive, you can certainly have interesting dialogue and show personality while not being a headache for that media team."
Soccer News
via BBC Sport – Football https://ift.tt/OHg7x6
October 11, 2018 at 09:30AM