Marciello/Meadows snatch Blancpain GT Sprint title amid drama
Marciello/Meadows snatch Blancpain GT Sprint title amid drama
Former Ferrari protege Raffaele Marciello and Michael Meadows snatched the Blancpain GT Series Sprint Cup championship victory with a win in the second Nurburgring race.
The victorious #88 ASP Mercedes started the race in second and spent much of the afternoon behind the polesitting Black Falcon #6 Mercedes of Hubert Haupt and Luca Stolz before getting ahead after the pitstops.
Haupt gave chase but crossed the line half a second behind the newly-crowned champions, with the #25 Audi of Simon Gachet and Christopher Haase finishing in third.
Late drama came from the championship contender of the #1 WRT Audi Alex Ribera and Christopher Mies, who had made a good start after a crash in qualifying had left them in 14th.
They made their way up to fifth through a combination of a good pitstop and a strong opening stint for Mies.
With Marciello leading, the #1 Audi needed to finish fourth to take championship victory and a lengthy battle ensued for the position with the #66 Audi of Steijn Schothorst, with Riberas attempting an ambitious move with three minutes to go.
This allowed the #19 Lamborghini Huracan of Ezequiel Perez Companc in sixth to catch up with the battle, which after several corners of the three cars disputing fourth led to Riberas retiring to the garage with a puncture.
As a result Riberas and Mies had to settle for second in the championship, despite taking three wins in 2018 to the #88 ASP Mercedes' two.
The #87 ASP Mercedes of Nicolas Jamin and Adam Christodoulou finished in sixth ahead of the #14 Lexus of Albert Costa and Christian Klien.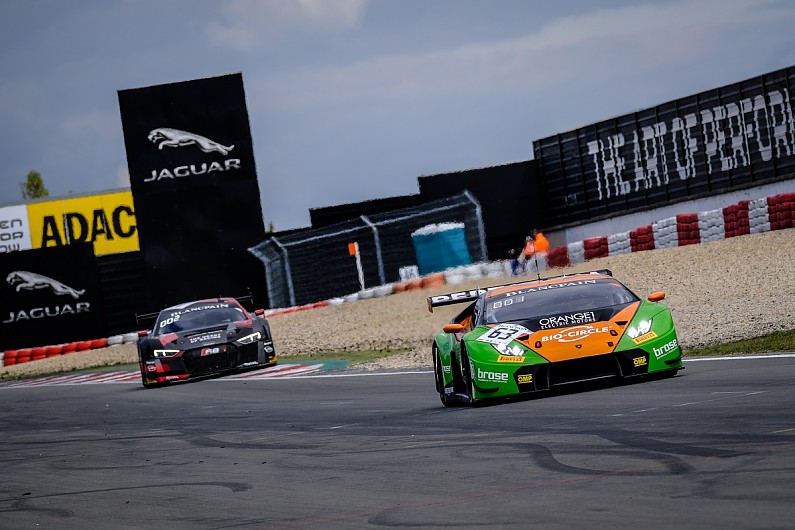 Saturday's original race one winner, the #63 Grasser Lamborghini, was disqualified from the meeting ahead of the finale.
It had lost its victory in the opener when Christian Engelhart was given a 30-second time penalty for illegally wearing his frontal head restraint over the shoulder straps of his harness.
Further footage then emerged showing Engelhart removing a glove and unbuckling his harness so he could remove the SD card from the driver-facing onboard safety camera and then destroy it.
The car was disqualified as driving with the unfastened harness, without a glove and without a safety camera operating were all rules transgressions.
A Grasser statement said "admitted full responsibility for the error" and offered his "sincere apologies" to the organisers, his team and Lamborghini.
Racing News
via All news – Autosport https://ift.tt/2uOa9Ei
September 16, 2018 at 08:59AM