WRC Turkey: Thierry Neuville hits trouble, Sebastien Ogier leads
WRC Turkey: Thierry Neuville hits trouble, Sebastien Ogier leads
World Rally Championship leader Thierry Neuville's title bid has received a huge blow with a suspension breakage while first on Rally Turkey on Saturday morning.
His problem has launched his championship rival Sebastien Ogier into the lead, and gives the M-Sport Ford driver a realistic shot at deposing Neuville from the top of the points table this weekend.
Hyundai driver Neuville had risen into the rally lead by the end of Friday despite running first on the road, and was pulling away on the splits early on the Yesilbelde stage that opened leg two.
But then onboard camera footage showed the left-front suspension on his i20 breaking and beginning to shed components through the deranged bonnet.
Neuville pushed on initially before having to slow to a crawl with the car's left front corner scraping along the ground.
He had to complete around five miles of the stage with the problem and lost three and a half minutes, dropping him to 10th.
"Something has broken, we didn't hit anything," said Neuville at the stage end. "Unlucky. Really unlucky."
It is not yet clear if Neuville can continue in the rally. He and co-driver Nicolas Gilsoul are likely to attempt a makeshift repair on the road section, but have two more stages to complete before service.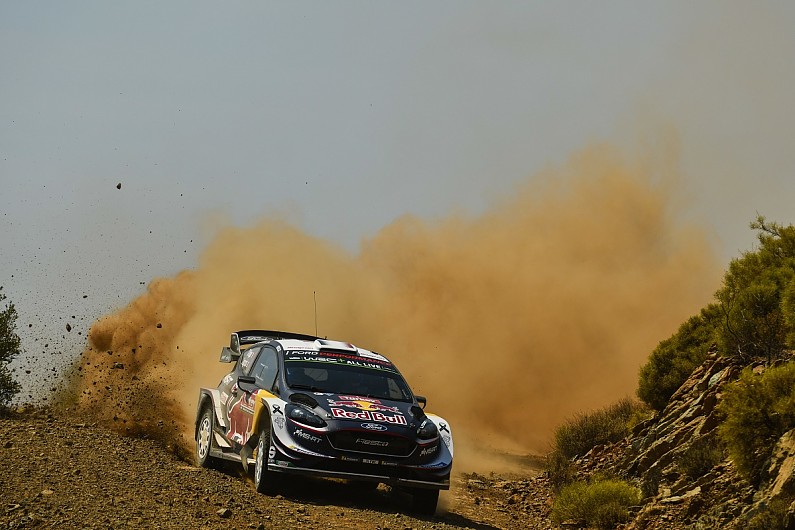 Ogier had started Saturday just 0.3 seconds behind Neuville in second, and was fastest on Yesilbelde by a huge 22s.
That puts Ogier into the rally lead by 25s over Neuville's Hyundai team-mate Andreas Mikkelsen.
Ogier, who called Neuville's news "part of the game", is currently 23 points behind in the champonship with 25 available for a win and a further five available on Sunday's powerstage.
Win Dayinsure Wales Rally GB tickets and a unique passenger ride on a WRC stage – click here to enter
Racing News
via All news – Autosport https://ift.tt/2uOa9Ei
September 14, 2018 at 11:55PM