Cedi Osman Deserves Cavaliers' Starting SF Job After Monster Summer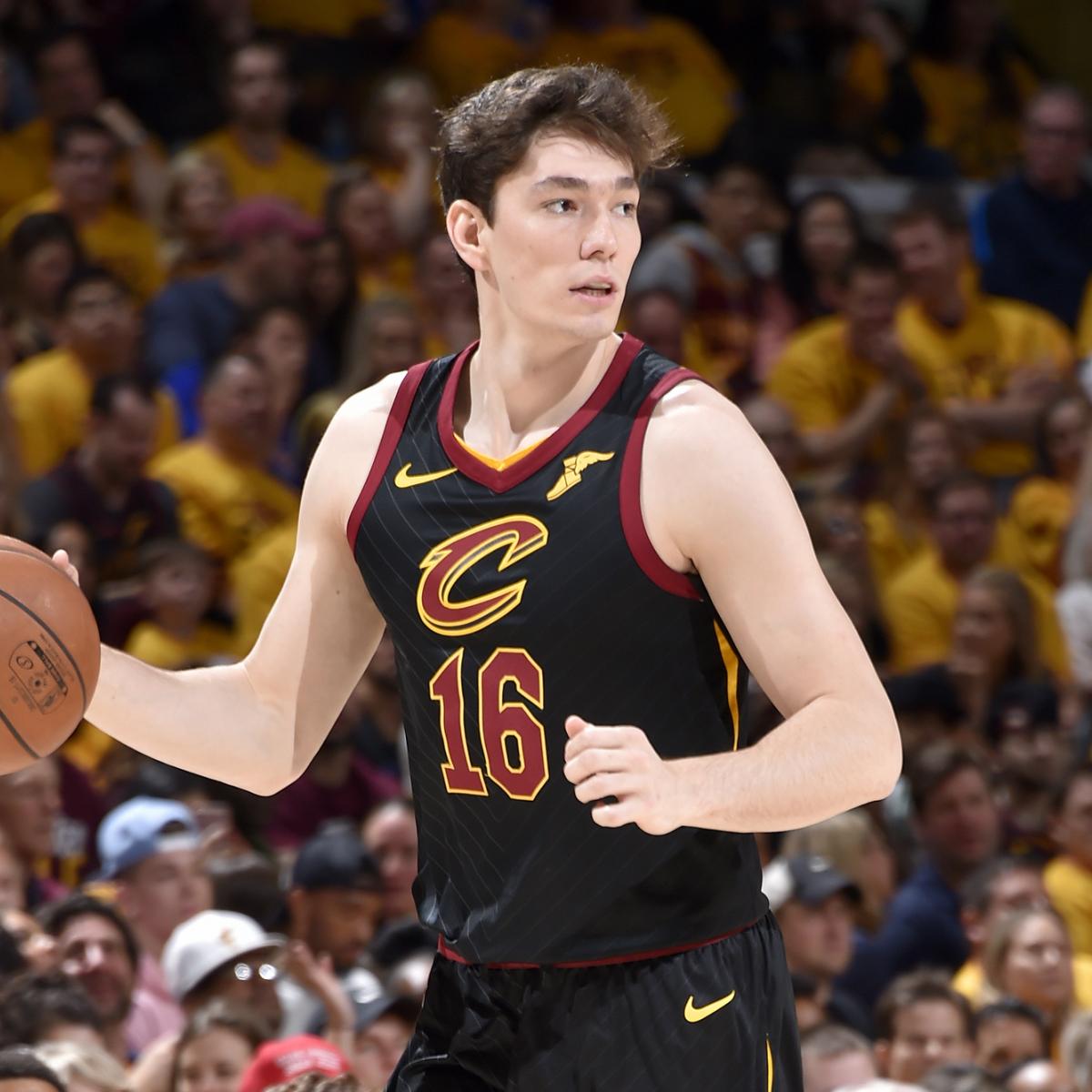 David Liam Kyle/Getty Images
Outside of Cleveland and his native Turkey, Cedi Osman is not a household name.
As a rookie with the Cavaliers last season, Osman averaged just 11 minutes per game on a team full of veterans with a championship-or-bust mission. By playoff time, he had fallen out of head coach Tyronn Lue's rotation altogether.
Despite his lack of opportunity, there was a quiet buzz beginning to build. At 22, he wasn't a typical rookie, having played professionally since he was 16 for the Turkish national team. The veterans on this Cavs team, especially LeBron James and Jeff Green, embraced Osman, and he quickly became the first off the bench to greet and embrace James on many big occasions.
His infectious smile and energy breathed life into an old, dusty Cavs locker room at times, and Osman transformed from a "hustle guy" to a solid overall player just waiting for his turn.
Now, that turn has come.
When the Cavaliers take the court this fall, there will be no James to congratulate coming off the court. No Green to serve as a mentor and share a corner of the locker room with.
Building off the last few months that saw him dominate summer league; share private workouts with James, Kevin Durant and Kawhi Leonard; and now help lead the Turkish national team to a 5-2 record in the World Cup Euro Qualifiers, Osman is primed to step into a major role for the Cavs.

Filling the King's Shoes
When James first departed Northeast Ohio in 2010, Cleveland had no one remotely capable of filling his minutes.
The Cavaliers used six different players at small forward that season, a blend of past-their-"prime" veterans in Anthony Parker, Joey Graham and Jamario Moon and raw, low-upside guys like Alonzo Gee, Christian Eyenga and Jawad Williams.
The bar is low, but Osman is already comfortably the best of this group.
At 6'8″ and 215 pounds, he has an ideal small forward build and has shown the ability to play and defend multiple positions. He spent 27 percent of his court time as a rookie between both shooting guard and power forward. Lue often tasked Osman with defending opposing point guards, demonstrating his trust in him and having few other options.

Jason Miller/Getty Images
Going into the 2018-19 season, there's not only a chance Osman could take James' starting small forward spot, but it would be a mistake if he didn't get it.
Lue's options are to use either Osman or Rodney Hood or go to a smaller, three-guard lineup with JR Smith or Kyle Korver. Hood is good enough to be a starter, and Smith and Korver both spent time in Lue's opening lineup during the regular and postseason. That said, Osman represents both the best chance to win now and build for the future.
Cedi, Do You Love CLE?
Cleveland won't make the Finals for a fifth straight time, but the Cavs may be more enjoyable to watch during the regular season.
While last year's Cavs mostly sleepwalked through the first 82 games and ended up with a 29th-ranked defense to show for it, Osman should help change that.
He's an ideal NBA wing in today's game, able to switch everything defensively while serving as both a scorer and playmaker on offense. He's one of only three returning Cavs (along with Korver and Channing Frye) who had a positive on/off rating on both sides of the ball last season.
In summer league, Osman filled up the stat sheet with averages of 20.0 points, 8.0 rebounds, 4.5 assists, 2.5 steals and 1.0 block per game. He showed off an improved jumper that looked Korver-esque and was fearless when getting into the paint and finishing around defenders.
"That guy is Johnny Hustle. He plays his ass off; he'll run the floor dead sprint," one NBA scout told Bleacher Report last season after previously watching Osman play overseas. "Defensively, he's very active. What I loved about him coming into the draft is that he plays with nonstop energy, and that will take you far in the NBA."
It is too much to expect 20-plus points per game from Osman, but averaging 12 to 15 points per game is realistic. His defense should help carry Cleveland from the depths of the NBA as well. His intensity may be the highest on the team, and his instincts and ability to play passing lanes should have him among the Cavaliers' leaders in steals.
While scoring and defense are nice, it's his playmaking the Cavs need.
Losing James means that George Hill is now the returning team leader in assists…at 2.8 per game. Part of the playmaking responsibility will fall on rookie Collin Sexton as well, but he dished out just 3.6 helpers per game at Alabama.
Using Osman as the starting small forward gives the Cavs another guy who can handle the ball and create shots for others. His frame allows him to see over opposing guards, finding teammates cutting to the paint or spacing out for three. When Osman took the court without James last season, his assist percentage jumped from 6.9 percent to 10.2 percent. That's a nice early sign.
He also gives the Cavs a potential building block long term at either shooting guard or small forward. Sexton is the point guard of the future, and assuming Cleveland can keep Larry Nance Jr. either with an extension or with a new deal next summer, that gives the Cavs three standout defensive players in their starting five.
This is important since Kevin Love is locked into the next five years at a cool $145 million and just turned 30. He's better than his reputation defensively, but expect a decline given his age and injury history.
Osman isn't going to fool anybody into thinking he's the next LeBron. No one could. He is, however, a far superior option at small forward to anything Cleveland employed eight years ago and should play a major role on a Cavs team fighting for a playoff spot this season.
If Lue gives him the necessary minutes and role, expect Osman to be a candidate for Most Improved Player as the rest of the NBA world quickly learns what Cleveland and Turkey already have.
Greg Swartz is a featured columnist for Bleacher Report. Stats provided by NBA.com and Basketball Reference unless otherwise noted.
NBA News
via Bleacher Report – NBA https://ift.tt/2gMI6gF
September 15, 2018 at 05:04AM