'Be relentless', Steven Gerrard urges Rangers after 4-0 win over Dundee
'Be relentless', Steven Gerrard urges Rangers after 4-0 win over Dundee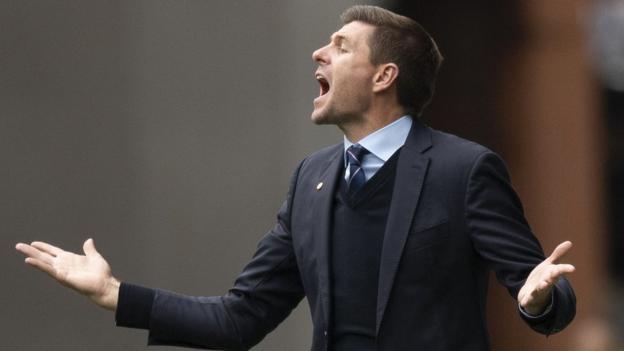 Rangers need to "be a bit more relentless and ruthless" when in a commanding position, says manager Steven Gerrard.
The Ibrox side opened up an early 2-0 lead against Dundee, added a third before half-time and then netted a late fourth.
It was Gerrard's second Premiership win as Rangers boss.
"If you're 2-0 up so early, go and get three and four before half-time," Gerrard told RangersTV.
"I just thought the game died at certain at times, the tempo and intensity dropped too much for my liking. We got a few early goals. At that time that's where I'm looking for players in my team to be a bit more relentless and ruthless and really go for teams and split the game in two.
"Four-nil is okay but I was wanting more.
"We've spoken before about trying to make this place a fortress and trying to make this place where teams like Dundee don't fancy it and they don't come and they're beat before they come."
Rangers open their Europa League Group G campaign away to Villarreal on Thursday and against Dundee, Ryan Kent and substitute Glenn Middleton got their first Rangers goals.
Gerrard said of on-loan Liverpool winger Kent: "I'm going to need his energy and I'm going to need another performance of that level on Thursday night.
"He was superb and I knew the goals would come. I knew as soon as he started relaxing in front of goal the goals would come but he's in a terrific place, well done.
"Brilliant for Glenn. That should do his confidence the world of good. He's in a really good place and he's knocking on the door for a start. We're really pleased with him."
Eros Grezda made his Rangers debut as a late substitute.
"It was some minutes in his legs," added Gerrard. "He's not ready. He's 60-70% match fit at the moment.
"There's still two, three weeks to try and get into his legs before he's ready. You can still see a little bit of quality, little bit of sharpness.
"I want an exciting team here full of pace and speed and he'll certainly add to that."
Soccer News
via BBC Sport – Football https://ift.tt/OHg7x6
September 15, 2018 at 12:27PM