Harry the Hornet: Man behind Watford mascot criticised by Roy Hodgson resigns from role
Harry the Hornet: Man behind Watford mascot criticised by Roy Hodgson resigns from role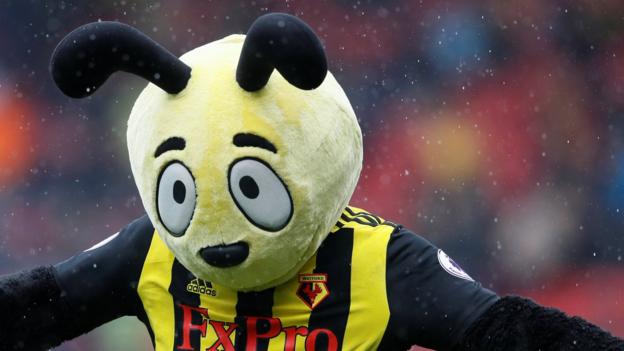 The man behind Harry the Hornet, the high-octane Watford mascot strongly criticised by Crystal Palace boss Roy Hodgson, has resigned from the role.
Speaking before the sides met at Vicarage Road in August, Hodgson took issue with Harry's "disgraceful" provocation of Wilfried Zaha in 2016.
The mascot had mocked Zaha by diving in front of him after the Palace winger had been booked for simulation.
Gareth Evans said he was "proud" and "heavy hearted" to be leaving.
He wrote on Twitter: "I have officially stepped away from being the match day mascot at #watfordfc my decision, proud of what I have achieved, the memories made and the experiences I've had – I was privileged and now heavy hearted also. Love you Harry!"
At the time of the incident, then Palace manager Sam Allardyce said Harry the Hornet was "out of order" but the Football Association decided not to take disciplinary action against the mascot.
Zaha reacted angrily as he left the pitch at the time but appeared to see the funny side later on, tweeting Evans a message with a thumbs up and a picture of diving judges holding up scorecards.
This season, Watford's 2-1 victory over Palace on 26 August passed without any major mascot-related incident, although Harry the Hornet launched himself head first into a sliding dive in front of home fans after the final whistle.
Soccer News
via BBC Sport – Football https://ift.tt/OHg7x6
September 13, 2018 at 11:57PM