Football Daily Podcast: Is there a new generation of European managers?
Football Daily Podcast: Is there a new generation of European managers?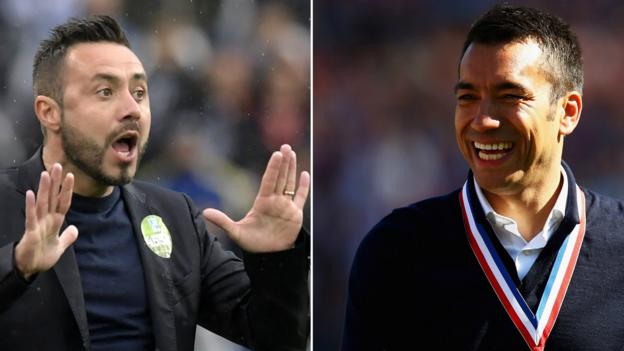 They have little or no previous experience and might once have been considered too young for the job, but a host of fledgling managers are making a significant impact across Europe's major leagues.
Six of the 18 coaches in the German Bundesliga are aged under 40, while up-and-coming coaches are also impressing in Italy, the Netherlands and elsewhere.
And it is not just age and experience level that marks out a new generation. It is the fact so many of them share a vision, both for how their teams should play and how they want to manage.
"They all seem to have flexibility tactically, they like high pressure and like work without the ball," said Football Daily Euro Leagues presenter Guillem Balague.
"They like defenders to be comfortable with the ball, play inside forwards, and have mobile centre forwards.
"They use technology, look to embrace support staff rather than overpower as previous managers might have done, and want to be on the grass coaching, not running the club from top to bottom."
The youngest boss in Europe's top five leagues is Hoffenheim coach Julian Nagelsmann who is now 31, having been appointed aged 28.
Like Nagelsmann, who ended his playing career aged 20 due to injury, a number of Europe's young coaches have limited or no top-level experience as a player.
French football expert Julien Laurens said it is "remarkable" how the young managers have been able to earn the respect in the dressing room.
"If you are Zinedine Zidane and you walk into a dressing room then there is no problem," he said.
"If you are 39 and people don't know you, you have to earn that respect.
"When Nagelsmann took over at Hoffenheim, he had people [playing under him] who were older than him.
"That is why it is so amazing that those guys to have not just had the results they have had, but that they have managed to get the respect from the dressing room by showing how hard they work, how amazing tactically they are and also in their man-management."
Who are the ones to watch out for?
Here are some of the best young coaches in Europe, picked by the Euro Leagues podcast team:
Roberto de Zerbi, Sassuolo
Italian Roberto de Zerbi is manager of Sassuolo, one of three clubs to be unbeaten after the opening three games of the Serie A season.
The 39-year-old former midfielder started his managerial career in the amateur Serie D with Darfo Boario before moving on to Foggia and Palermo.
Last year he took over at minnows Benevento after the club had made the worst start in Serie A history by losing their first nine matches.
De Zerbi failed to avoid relegation with Benevento but did end the season with 21 points and last summer was rewarded with another top-flight job at Sassuolo.
Balague said: "He is flexible tactically. He follows on the job [former Sassuolo manager] Eusebio di Francesco had done but he has continued it and that is very brave in a nation where the brand of football which dominates the ball, plays forward players very wide, plays with pressure high up the field is not usual."
Florian Kohfeldt, Werder Bremen
Florian Kohfeldt, 35, was described as by Raphael Honigstein as the "classic new German manager" and someone who can be thought of as the "next Nagelsmann".
In his playing career as a goalkeeper Kohfeldt did not play higher than the Bremen's third team and took his first coaching role with the club's Under-14 side.
The German also coached the Under-16, Under-17 and Under-23 teams before taking over the first team in 2017.
He took over with the club second-bottom in the table but finished the season 11th.
Honigstein said. "It is through the force of his knowledge and how he talks to players that he manages to convince everyone."
Manuel Baum, Augsburg
Another manager who has progressed from youth teams to the German top flight is Augsburg coach Manuel Baum.
The 39-year-old former school teacher was first appointed Augsburg manager on an interim basis in 2016 before being given the role full-time.
The club finished 12th under his management last season.
"He has done unbelievable stuff," Honigstein said. "He is quiet and is a teacher by profession, maybe he is not made out to be in charge of a big team, but you can see the knowhow and the talent he brings."
Marco Rose, Salzburg
Marco Rose, manager of Austrian side Red Bull Salzburg, has more experience as a player but with limited success.
The 42-year-old played 158 games in the Bundesliga and German second division for Mainz, largely under the management of Liverpool's Jurgen Klopp.
The German was appointed Salzburg manager in 2017 after rising through the club's youth teams, winning the Uefa Youth League in 2016-17, and won the Austrian league title and reached the Europa League semi-final in his first season.
"He had very little talent as a footballer but has a huge talent in reading the game," Honigstein said. "He needed to think about game more than others."
Giovanni van Bronckhorst, Feyenoord
Giovanni van Bronckhorst had an excellent playing career with Feyenoord, Rangers, Arsenal and Barcelona, and also won 106 caps for the Netherlands.
As a manager, he was given his first job at Feyenoord in 2015 at the age of 40, having only previous coached the club's Under-21 side.
He won the league-and-cup double in his first full season, ending the club's 18-year wait for a title, and won the cup again last season while finishing fourth in the Eredivisie.
BBC Radio 5 live European football expert Steve Crossman said: "If you are going to be a good coach in the Eredivisie then you have to be great with young players because you are going to have a lot of them and if they play well then you will lose them almost immediately.
"Since winning the title he lost one of his best defenders to Roma [Rick Karsdorp], lost midfielder Karim El Ahmadi, lost Terence Kongolo to Monaco.
"I think he has done a phenomenal job by being an amazing man-manager."
Soccer News
via BBC Sport – Football https://ift.tt/OHg7x6
September 14, 2018 at 12:21PM