New Ferrari F1 airbox device prompts fresh camera intrigue
New Ferrari F1 airbox device prompts fresh camera intrigue
Get unlimited access
You have only 5 articles remaining to view this month.
Ferrari appears to be continuing to try to block its on-board camera from capturing its Formula 1 car settings, despite the FIA telling it to stop using a cooling bag.
The team caused intrigue in recent grands prix when it started putting a bag filled with dry ice over the camera when the car was in the garage or on the grid.
While Ferrari claimed the move was a bid to cool car and camera electronics, rival teams suspected that an ulterior motive was to prevent the on-board camera from filming car settings – either on the steering wheel or at the back of the car.
Rival teams have access to the onboard cameras from all cars, and there are competitive advantages to be had if the opposition knows what Ferrari is up to.
With FOM not happy about Ferrari cooling its camera equipment, the FIA notified Ferrari ahead of the Italian GP that it should stop using the cooling bag with immediate effect.
Ferrari was duly spotted on the grid at Monza using an umbrella to try to block the camera view.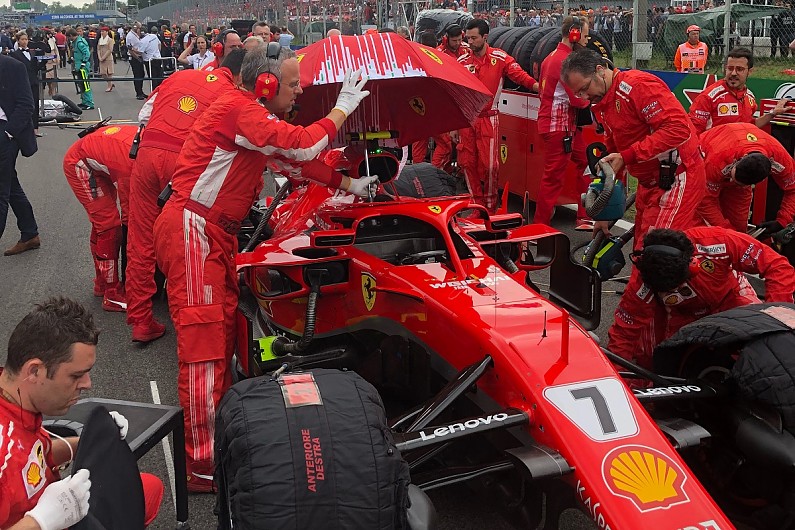 Ahead of the Singapore GP this weekend, Ferrari has been spotted with a newly designed airbox cooler – which features several appendages that also appear to block the camera view.
While the team will likely argue that the device acts in the same way that other teams' airbox coolers do, it is almost certainly no coincidence that it is shaped in such a way that the camera's view of the steering wheel appears to be shut off when it is fitted.
Racing News
via All news – Autosport https://ift.tt/2uOa9Ei
September 13, 2018 at 01:59AM