Max Verstappen: Other F1 drivers get away with more than me
Max Verstappen: Other F1 drivers get away with more than me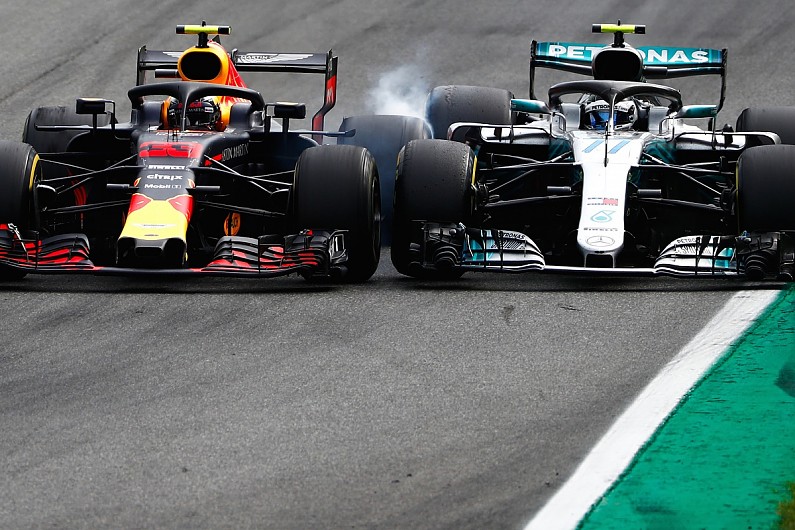 Max Verstappen remains convinced he was treated unfairly with his Italian Grand Prix penalty, after claiming other Formula 1 drivers got away with much worse behaviour at Monza.
The Red Bull driver was handed a five-second penalty after colliding with Valtteri Bottas as they battled for third place in the closing stages of the race. The punishment eventually dropped him to fifth.
Having expressed anger over the team radio at the time about the sanction, Verstappen says his belief that he should not have been punished has been hardened after seeing videos of what others drivers did.
"I was analysing other videos from the year before, because when you go back 10/15 years it is a bit irrelevant with rules and stuff, and the same happened exactly between [Lance] Stroll and [Felipe] Massa [in 2017]," said Verstappen, when asked by Autosport about the Monza incident.
"Massa was very clever and didn't clip his wheel, but stayed on the white line and took a little bit of the green [runoff], but his tyre was still on the white line.
"Of course I always try to make it as difficult as possible for them to get by.
"And I will fight for every millimetre on track, which I did, so at the end I think it is very harsh.
"Also looking back at what happened in Monza, other drivers just pushing each other off the track, damaging each other's cars, running into each other, and we didn't have any damage. He clipped my wheel and had to go wide.
"There was no damage and I think that is why it was very hard."
Verstappen accepts he was moving across on Bottas to defend, but remains adamant that the Finn had enough room to avoid a collision.
"Of course I was going to the left but as long as you give him a car width space then it is fine," he said.
"I think I gave him that. Of course it is on the millimetres, and if you go there, maybe it is a one millimetre that is enough or not enough, but that is how I race. On the millimetres. Not metres."
Although Verstappen has been involved in a number of controversial incidents when defending positions, he says situations have been exacerbated by him always having to defend against more powerful cars.
"I have to defend this hard because I am always down on power on the straight," he said.
"If we have the top speed you will never be in this position.
"I could also easily just say, let him go by and still have a great race and everybody says Max had an amazing race. But I am not there to finish fourth."
Racing News
via All news – Autosport https://ift.tt/2uOa9Ei
September 13, 2018 at 06:50AM