IndyCar Portland: Sebastien Bourdais, Will Power top practices
IndyCar Portland: Sebastien Bourdais, Will Power top practices
Dale Coyne Racing with Vasser-Sullivan's Sebastien Bourdais topped the timesheets on Friday ahead of IndyCar's race at Portland.
Bourdais, who was the last Indycar driver to win at Portland back in 2007, set a best time of 57.398 seconds to hold off Chip Ganassi Racing's Scott Dixon by just 0.0246s in the opening practice session.
Dixon, who suffered a harmless Turn 2 spin, was forced to skip the last five minutes of the 45-minute practice session as punishment for twice taking the checkered flag in yesterday's open test.
But Dixon missed very little, as the final five minutes were disrupted by two red flags caused by Andretti's Zach Veach and Harding driver Alfonso Celis Jr's errors at the Turn 10/11 complex.
Reigning IndyCar champion Josef Newgarden took advantage of the disruption to finish third ahead of Marco Andretti and team-mate Will Power.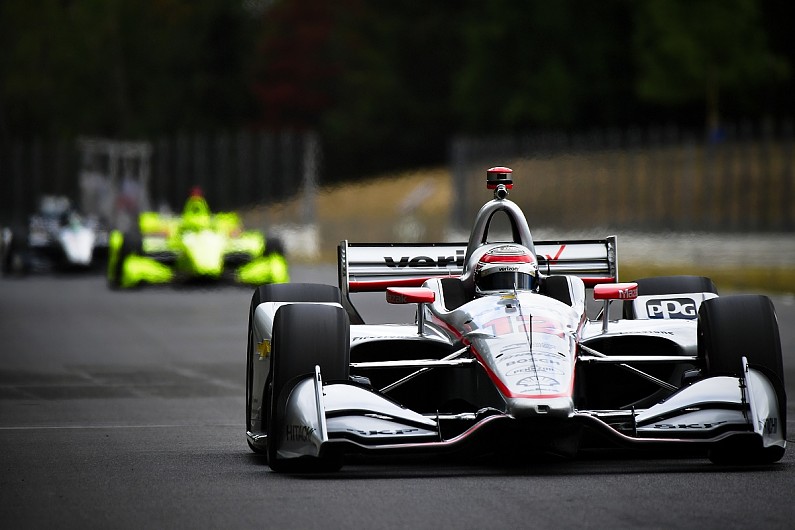 Power then topped the afternoon's session with a time of 57.4053s ahead of Andretti and a shock third place for banned Formula 2 driver Santino Ferrucci, who had been 12th in the morning's running.
Ferrucci is making his return to IndyCar with Dale Coyne Racing after a difficult debut in Detroit that drew criticism from Ed Carpenter Racing's Spencer Pigot.
Dixon was fourth in the session ahead of the returning Jack Harvey in the Michael Shank Racing affiliated entry, run in conjunction with Schmidt Peterson Motorsports.
His SPM team-mate and stand in for the injured Robert Wickens, Carlos Munoz, took his best placing of 16th in the afternoon session.
Drivers who suffered a miserable day included DCR's Pietro Fittipaldi who did not complete any laps in the morning, due to a brakes problem, and Penske's Simon Pagenaud crashed in the second session after showing middling pace in the earlier running.
Free practice one result
| Pos | Driver | Team | Car | Gap |
| --- | --- | --- | --- | --- |
| 1 | Sebastien Bourdais | Dale Coyne Racing | Dallara/Honda | 57.3975s |
| 2 | Scott Dixon | Chip Ganassi Racing | Dallara/Honda | 0.0246s |
| 3 | Josef Newgarden | Team Penske | Dallara/Chevrolet | 0.1861s |
| 4 | Marco Andretti | Andretti Herta | Dallara/Honda | 0.3139s |
| 5 | Will Power | Team Penske | Dallara/Chevrolet | 0.3688s |
| 6 | Jordan King | Ed Carpenter Racing | Dallara/Chevrolet | 0.3898s |
| 7 | Alexander Rossi | Andretti Autosport | Dallara/Honda | 0.3917s |
| 8 | Takuma Sato | Rahal Letterman Lanigan | Dallara/Honda | 0.3940s |
| 9 | Ed Jones | Chip Ganassi Racing | Dallara/Honda | 0.4841s |
| 10 | Zach Veach | Andretti Autosport | Dallara/Honda | 0.5787s |
| 11 | Jack Harvey | Meyer Shank Racing | Dallara/Honda | 0.5831s |
| 12 | Santino Ferrucci | Dale Coyne Racing | Dallara/Honda | 0.5994s |
| 13 | Max Chilton | Carlin | Dallara/Chevrolet | 0.6489s |
| 14 | Simon Pagenaud | Team Penske | Dallara/Chevrolet | 0.6697s |
| 15 | Ryan Hunter-Reay | Andretti Autosport | Dallara/Honda | 0.6923s |
| 16 | Graham Rahal | Rahal Letterman Lanigan | Dallara/Honda | 0.7084s |
| 17 | Gabby Chaves | Harding Racing | Dallara/Chevrolet | 0.7290s |
| 18 | James Hinchcliffe | Schmidt Peterson Motorsports | Dallara/Honda | 0.8306s |
| 19 | Spencer Pigot | Ed Carpenter Racing | Dallara/Chevrolet | 0.8880s |
| 20 | Matheus Leist | AJ Foyt Enterprises | Dallara/Chevrolet | 0.9797s |
| 21 | Charlie Kimball | Carlin | Dallara/Chevrolet | 0.9922s |
| 22 | Carlos Munoz | Schmidt Peterson Motorsports | Dallara/Honda | 1.0979s |
| 23 | Tony Kanaan | AJ Foyt Enterprises | Dallara/Chevrolet | 1.1222s |
| 24 | Alfonso Celis | Juncos Racing | Dallara/Chevrolet | 1.5679s |
| 25 | Pietro Fittipaldi | Dale Coyne Racing | Dallara/Honda | – |
Free practice two result
| Pos | Driver | Team | Car | Gap |
| --- | --- | --- | --- | --- |
| 1 | Will Power | Team Penske | Dallara/Chevrolet | 57.4053s |
| 2 | Marco Andretti | Andretti Herta | Dallara/Honda | 0.0615s |
| 3 | Santino Ferrucci | Dale Coyne Racing | Dallara/Honda | 0.0765s |
| 4 | Scott Dixon | Chip Ganassi Racing | Dallara/Honda | 0.1609s |
| 5 | Jack Harvey | Meyer Shank Racing | Dallara/Honda | 0.2931s |
| 6 | Josef Newgarden | Team Penske | Dallara/Chevrolet | 0.3101s |
| 7 | Gabby Chaves | Harding Racing | Dallara/Chevrolet | 0.3169s |
| 8 | Zach Veach | Andretti Autosport | Dallara/Honda | 0.3172s |
| 9 | Jordan King | Ed Carpenter Racing | Dallara/Chevrolet | 0.3862s |
| 10 | Sebastien Bourdais | Dale Coyne Racing | Dallara/Honda | 0.4195s |
| 11 | Spencer Pigot | Ed Carpenter Racing | Dallara/Chevrolet | 0.4261s |
| 12 | James Hinchcliffe | Schmidt Peterson Motorsports | Dallara/Honda | 0.4419s |
| 13 | Simon Pagenaud | Team Penske | Dallara/Chevrolet | 0.4499s |
| 14 | Charlie Kimball | Carlin | Dallara/Chevrolet | 0.4797s |
| 15 | Ed Jones | Chip Ganassi Racing | Dallara/Honda | 0.4961s |
| 16 | Carlos Munoz | Schmidt Peterson Motorsports | Dallara/Honda | 0.5088s |
| 17 | Ryan Hunter-Reay | Andretti Autosport | Dallara/Honda | 0.5200s |
| 18 | Max Chilton | Carlin | Dallara/Chevrolet | 0.6092s |
| 19 | Pietro Fittipaldi | Dale Coyne Racing | Dallara/Honda | 0.6772s |
| 20 | Graham Rahal | Rahal Letterman Lanigan | Dallara/Honda | 0.6910s |
| 21 | Takuma Sato | Rahal Letterman Lanigan | Dallara/Honda | 0.7174s |
| 22 | Tony Kanaan | AJ Foyt Enterprises | Dallara/Chevrolet | 0.7884s |
| 23 | Alexander Rossi | Andretti Autosport | Dallara/Honda | 0.8432s |
| 24 | Matheus Leist | AJ Foyt Enterprises | Dallara/Chevrolet | 0.8435s |
| 25 | Alfonso Celis | Juncos Racing | Dallara/Chevrolet | 1.1209s |
Racing News
via All news – Autosport https://ift.tt/2uOa9Ei
August 31, 2018 at 04:17PM