Kings 2018-19 Schedule: Top Games, Championship Odds and Record Predictions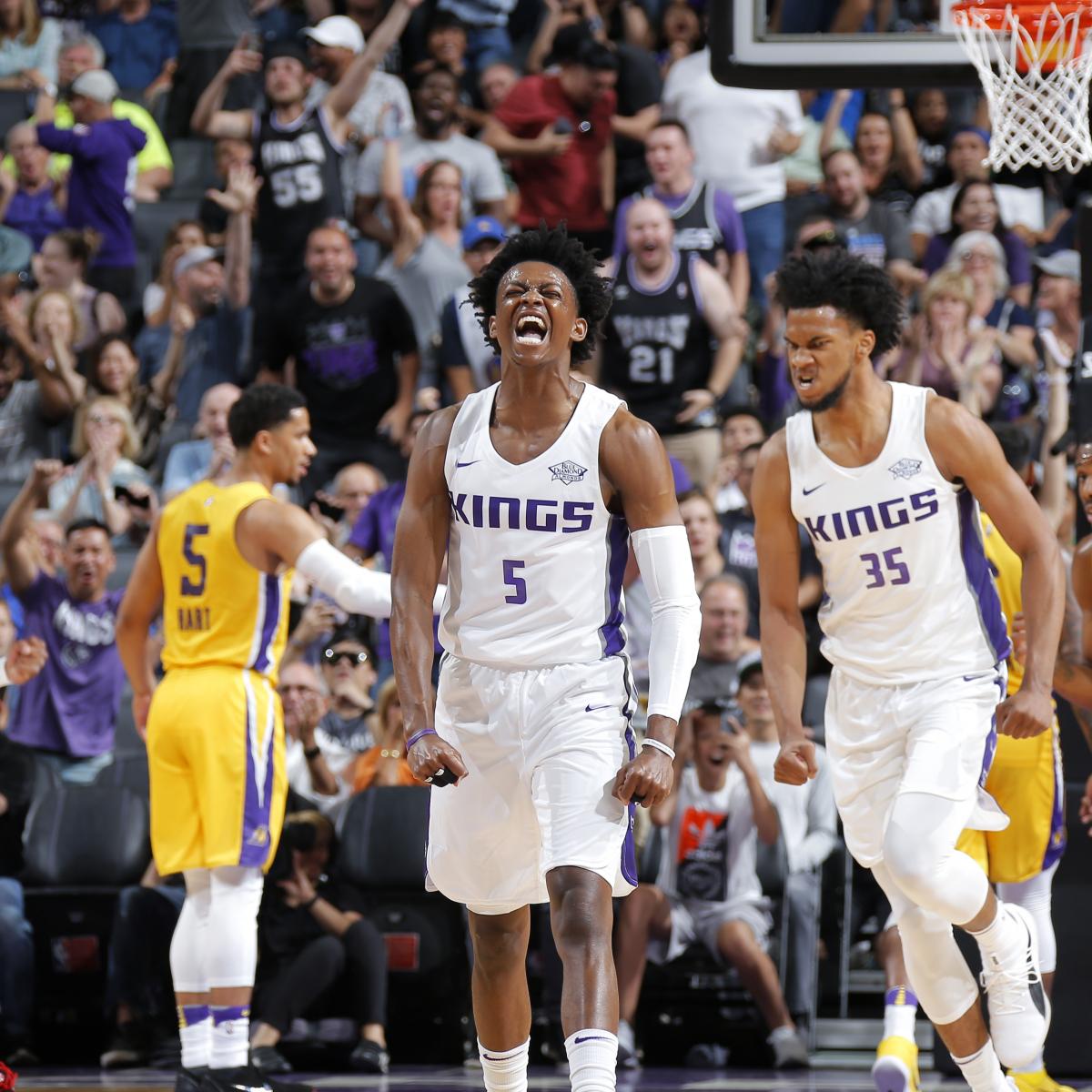 Rocky Widner/Getty Images
Having drafted inside of the top 10 every year for the last decade, the Sacramento Kings are hoping their rebuild takes a big step forward during the 2018-19 season.
Sacramento is coming off a 27-55 campaign that resulted in the No. 2 overall pick, which it used on former Duke star Marvin Bagley III. 
With Bagley, De'Aaron Fox, Buddy Hield and Harry Giles, the Kings have the young talent that could make them a team on the rise.
With the schedule now out, the Kings now know the journey they must travel in order to snap a 12-year playoff drought.
2018-19 Details
Season Opener: Oct. 17 vs. Utah Jazz (10 p.m. ET)
Championship Odds: 400-1 (via Odds Shark)
Full Schedule: NBA.com 
Top Matchups
Phoenix Suns: First matchup on Dec. 4 at Talking Stick Resort Arena

Jon Lopez/Getty Images
When the schedules were released, one matchup basketball fans should have been looking for was the first showdown between Sacramento and the Phoenix Suns.
Will the meeting have serious playoff implications? It would be a stretch to say that at this point. However, it does feature the top two picks from June's draft, Suns center Deandre Ayton and Bagley.
The two have already met on the court as pros, although it was just during the Summer League. Even then, though, it was worth watching. Ayton (21 points and 12 rebounds) led his team to victory in that July exhibition, but Bagley (15 points, seven rebounds, two assists, one block and one steal) put on a solid show as well.
Now they are set to go head-to-head in a real game.
Both teams are looking to put an end to their respective rebuilds, with Phoenix in the midst of an eight-year playoff drought. The Suns have rising star Devin Booker and last year's fourth overall pick Josh Jackson as well. But on this night, it will be all about Ayton vs. Bagley.
Dallas Mavericks: First matchup on Dec. 16 at American Airlines Center

Glenn James/Getty Images
Like their games with the Suns, the Kings' battles against the Dallas Mavericks will have draft-related storylines.
Only this time, all eyes will be on Dallas rookie Luka Doncic.
There was no mystery when it came to the No. 1 overall pick—Ayton was going to Phoenix from Day 1. After that, though, the Kings had a decision to make between Bagley and Doncic. 
Bagley's offensive skills were among the best in the draft, while Doncic's playmaking abilities were viewed as second to none.
In the end, Sacramento passed on Doncic and opted to take Bagley. As a result, their careers will always be linked. The Slovenian was taken with the next pick by the Atlanta Hawks, who worked out a deal to send him to Dallas while landing Trae Young.
With Fox at the point and Hield alongside him in the backcourt, it's easy to see why the Kings went with Bagley. They arguably had a bigger need in the frontcourt, and the former Blue Devil had put up impressive numbers during his lone season in Durham.
Their matchups during their rookie seasons won't prove the Kings right or wrong, as that can't be determined until their respective careers are over. These games will, however, give Sacramento fans a showcase to pay attention to.
Record Prediction

David Zalubowski/Associated Press
It's tough to envision a scenario in which Sacramento finds itself as serious playoff contenders this season, given the current state of the Western Conference. The first team out of the postseason picture this past season battled until the end and missed out with 46 wins. 
Not only were there just three games separating the Nos. 3 through 9 teams last season, but the competition only got tougher when LeBron James joined the Los Angeles Lakers.
If the Kings can stay healthy, they have the potential to see serious improvement in 2018-19. Bagley and Fox provide a solid one-two punch that gives Sacramento fans plenty of hope for the future.
The question is whether Giles (knee) can stay healthy and if Hield can continue to improve as he looks to prove the organization was on to something by comparing him to Stephen Curry back in the day. 
Sacramento fans should give the team's young talent a chance to play together before piling on the pressure. After three straight years of seeing their record decline, though, this should be a step in the right direction for the Kings.
Prediction: 36-46
NBA News
via Bleacher Report – NBA https://ift.tt/2gMI6gF
August 10, 2018 at 01:33PM