Jazz 2018-19 Schedule: Top Games, Championship Odds and Record Predictions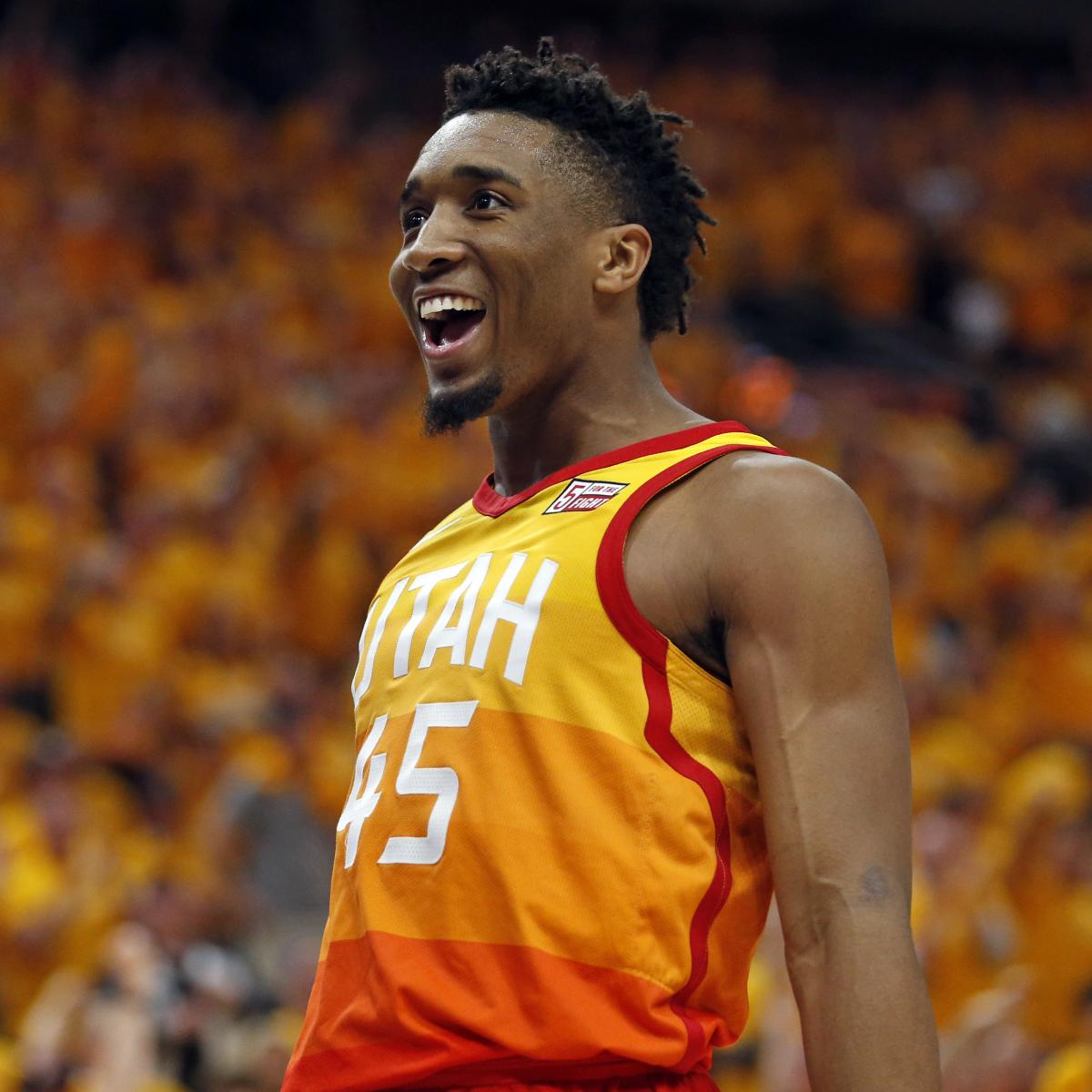 Rick Bowmer/Associated Press
The Utah Jazz were among the NBA's most surprising teams last season, and they will look to  build on the momentum they created with a follow-up in 2018-19.
After losing Gordon Hayward to the Boston Celtics in free agency, most expected the Jazz to take a step back. However, although they won three less games in 2017-18 than they did the previous season, the campaign was a rousing success.
On the heels of a 48-34 regular season, the Jazz eliminated the Oklahoma City Thunder in the first round of the playoffs before falling 4-1 in the second round to a Houston Rockets team that won an NBA-best 65 games during the regular season.
Now that rising superstar guard Donovan Mitchell has a year of experience under his belt, the Jazz are poised to make greater strides in 2018-19.
Here is a look at Utah's schedule, as well as predictions for how they will fare during the upcoming season.
2018-19 Details
Season Opener: Jazz @ Sacramento Kings (Oct. 17 at 10 p.m. ET)
Championship Odds: 90-1 (via OddsShark)
Full Schedule: NBA.com
Top Matchups
Boston Celtics: Home Matchup (Friday, Nov. 9 at 9:30 p.m. ET)
With Hayward suffering a season-ending injury during the first game of the 2017-18 campaign, the Jazz never got the opportunity to properly welcome him back to Salt Lake City.
After spending the first seven seasons of his career with the Jazz, the 28-year-old signed with the Celtics last offseason.
Hayward steadily improved during his tenure in Utah, and he was finally named an All-Star for the first time in 2016-17.
His all-around play and leadership qualities made him a beloved figure among Jazz fans, but the fact he left Utah willingly creates some doubt with regard to how he will be received.
Since some time has passed and the Jazz have a new face of the franchise already in Mitchell, the odds are seemingly good that Hayward will get a warm welcome.
If that is the case, then it will make for a feel-good moment that will be applauded across the league.
But if the Jazz fans go in the other direction and boo Hayward, it will make headlines for different reasons.
Regardless of the sentiment, there will be an electric atmosphere in Vivint Smart Home Arena when Hayward and perhaps the top team in the Eastern Conference roll into town.
Oklahoma City Thunder: First Home Matchup (Saturday, Dec. 22 at 9 p.m. ET)
Jazz fans have always been viewed as passionate, and that fact was on full display last season during their playoff run.
In their first-round matchup with the Thunder, Utah regularly played in front of a raucous home crowd, and that seemingly went a long way toward the Jazz eliminating OKC.
Jazz fans appeared to get under the skin of Thunder guard Russell Westbrook, as he swiped at a supporter who was recording him with their phone after Oklahoma City was eliminated via a Game 6 loss.
It was a disappointing end to the season for a Thunder team that had big expectations after adding Paul George and Carmelo Anthony alongside Westbrook.
Entering 2018-19, George is back after re-signing and Melo is no longer in the fold. All signs point to OKC being a better team thanks to potentially smart additions around Westbrook and George, such as guard Dennis Schroder and center Nerlens Noel.
Regardless of the changes to OKC's roster, Utah fans seemed to develop a genuine disdain for the Thunder during the 2017-18 playoffs.
If that carries over into the 2018-19 campaign, there is potential for some fireworks when they share the court again.
Also, with both teams battling for supremacy in the second tier of teams in the Western Conference, there will be high stakes every time they meet next season.
Prediction
With Mitchell leading the way on the offensive end and center Rudy Gobert coming off a season in which he was named NBA Defensive Player of the Year, the Jazz are a well-rounded team with ideal balance.
Ricky Rubio is a great distributor at point guard, Joe Ingles excels at hitting open shots, Jae Crowder can be a defensive force and Derrick Favors is a solid complement to Gobert in the paint.
The Jazz have a good mix of experience and youth that gives them plenty of room for improvement next season as well.
Mitchell seems like a sure bet to progress, while guard Dante Exum could be something special if he stays healthy, and rookie first-round pick Grayson Allen should bring a strong two-way game to the backcourt as well.
The biggest issue for the Jazz is the fact that the already difficult Western Conference has gotten even better this offseason.
LeBron James' decision to sign with the Los Angeles Lakers shrinks the playoff bubble, and it means a team such as the Jazz, Portland Trail Blazers, Thunder, New Orleans Pelicans, Minnesota Timberwolves or San Antonio Spurs could be on the outside looking in.
The Denver Nuggets are another non-playoff team from 2017-18 that improved and will make a strong push for a postseason berth as well.
Even though making the playoffs will be a season-long struggle, the Jazz have a great makeup with the ability to win tough games on the road because of their defense.
Because of that, the Jazz will return to the playoffs in 2018-19, and they will be a difficult out for whichever team has to play them.
Prediction: 47-35, sixth seed in the Western Conference
NBA News
via Bleacher Report – NBA https://ift.tt/2gMI6gF
August 10, 2018 at 01:48PM