76ers 2018-19 Schedule: Top Games, Championship Odds and Record Predictions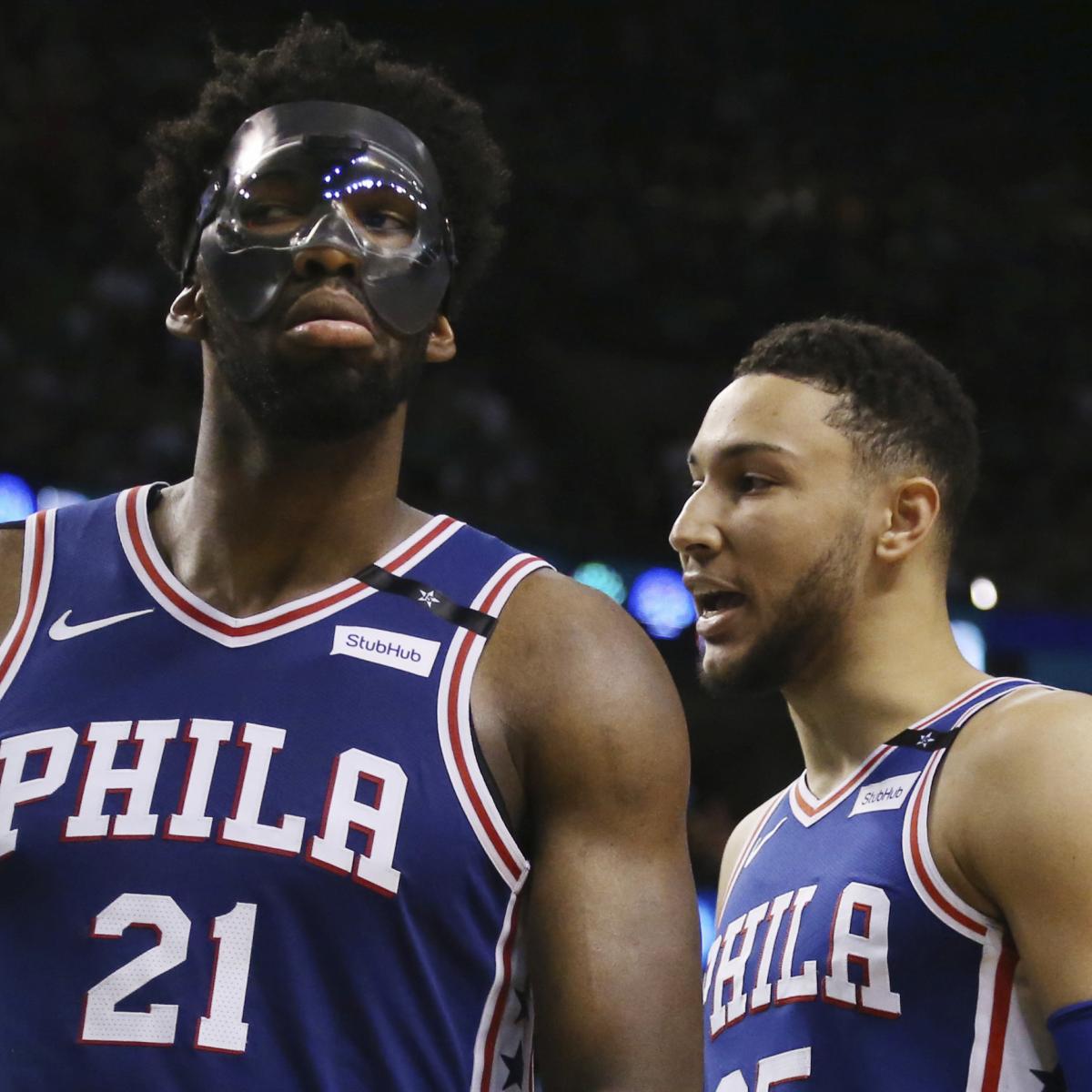 Elise Amendola/Associated Press
The Philadelphia 76ers came into the 2018-19 offseason "star hunting," in the words of head coach Brett Brown. After all, the team had just won 52 games in the regular season and reached the second round of the Eastern Conference playoffs after five straight losing seasons. 
With a young superstar duo in Joel Embiid and Ben Simmons, the Sixers went from an intriguing young team to a true contender in the Eastern Conference in one season. But their efforts to land a third star this summer fell short. 
The Sixers got a meeting with LeBron James' agent, Rich Paul, but not with the player himself. He signed with the Los Angeles Lakers. Paul George didn't take a meeting with any other teams, instead choosing to re-sign with the Oklahoma City Thunder. And the Sixers didn't pull the trigger on any potential Kawhi Leonard trades, and he was ultimately dealt to the Toronto Raptors. 
So the star hunting will have to wait until next offseason, when the team will again have plenty of cap space. But the Sixers should still be one of the NBA's better teams.
Below, we'll break down their schedule information as they seek to take the next step in The Process.
2018-19 Details
Season Opener: Tuesday, Oct. 16 at the Boston Celtics (8 p.m. ET)
Championship Odds: 18-1, per OddsShark 

Full Schedule: NBA.com
Top Matchups
Boston Celtics: Christmas Matchup at Boston (Dec. 25)

Winslow Townson/Associated Press
The team that knocked Philly out of the postseason in five games last year should only be better in 2018-19. Kyrie Irving and Gordon Hayward return, Jayson Tatum and Jaylen Brown will have another year of experience under their belts and key contributors such as Marcus Smart and Aron Baynes were re-signed. 
The Celtics and Sixers have long been rivals, but it's been quite some time since the rivalry was this relevant. These teams could well meet in the Eastern Conference Finals, and the regular-season matchups should serve as a barometer for the pecking order in the East. 
Philly has two major questions to answer against Boston: Can they matchup against the Celtics' ridiculous wing depth, and can they keep Embiid relevant as a rim-protector given Boston's big men can stretch the floor and hit three-pointers?
Those two questions, alongside the lack of a three-level scorer and pick-and-roll facilitator, hurt them in last year's playoffs. They will need to be addressed this season. 
Toronto Raptors: First Matchup with Kawhi Leonard (Oct. 30)

Nick Wass/Associated Press
The Raptors' season will be defined by Leonard's performance, but behind him is a deep team that has talent at every position. 
Jonas Valanciunas can bang with Embiid down on the block. Leonard and OG Anunoby give Toronto two long, athletic defenders to harass Simmons. Kyle Lowry remains an excellent player.
The regular-season matchups between these teams got chippy last year. Expect the same this season as these teams jockey for playoff position. 
Prediction

Mitchell Leff/Getty Images
The Sixers didn't make a big splash this offseason, but the truth is they are a better unit than the one that began last season. 
JJ Redick and Amir Johnson re-signed with team, Wilson Chandler and Mike Muscala were added in trades to replace the departed Marco Belinelli and Ersan Ilyasova (who were added last season during the buyout market) and Zhaire Smith and Landry Shamet were drafted in the first round, adding additional depth. 
Smith suffering a Jones fracturing and undergoing surgery this week is a setback, no doubt, hurting the team's depth on the wing. But he was always more of a long-term project than a player expected to make a huge impact this upcoming season. Still, his potential defensive contributions will be missed while he's out of action.
Much of the 2018-19 season will be defined by the development of second-year guard Markelle Fultz, however. If his jump shot returns to the level it was at during his one year at Washington, the Sixers may well have their third star. If not, they will still be expected to be a contender in the East, albeit perhaps still a year or two away from challenging the NBA's elite.
Nonetheless, the Sixers have solid if unspectacular depth, Embiid and Simmons now have playoff experience to build upon and all indications are that Fultz is coming along nicely. 
Anything less than a top-three seed for the Sixers will be a disappointment, with a trip to the Eastern Conference Finals or NBA Finals the next step for this team.
Expecting a championship next season is a bit ambitious, especially with the Golden State Warriors at the heights of their dynasty, but the Sixers aren't far off from the league's elite. 
And next summer, they can go star hunting all over again. 
Record Prediction: 55-27
NBA News
via Bleacher Report – NBA https://ift.tt/2gMI6gF
August 10, 2018 at 01:19PM