NBA Summer League 2018: Friday Scores, Highlights and Las Vegas Highlights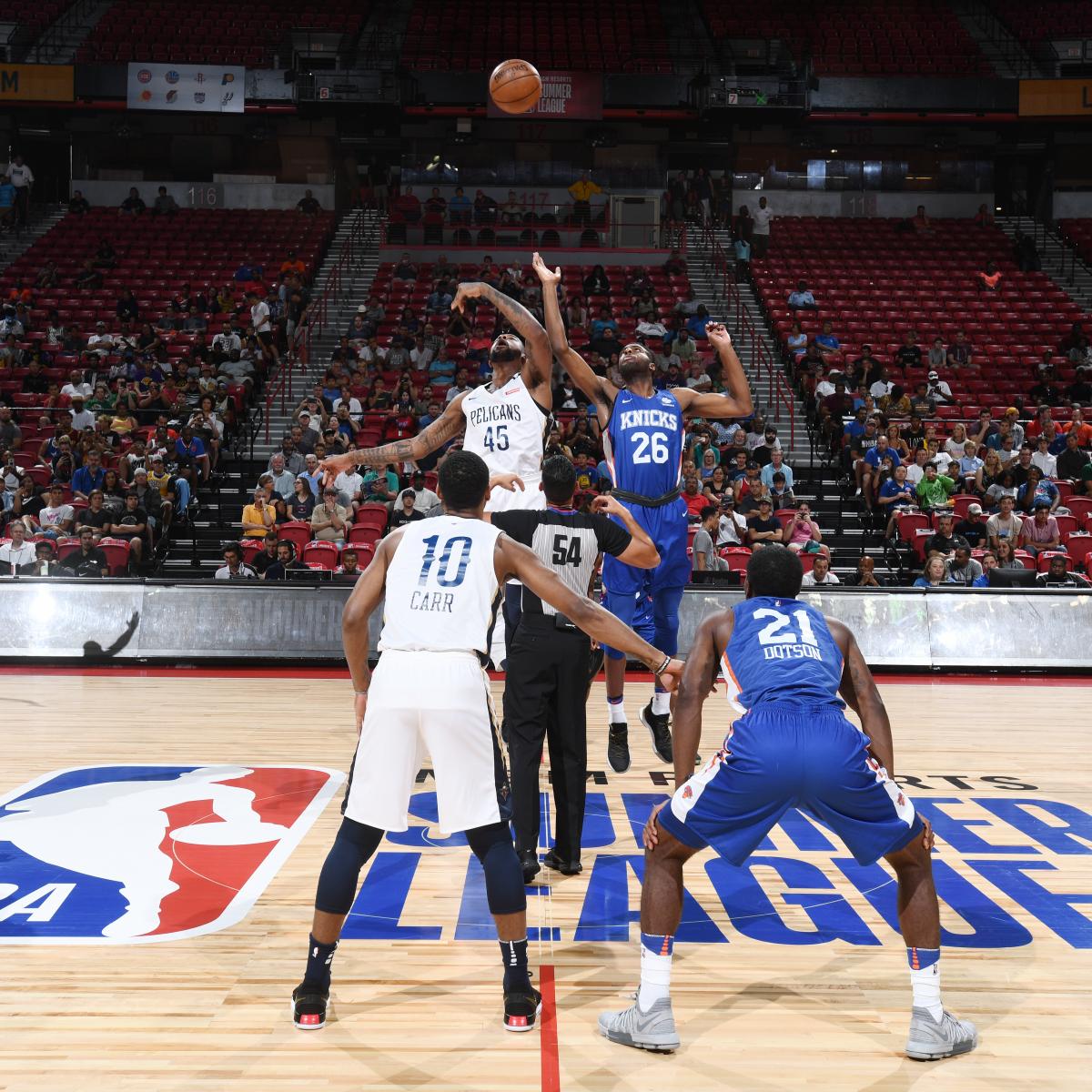 Garrett Ellwood/Getty Images
Play at the 2018 Las Vegas Summer League continued Friday with eight consolation games as 16 teams bid farewell to Sin City following early exits in the single-elimination portion of the proceedings.
Play in the championship bracket will resume Saturday with six games as 12 teams vie for spots in the quarterfinals. The top-seeded Los Angeles Lakers and No. 2 Portland Trail Blazers have already punched their tickets to the final eight. 
Here's a look at how things shook out on Friday. 
Friday's Schedule and Results
Indiana Pacers def. Brooklyn Nets, 116-79
New York Knicks vs. New Orleans Pelicans, 4:30 p.m. ET (NBA TV)
Washington Wizards vs. Dallas Mavericks, 6 p.m. ET (ESPNU)
San Antonio Spurs vs. Phoenix Suns, 6:30 p.m. ET (NBA TV)
Minnesota Timberwolves vs. Denver Nuggets, 8 p.m. ET (ESPNU)
Orlando Magic vs. Oklahoma City Thunder, 8:30 p.m. ET (NBA TV)
Sacramento Kings vs. Golden State Warriors, 10 p.m. ET (ESPNU)
Atlanta Hawks vs. Los Angeles Clippers, 10:30 p.m. ET (NBA TV)
Recap
Indiana Pacers 116, Brooklyn Nets 79
The Indiana Pacers were without Aaron Holiday (thigh contusion) and T.J. Leaf (sore left knee), but they still managed to throttle the Brooklyn Nets behind 22 points from C.J. Wilcox and 21 from Georgetown product Henry Sims. 
Thanks in part to those two, the Pacers shot an efficient 48.8 percent from the field and 44.8 percent from three. 
That wasn't the case for the Nets, who found twine on just 40.8 percent of their field-goal attempts and finished with more turnovers (19) than assists (18). 
NBA News
via Bleacher Report – NBA https://ift.tt/2gMI6gF
July 13, 2018 at 03:08PM