NBA Trade Rumors: Latest Buzz on Carmelo Anthony, Kawhi Leonard, More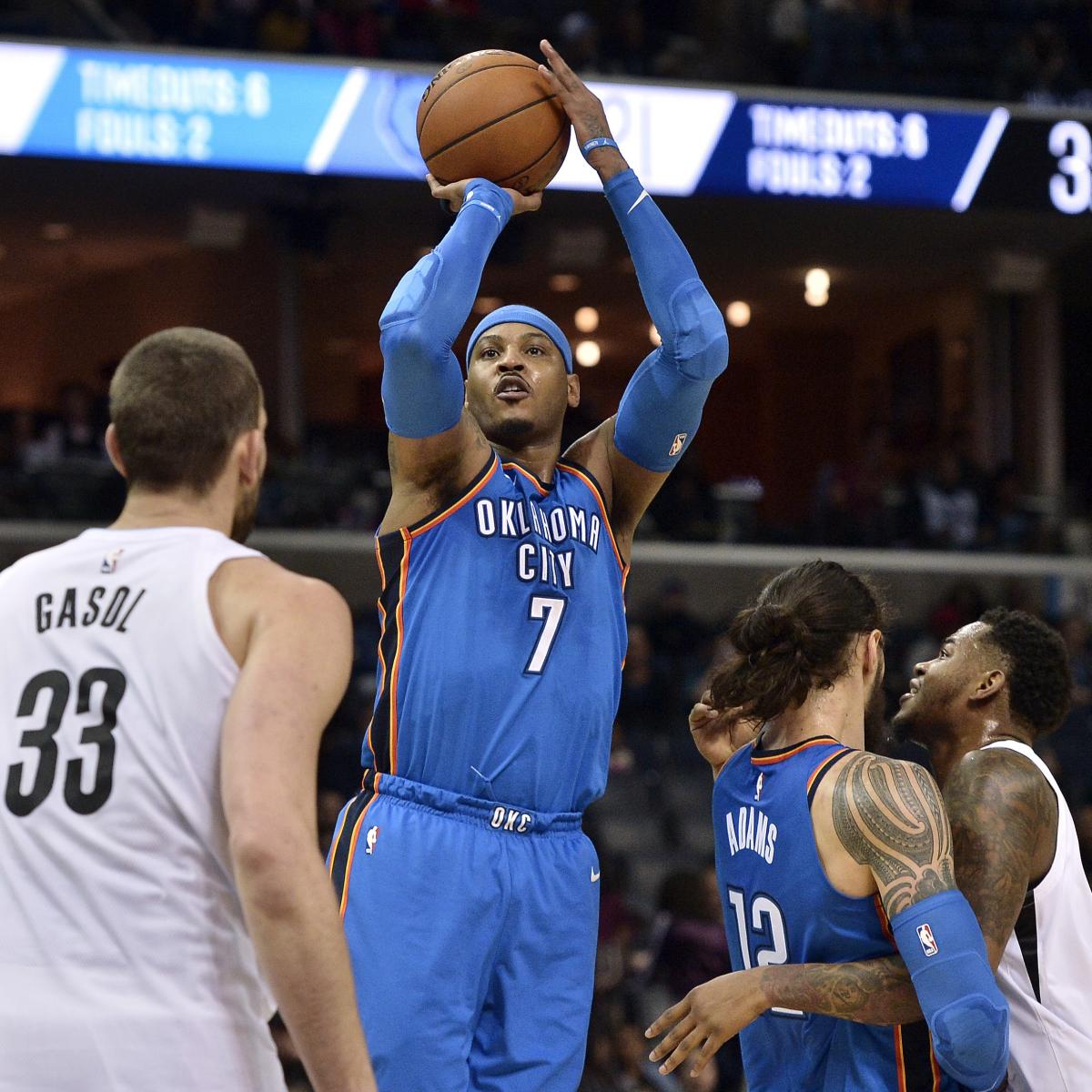 Brandon Dill/Associated Press
The pair of superstars dangling on the NBA trade market couldn't be in more different spots regarding the timing of their potential deals. 
While the Kawhi Leonard trade saga continues to drag on, the hunt to acquire Carmelo Anthony is gaining steam, as the 34-year-old looks to join a contender through whatever acquisition mechanism possible. 
The differences between potential trades for Leonard and Anthony become more stark when you look at the reasons why deals would be made for the two players. 
In Anthony's case, a trade would occur so the Oklahoma City Thunder can dump his contract on another team, who in turn would buyout the small forward so he can hit free agency.
Teams in the hunt for Leonard are hoping to get at least one season out of him and make a play to sign him to a long-term deal. 
While there's been little chatter on the trade front outside of Anthony and Leonard, there is another team looking to move marquee players. 
Below is a look at the latest trade buzz swirling around the NBA featuring prospective deals for Anthony, Leonard and others. 
Nets Looking Into Potential Anthony Deal
Brooklyn emerged as a potential trade partner for Oklahoma City Wednesday, as SiriusXM NBA's Mitch Lawrence reported the Nets are trying to move Jeremy Lin and get picks out of a swap for Anthony: 
Mitch Lawrence @Mitch_Lawrence

Oklahoma City looking to get something for Carmelo Anthony and talking to Brooklyn about a deal, with Jeremy Lin potentially going to OKC, per sources. Nets looking to get pick(s). Want to move Lin and would buy out Melo.
Lin is set to make $12,516,746 during the 2018-19 season before becoming an unrestricted free agent. 
While taking on Lin's contract might not be the best return for the Thunder, who are trying to move Anthony because of their increased payroll, it could be the ideal vehicle to get Anthony's contract off the books. 
To ensure any deal for Anthony goes through, the Thunder would likely need to include a draft pick to give their trade partner something in return once the 34-year-old is bought out and hits the open market. 
A first-round pick may seem like too much to package with Anthony in the eyes of some, but the Nets are a franchise starved of first-round picks, and they would love nothing more than to add an asset to their portfolio.
If a first-round selection is included in the potential package, it would have to be for 2019 or 2021 since Oklahoma City's 2020 first-round pick belongs to Orlando with top-20 protection. 
No matter how the specifics of a trade for Anthony work out, the goal is simple from the Thunder's perspective: get something in exchange for the small forward. 
Sixers Haven't Offered Fultz In Packages For Leonard 
Putting together any deal for Leonard comes with a wide range of complexities. 
Given Leonard's status as an unrestricted free agent next summer, prospective trade partners for the San Antonio Spurs are reluctant to go all in for what could be a one-year rental. 
The Philadelphia 76ers have been mentioned in trade rumors with the Spurs for quite some time, but they haven't offered Markelle Fultz in any deal, per ESPN's Zach Lowe. 

Matt Slocum/Associated Press
From the Sixers perspective, it doesn't make sense to include the No. 1 overall pick in the 2017 NBA draft in an offer for Leonard when they have so many other intriguing assets to offer. 
One of the most interesting pieces the Sixers possess is the unprotected 2021 first-round pick they obtained from the Phoenix Suns in the draft night swap that sent Mikal Bridges to Phoenix and brought Zhaire Smith to Philadelphia. 
If the Sixers package the 2021 first-round selection with two players, the Spurs might be willing to listen, but based off San Antonio's high demands, that might not be enough for the Spurs to accept a deal. 
However, the Sixers might not even want to make a deal for Leonard since there's a big risk involved if they can't get him signed to a long-term deal. 
If that's the case, bringing in Leonard for one year to combine with Ben Simmons and Joel Embiid and challenge the Boston Celtics might be too risky and would take one team out of the Leonard sweepstakes. 
Miami Not Finding Suitors For Johnson, Whiteside
The Miami Heat have been trying to offload their two biggest contracts in the trade market, but their search has come up empty, per Barry Jackson of the Miami Herald.
The deals for both Tyler Johnson and Hassan Whiteside expire in 2020, and if they aren't offloaded before then, the Heat would be out of the market for the free-agent class of 2019. 

Wilfredo Lee/Associated Press
It's no surprise a market hasn't emerged for either player, as their respective contracts aren't intriguing to potential suitors, even those looking to dump salaries in return. 
Whiteside is scheduled to make $25,434,263 next season, while Johnson's salary sits at $19,245,370. 
If there was one year left on either deal, a potential trade partner or two might have come out of the woodwork, but for the time being, it looks like the Heat are out of luck in their quest to become a player in free agency next summer. 
Follow Joe on Twitter, @JTansey90.
Salary cap numbers obtained from Spotrac. 
NBA News
via Bleacher Report – NBA https://ift.tt/2gMI6gF
July 12, 2018 at 08:05AM