NBA Summer League 2018: Scores and Highlights from Thursday's Las Vegas Results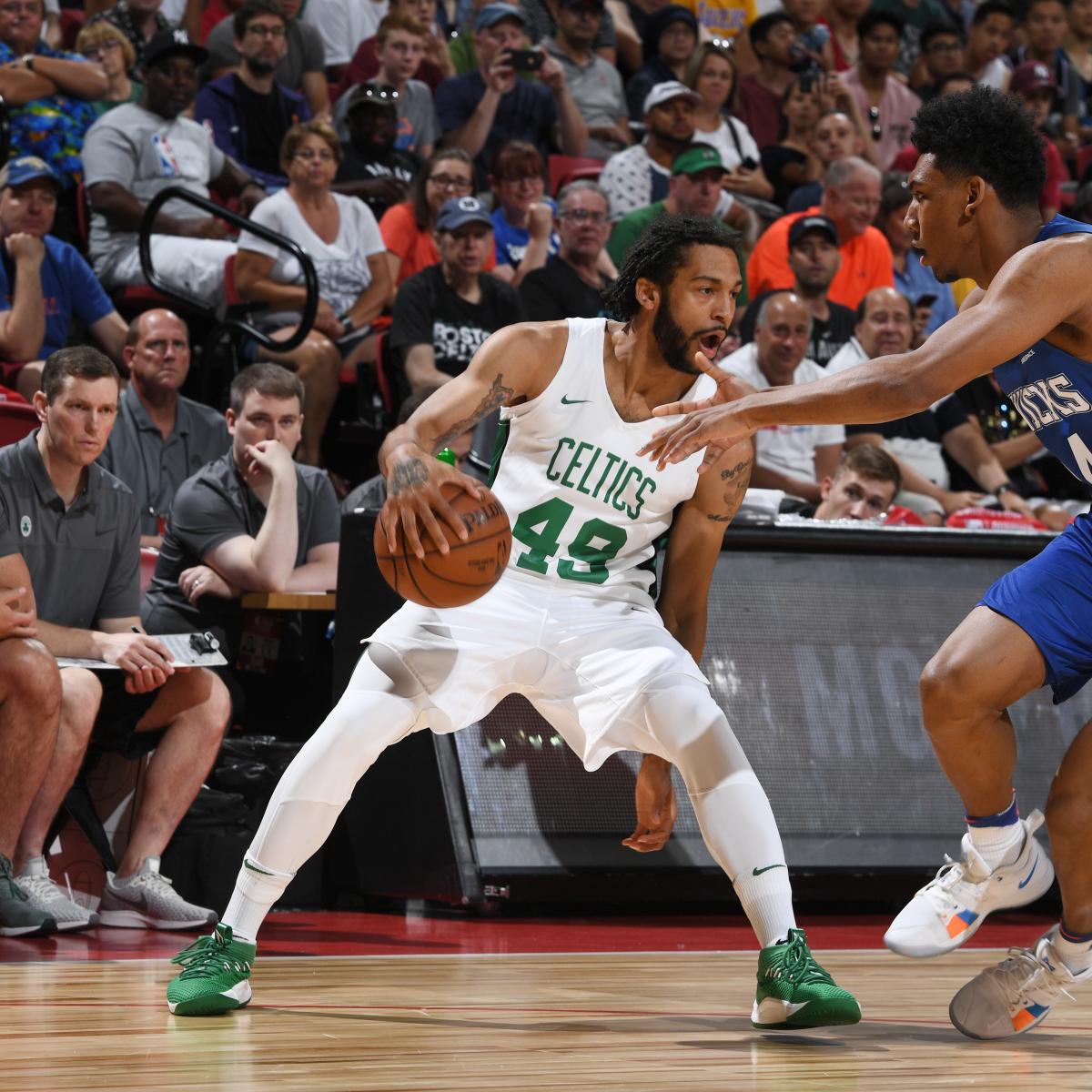 Garrett Ellwood/Getty Images
Tournament play at the 2018 NBA Summer League in Las Vegas continued Thursday with eight games, as some of the Association's most talented young players looked to take the next step toward adding an offseason trophy to their early professional resumes.
While teams hope there is more meaningful hardware to come for their young players, establishing themselves as contributors in a winning experience figures to help their development as they continue growing into their new roles.
Here is a look at the overall schedule for the tournament that started Wednesday, as well as a breakdown of all the Thursday action.
Thursday Results
Miami Heat 110, New Orleans Pelicans 106
Boston Celtics, New York Knicks
Memphis Grizzlies vs. Oklahoma City Thunder, 6 p.m. ET
Philadelphia 76ers vs. Phoenix Suns, 6:30 p.m. ET
San Antonio Spurs vs. Milwaukee Bucks, 8 p.m. ET
Los Angeles Clippers vs. Los Angeles Lakers, 8:30 p.m. ET
Utah Jazz vs. Orlando Magic, 10 p.m. ET
Atlanta Hawks vs. Portland Trail Blazers, 10:30 p.m. ET
Recap
Cheick Diallo Continues Dominance as Potential Role Player
The Miami Heat defeated the New Orleans Pelicans 110-106 on Thursday behind 31 points from Jarrod Jones, but it was a frontcourt player on the losing side who looked like someone who will be a critical role player this season.
Cheick Diallo was dominant in the frontcourt for the Pelicans, finishing with 28 points and 14 boards behind 9-of-12 shooting from the field. It was more of the same for the Kansas product, who averaged 17.3 points and 8.3 rebounds a night in his previous three summer-league games and poured in 25 points Monday.
NBA @NBA

Cheick Diallo (15 PTS) and Jarrod Jones (13 PTS) are dueling in a close game at the half.

@MiamiHEAT 54 | @PelicansNBA 53

#NBASummer https://t.co/RlJD4aMzhY
Diallo was comfortable with the ball in his hands as the go-to option for extended stretches and had the look of someone who can score on the blocks, get to the free-throw line and take advantage of the freebies (10-of-10 from the line).
He played 52 games in 2017-18 but is yet to establish himself as a difference-maker in the NBA since he was a second-round pick in 2016. That can change this season if he continues to play like he has in summer league.
With DeMarcus Cousins now on the Golden State Warriors, the Pelicans could use someone who connects on open looks inside the lane when Anthony Davis draws additional attention.
Nikola Mirotic hits three-pointers, but look for Diallo to compete with Julius Randle for playing time as the frontcourt piece who battles for rebounds and takes some of the offensive pressure off Davis' shoulders.
NBA News
via Bleacher Report – NBA https://ift.tt/2gMI6gF
July 12, 2018 at 03:11PM