NBA Rumors: Latest Chatter on Kawhi Leonard Trade, Karl-Anthony Towns, More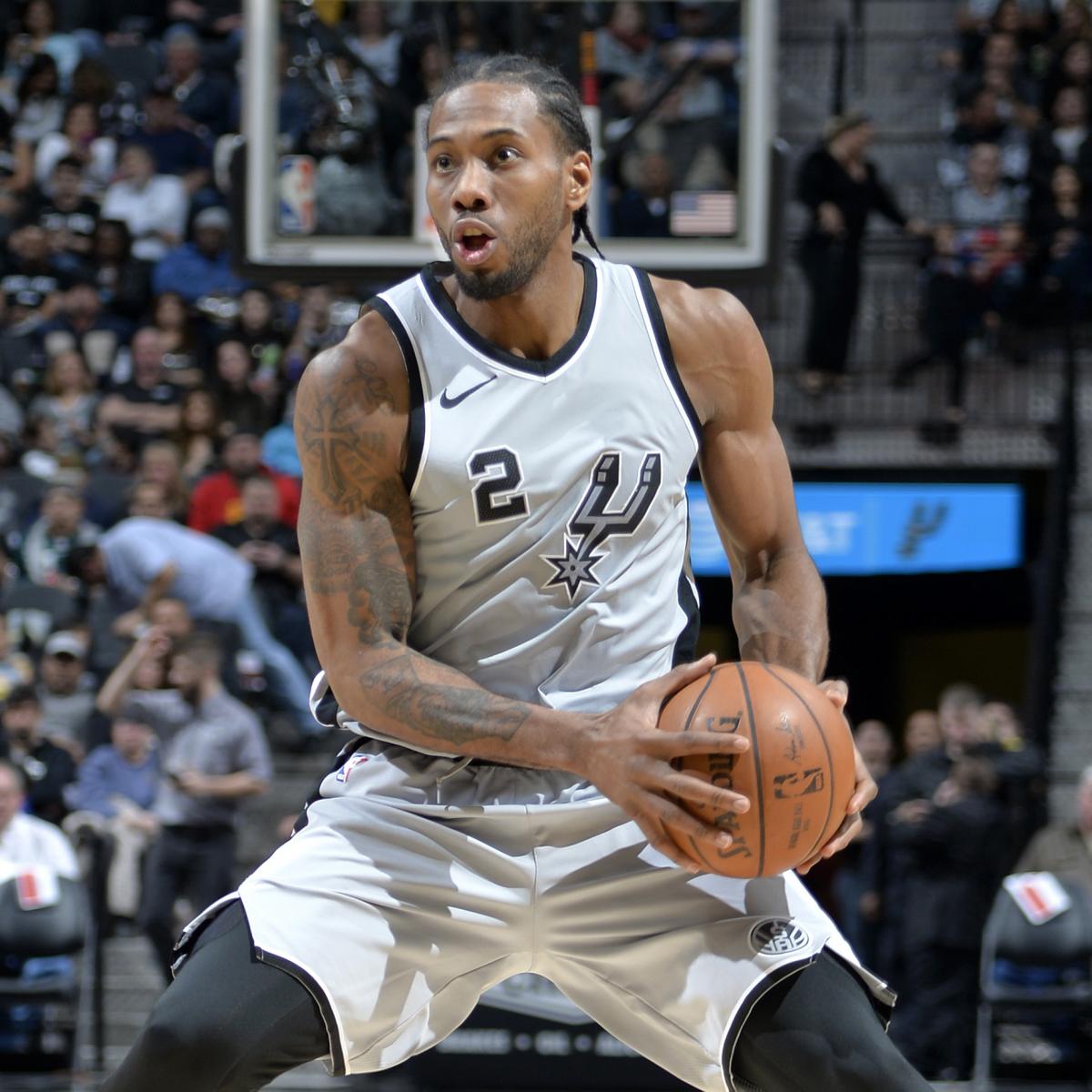 Mark Sobhani/Getty Images
Somehow, the NBA manages to steal summer sports headlines in the midst of an exciting men's FIFA World Cup and a hot American League East division race in Major League Baseball. The key reason for that is player movement, as notable names have been changing cities for the past few weeks.
That trend should continue as the summer progresses, and here's a look at some recent news surrounding three players.
The Kawhi Leonard/San Antonio Spurs drama has arguably gotten to the point where it could be one of the top four most dramatic scenarios involving a player potentially moving away from a team this decade (LeBron James: Decision I will always be No. 1, with the league-rejected Chris Paul deal and DeAndre Jordan-Dallas Mavericks free-agency saga close behind).
But Leonard/Spurs might be No. 2, simply because this issue has dragged on forever, to the point where something has to got to give eventually.
Zach Lowe of ESPN.com provided some takes on Leonard's potential destination, with a note on Philadelphia guard Markelle Fultz and the potential that he could be included in a deal:
"The more conflicting information I hear from people one or two steps away about what Leonard does/doesn't want, the more I think some team—maybe one of (Boston, Philadelphia or Toronto)—should be more aggressive gambling on a rental and selling Leonard on its culture. The Sixers haven't offered Markelle Fultz, sources say, and it's unclear if the Spurs want him. We know what Boston has. I pitched (among others) a Toronto swap centered on DeMar DeRozan last week."
Fultz is an intriguing wild card if the 76ers eventually include him in a trade offer for Leonard. The first overall pick of the 2017 NBA draft more or less redshirted his rookie year in what amounted to a bizarre rookie season (outlined here at the midpoint by Jason Concepcion of The Ringer).
The former University of Washington star ended up playing only 14 regular-season contests and sparingly in the playoffs. However, he did show some promise, including a 13-point triple-double in just 25 minutes against the Milwaukee Bucks.
The issue is that he shot just one three-pointer in 253 regular-season minutes last year: He doesn't have a reliable outside jumper right now. Fultz shot 41.3 percent from three-point range in his one year at Washington, but that hasn't translated to the NBA. That probably has a lot to do with the shoulder injury he started the season with, so it's possible an offseason of better health will get him back on track.
Fultz is just 20 years old and has a bright future ahead of him. If the Spurs are interested in dealing with the 76ers in regards to Leonard, they should demand Fultz back, with anything else being a non-starter (presumably, Ben Simmons and Joel Embiid are way off the table).
A package of Fultz, forwards Dario Saric and Robert Covington as well as the 76ers' newly acquired first-round pick from the Miami Heat in 2021 is a good starting point, although the Spurs should still ask for a little extra.
Karl-Anthony Towns
The Minnesota Timberwolves are coming off their first postseason appearance since the 2003-04 campaign, when the trio of Kevin Garnett, Sam Cassell and Latrell Sprewell led the way toward the Western Conference finals.
Now, Minnesota wants to extend the contract of the 2017-18 team's centerpiece: Karl-Anthony Towns. Per Michael Sciotto and Jon Krawczynski of The Athletic, the 22-year-old Towns and the T-Wolves are working on a deal:
Michael Scotto @MikeAScotto

The Athletic Sources: Karl-Anthony Towns and the Minnesota Timberwolves are discussing a maximum rookie scale contract extension, colleague @JonKrawczynski and I are told.
Jon Krawczynski @JonKrawczynski

@MikeAScotto Towns recently returned to the States from Italy. Discussions are in early stages. Like Wiggins last year, Wolves making it clear they want Towns in the fold for the long term
Towns has averaged 21.6 points and 11.7 rebounds during his first three NBA seasons. He's a phenomenal offensive player capable of dominating the post and shooting from the outside.
The issue right now is Towns' defense: Per ESPN, the former Kentucky Wildcat ranked just 63rd among 84 centers in defensive real plus-minus last season.
Towns has time to develop more on the defensive end, but the fact that he's so offensively polished right now makes extending his contract a no-brainer. The question is how the team will build around him in the future: Forward Jimmy Butler and point guard Jeff Teague can opt out of their deals in 2019, so it's possible the starting lineup will have an entirely new look around Towns in two seasons.
Marcus Smart
Boston Celtics guard and restricted free agent Marcus Smart is about to reel in a massive contract from some team. However, it's looking less likely that team will be the C's based on a few factors. Jordan Schultz of Yahoo Sports has more:
Jordan Schultz @Schultz_Report

Source: Several teams – inc the #Grizzlies and #Nets – have inquired about a S-T w/the #Celtics for RFA Marcus Smart, who has already met with Brooklyn. Source also says that Boston has had zero communication or contact w/Smart.
Jordan Schultz @Schultz_Report

A source close to Marcus Smart says Smart has been "unresponsive" in #Celtics' efforts to reach out because he is "insulted by what he feels is a lack of respect by front office." https://t.co/aGVO4xiA6t
Aside from the Grizzlies and Nets, A. Sherrod Blakely of NBC Sports Boston reported that the Sacramento Kings were interested in the former Oklahoma State star.
Obviously, Boston's problem is twofold: a team with a boatload of future cap space may break the bank for Smart, and there's murmurs that Smart and Boston aren't seeing eye to eye.
As Adrian Wojnarowski of ESPN noted, the Grizzlies want to get back to the "Grit-and-Grind" days of yore when Marc Gasol, Tony Allen, Zach Randolph and Mike Conley formed the core of a tough, defensive-minded team that made the playoffs consistently. Smart would easily fit that bill, as being tough and defensive-minded is his game.
The Nets were not a good defensive team last year, as they ranked 25th in efficiency. Smart can come in and help turn their reputation around on that end. The issue is that the Nets struggle offensively as well (21st in efficiency), and Smart (a career 36.0 percent shooter) isn't likely to improve that mark. The Kings are in a similar boat as the Nets (29th in offensive efficiency, 27th on defense).
Ultimately, Boston has an uphill battle to retain Smart, and it looks like he'll be playing elsewhere next year.
NBA News
via Bleacher Report – NBA https://ift.tt/2gMI6gF
July 12, 2018 at 06:05AM