Lakers Rumors: Latest on Carmelo Anthony, Lonzo Ball and More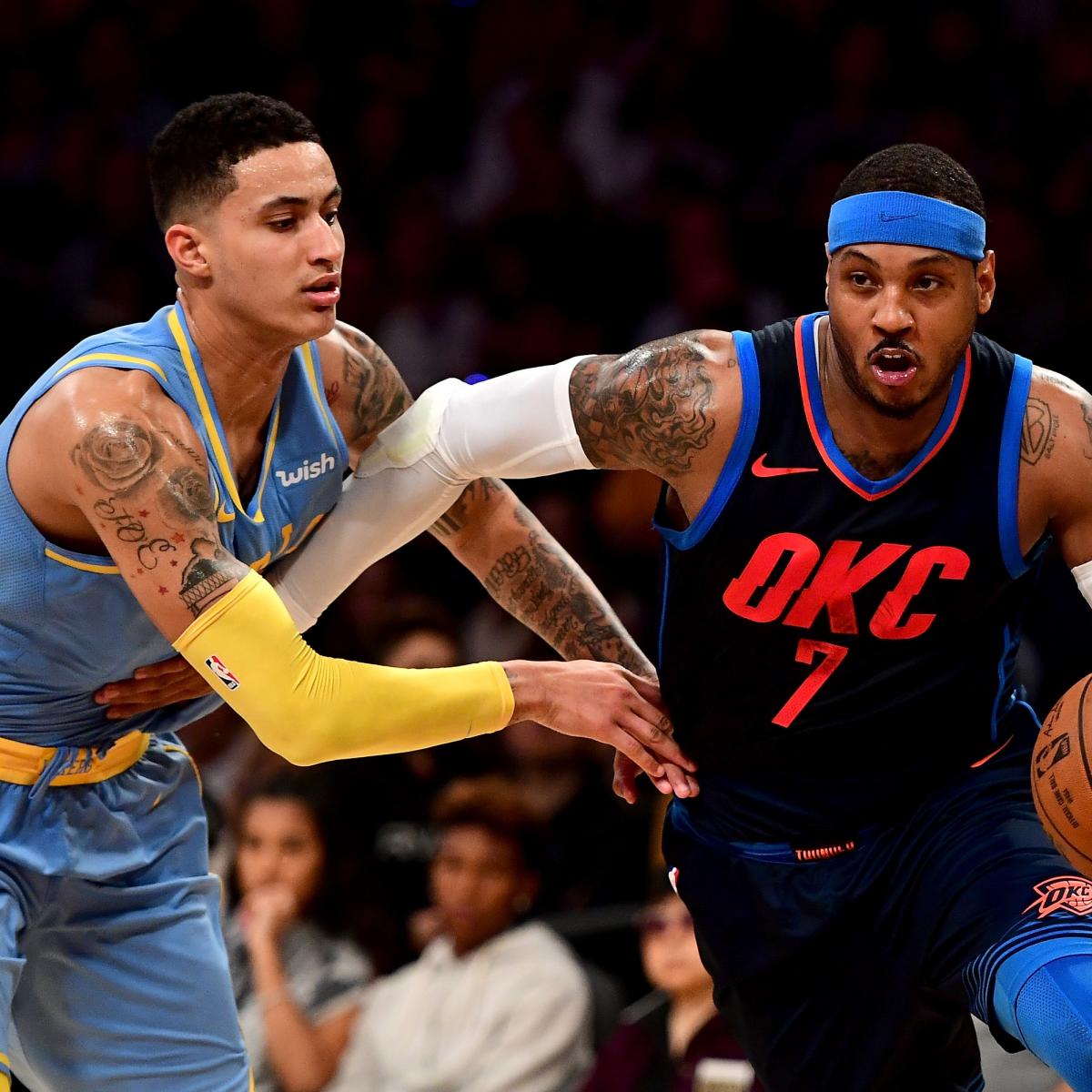 Harry How/Getty Images
It sure feels like the Los Angeles Lakers have had a hard time on the path to signing LeBron James, which itself wasn't the easiest task. 
Don't tell that to Lakers legend Jerry West though, who called James coming aboard "not a tough free-agent signing," according to Sports Illustrated's Jack McCallum.
But landing the top free agent didn't seem easy or stress-free, and making further headway on the market now seems next to impossible. While trading for Kawhi Leonard or signing Carmelo Anthony might be ideal, the best news Lakers fans might want to hope for at this point is good health for young point guard Lonzo Ball. 
LeBron's Process
Carlos Osorio/Associated Press
Apparently, James wasn't too keen on staying in the Eastern Conference. 
In fact, maybe West was on to something. While it seemed like James would want to join a budding contender like the Philadelphia 76ers if he was to stay in the conference, ESPN's Brian Windhorst had a different vibe based on people he talked to about the situation. 
"No, I don't think he seriously considered [the 76ers]. I think he considered them," Windhorst said in an interview on ESPN Radio's Dan Le Batard Show. "They were on the board. He didn't even grant them a face-to-face meeting. … This year, he only met one team face-to-face; he only talked to two teams—the team he was leaving and the team he was going to."
On paper, the hype for the 76ers made sense. Joel Embiid is one of the NBA's best young stars and it's clear Ben Simmons is well on his way to stardom after a Rookie of the Year triumph. 
But the hype forgot one facet of the situation: control. The 76ers are a near-finished product. While not a bad thing from a contention standpoint, James isn't going to want to join a roster he can't help mold. He gets to do that with the Lakers, working around a young core of Lonzo Ball and Brandon Ingram, as fans have seen already with some of the veteran signings like Rajon Rondo. 
While this isn't likely much comfort for fans of the 76ers, the Lakers emerge winners. Magic Johnson and the front office have already started reshaping the roster, with only injuries and potential additions the only other things in the way of the team becoming a finished product. 
Lonzo Ball's Injury
Darron Cummings/Associated Press
Ball's knee injury might not be as cut and dry as it seemed. 
It's not great news when general manager Rob Pelinka tells reporters the Lakers are "exploring all options" with the issue, according to ESPN.com's Ohm Youngmisuk.
While the rumblings make it sound like the Lakers expect Ball to be back by the beginning of the 2018-19 regular season, this isn't what a team should want to hear from its 20-year-old point guard who averaged 10.2 points, 7.2 assists and 6.9 rebounds per game over the course of his debut season. 
There are layers here too. 
ESPN.com's Adrian Wojnarowski reported after the Rondo signing it could be viewed as a "message" to Ball after the odd timing of the leak concerning his knee injury. 
Message or not, a source has since told The Ringer's Bill Oram that Ball is "ready to compete" with Rondo. Given Ball's court vision and ability to get teammates involved, it's hard to imagine the Lakers keep Ball away from playing time, but the thought has to at least stick in the back of the mind after this weird saga surrounding the knee issue. 
Carmelo Anthony Update

David Zalubowski/Associated Press
Maybe the Lakers simply don't like the idea of adding Anthony. 
Anthony is on his way out with the Oklahoma City Thunder, with the organization letting him act as a free agent and take visits with other teams, according to Wojnarowski. Some sort of buyout is on the way, though lately the talk has centered on a team like the Houston Rockets instead of the Lakers. 
Now we might know why. 
According to Marc Stein of the New York Times, the Lakers simply don't appear too interested: "The Los Angeles Lakers have been widely mentioned as a chief rival to the Rockets once Anthony actually becomes a free agent, largely because the Lakers' new face of the franchise is Melo's close friend LeBron James. But it's been suggested to me — strongly — that the Lakers' interest is overstated."
The Lakers might have too many cooks in the kitchen as it is after starting to mold the roster to James' liking. And while James and Anthony are friends, much of whether the latter comes to town might hinge on how he views himself at this stage of his career. 
After all, Anthony isn't known as a defender and he only averaged 16.2 points on 40.4 percent shooting last year, the lowest marks of his career. 
That hasn't stopped Chris Paul from hitting the recruiting trail: 
Jordan Schultz @Schultz_Report

Source close to Chris Paul tells me that CP3 is advocating for the #Rockets to acquire his good friend, Carmelo Anthony. Melo, 34, made a career-high 169 3-pointers last season on a career-high 474 attempts (35.7 percent). https://t.co/C8LT4rSpFF
Anthony wanting to join a team that already flirted with taking down the Golden State Warriors and might let him play the way he wants to play could be more attractive than a big unknown like the Lakers. 
Unknown, because we know James will play like his usual self. But we don't know how long it will take the rest of the roster to mesh around him nor how it will stack up to the Warriors. 
Anthony seems unlikely at this point, but the Lakers don't seem to mind. 
NBA News
via Bleacher Report – NBA https://ift.tt/2gMI6gF
July 12, 2018 at 08:05AM