NBA Summer League: Trae Young, Wendell Carter Jr. Showcase Upside in Hawks Win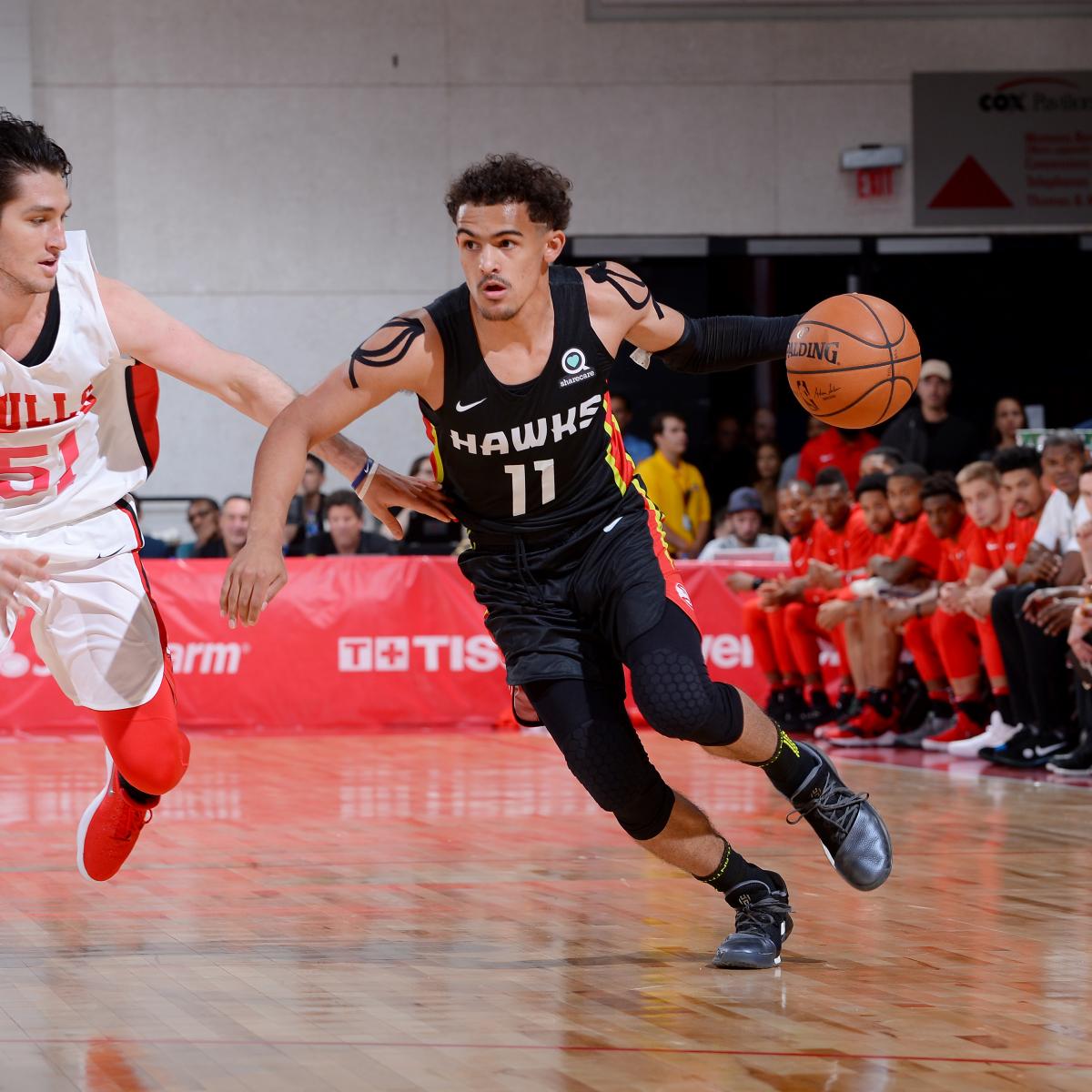 Bart Young/Getty Images
Trae Young and Wendell Carter Jr. showed out on Tuesday.
Young scored 24 points and added five assists in the Atlanta Hawks' 101-93 win over the Chicago Bulls, while Carter added 23 points, six rebounds, two blocks and two assists in the losing effort. 
Young has had his struggles at the Las Vegas Summer League, but he looked like a top-five pick on Tuesday,  displaying his sharpshooter abilities from deep (7-of-13 from three). 
NBA @NBA

Trae Young starts the second half with his fifth three on the day.

#NBASummer on @NBATV https://t.co/QbE77Jh6Lf
Young wasn't perfect. He shot just 36.8 from the field and had four turnovers. But his playmaking has been impressive all summer, and he's bound to mix spectacular moments with bouts of inconsistency, at least early in his career. 
Cole Zwicker @colezwicker

Wendell is absurdly coordinated. Trae has been pretty damn good outside of finishing and the every game 3-4 questionable decisions.
Young's struggles at the rim, alongside some issues getting separation, remain an issue. But on Tuesday, he more closely resembled the player who lit up college basketball last season 
Carter was steady once again, meanwhile, finishing 9-of 13 from the field, making the only three-pointer he attempted. He's continued to impress in Las Vegas, and once again earned high praise for his showing:
K.C. Johnson @KCJHoop

In this game, Carter has stepped into a 3-pointer as trail man on break and also ably defended Trae Young when switched onto him in space.
Dare those transcend the "it's only summer league" qualifier?
Mike Schmitz @Mike_Schmitz

Wendell Carter Jr showing far more switch-ability than anticipated. A handful of nice possessions guarding the perimeter. Credit his work ethic and improving fundamentals. Has done an outstanding job of getting in the best shape of his young career.
The young center already looks like a player who will help the Bulls, immediately, in every facet of the game. Chicago fans surely have to be thrilled at the prospect of a Carter-Lauri Markkanen pairing in the frontcourt going forward.
NBA News
via Bleacher Report – NBA https://ift.tt/2gMI6gF
July 10, 2018 at 05:15PM