NBA Summer League: Kevin Knox Brilliant, but Josh Hart, Lakers Beat Knicks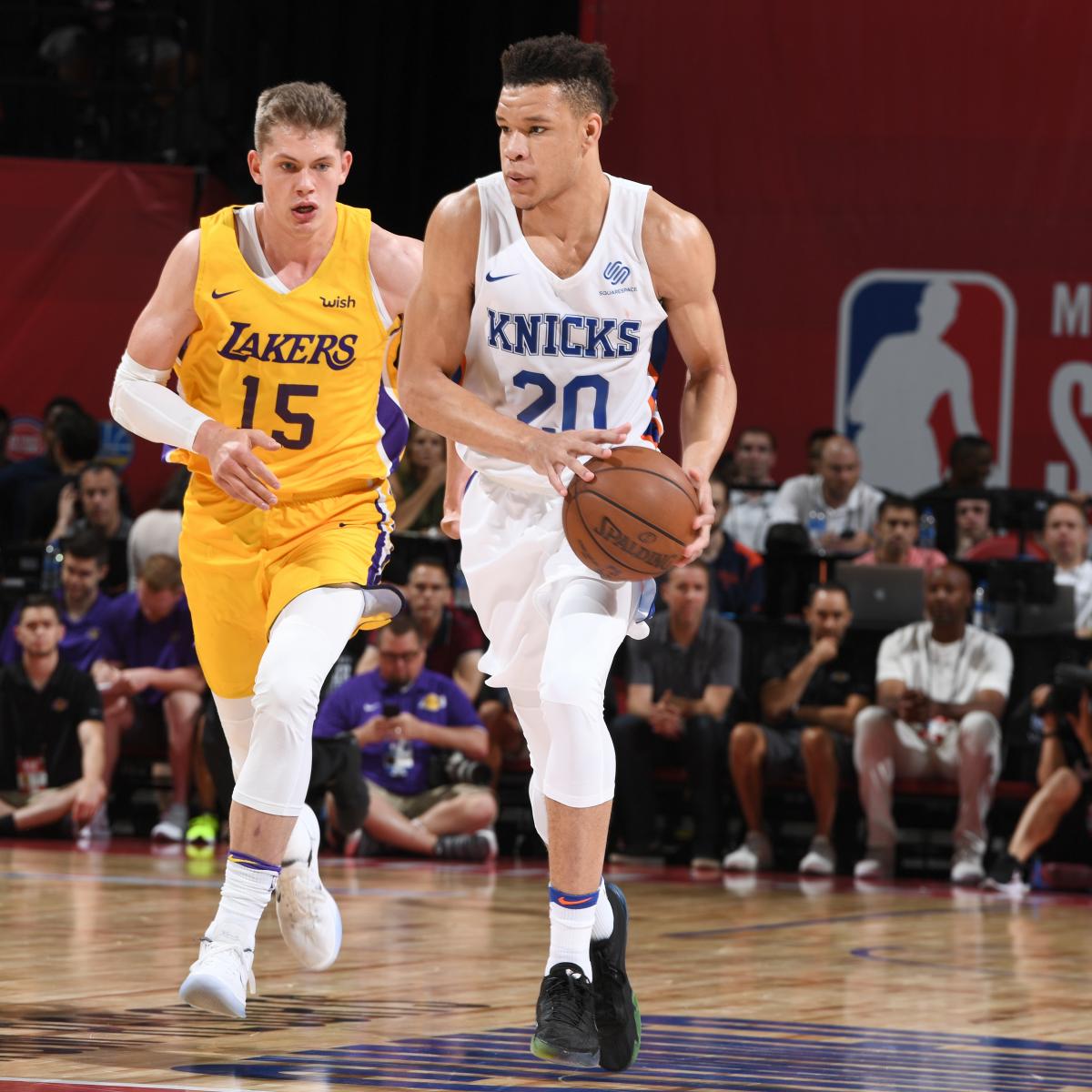 Garrett Ellwood/Getty Images
The New York Knicks fell to the Los Angeles Lakers, 109-92, despite the best efforts of No. 9 overall draft pick Kevin Knox in the NBA Summer League on Tuesday in Las Vegas.
Knox finished with a game-high 29 points while adding nine rebounds, two assists and one steal. Knicks fans will be particularly happy he was 5-of-7 from three-point range:
The hype train is already running off the tracks:
Jason Smith @howaboutafresca

Kevin Knox should be a unanimous first-ballot summer league Hall of Famer.
Tommy Beer @TommyBeer

It's hilarious watching Knicks fans on here trying in vain to convince themselves not to get overly excited about Kevin Knox b/c it's only summer league…
Especially with Kristaps Porzingis recovering from a torn ACL, the 2018-19 season could be pretty bleak for the Knicks. Knox is at least somebody the franchise can position as a key part of its long-term foundation.
On the other side, the Lakers have to be thrilled with the work of Josh Hart, who scored 27 points in the victory, continuing what has been an excellent summer league from the 2017 first-round pick. Spectrum SportsNet's Mike Trudell thought Hart's defensive contributions shouldn't be overlooked, either:
Mike Trudell @LakersReporter

Josh Hart immediately steadied the LAL ship, first getting Knox out of the game, then resuming his scoring, his 4th 3-pointer giving him 25 points. Svi hit a 3 on the next trip, and LAL are back up 90-84. Hart is +23 for the game.
After formally signing LeBron James, the Lakers are clearly focused on contending for a title in 2019, but they can't leverage their entire future for a shot at a championship in the short term.
The 23-year-old Hart is proving himself worthy of a rotation spot ahead of his second season.
NBA News
via Bleacher Report – NBA https://ift.tt/2gMI6gF
July 10, 2018 at 08:05PM