NBA Summer League 2018: Wednesday Schedule, Latest Las Vegas Standings and Stats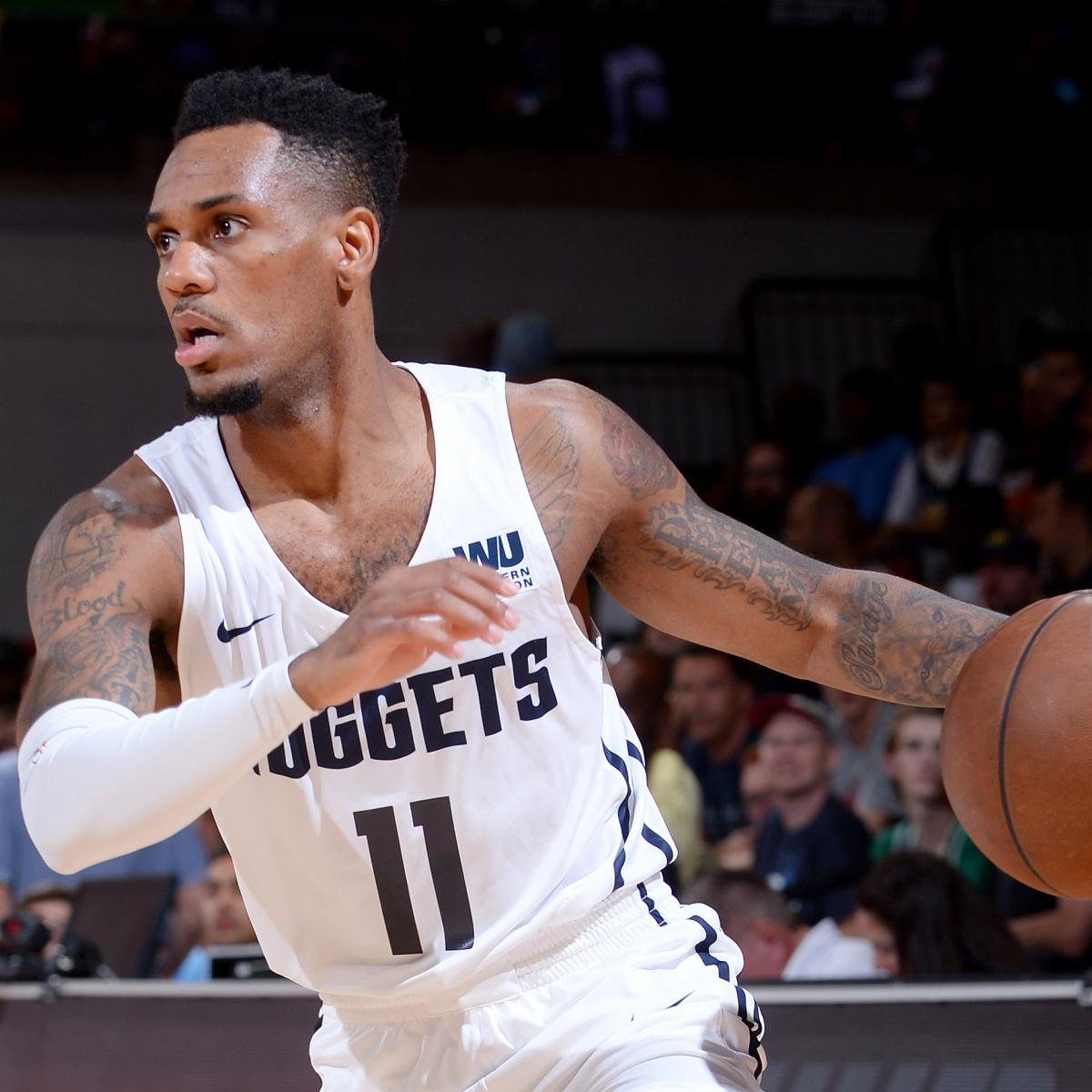 Bart Young/Getty Images
The Las Vegas Summer League shifts from preliminary play to knockout-round action Wednesday. 
After each of the 30 teams played three games over the last five days, they were seeded based off that record, with the tournament concluding in the championship game July 17. 
The Los Angeles Lakers and Portland Trail Blazers earned byes into the round of 16 as the top two seeds, while Phoenix, Denver and Houston earned the seeds directly beneath them. 
Eight games will be played Wednesday at two venues with the goal being to stay alive.
Wednesday's winners move on to the round of 16, while the losers play in a consolation contest Friday before leaving Nevada. 
Wednesday Schedule
Los Angeles Clippers vs. Washington (4 p.m., ESPNU)
Sacramento vs. Cleveland (4:30 p.m., NBATV)
Brooklyn vs. Houston (6 p.m., ESPN2) 
Chicago vs. Dallas (6:30 p.m., NBATV)
Detroit vs. Minnesota (8 p.m., ESPN2) 
Atlanta vs. Indiana (8:30 p.m., NBATV)
Toronto vs. Denver (10 p.m., ESPN2) 
Golden State vs. Charlotte (10:30 p.m., NBATV)
All Times ET.
Standings
Los Angeles Lakers (3-0) 
Portland (3-0) 
Phoenix (3-0)
Denver (3-0)
Houston (3-0) 
Boston (2-1) 
Charlotte (2-1) 
Cleveland (2-1) 
Dallas (2-1) 
Minnesota (2-1) 
New Orleans (2-1) 
Oklahoma City (2-1) 
Orlando (2-1) 
Atlanta (1-2) 
Chicago (1-2) 
Detroit (1-2) 
Golden State (1-2) 
Indiana (1-2) 
Los Angeles Clippers (1-2) 
Memphis (1-2) 
Miami (1-2) 
Milwaukee (1-2) 
New York (1-2) 
Sacramento (1-2) 
San Antonio (1-2) 
Utah (1-2) 
Washington (1-2) 
Brooklyn (0-3) 
Philadelphia (0-3) 
Toronto (0-3) 
Stat Leaders
Points Per Game
John Collins, Atlanta (24.0) 
Josh Hart. Los Angeles Lakers (23.3) 
Kevin Knox, New York (23.3) 
Malik Monk, Charlotte (23.0) 
Trevon Blueitt, New Orleans (21.0) 
Rebounds Per Game 
Tyler Dorsey, Atlanta (14.0) 
Amile Jefferson, Minnesota (13.0) 
Ante Zizic, Cleveland (12.5) 
Thomas Bryant, Washington (12.0) 
Jarrett Allen, Brooklyn (12.0) 
Assists Per Game 
Chris Chiozza, Washington (9.0) 
Wade Baldwin IV, Portland (8.0) 
Frank Mason, Sacramento (8.0) 
Shaquille Harrison, Phoenix (6.7) 
Daniel Hamilton, Oklahoma City (6.7) 
Winners of Pacers-Hawks, Clippers-Wizards Face Undefeated Teams
Four of the teams competing Wednesday know what they'll be up against in the next round if they come out victorious. 
The clash between the Indiana Pacers and Atlanta Hawks sends a winner in the direction of the Portland Trail Blazers, while the victorious side in the game pitting the Los Angeles Clippers and Washington Wizards against each other faces the Los Angeles Lakers. 
The paths for the quartet of 1-2 teams was decided after the Lakers and Blazers were awarded the top two seeds in the knockout round with 3-0 records. 
It's a bit peculiar to see the Hawks in their current situation because they possess the top scorer and rebounder in the summer league in John Collins and Tyler Dorsey. 
In addition to the success achieved by Collins and Dorsey, Trae Young is averaging 15 points per game and shooting 33 percent from the field, which is an improvement on his struggles in the Utah Jazz Summer League that preceded the trip to Las Vegas. 

Rick Bowmer/Associated Press
Young will be locked in an intriguing guard battle against Indiana's Aaron Holiday, who leads the Pacers with 15 points and six assists per contest. 
A pair of first-round picks take center stage in the Clippers-Wizards game as well, as Shai Gilgeous-Alexander leads Los Angeles against Washington's Troy Brown.
Both first-round selections received help from other guards during the preliminary round, as South Carolina product Sindarius Thornwell joined Gilgeous-Alexander atop the Clippers scoring chart, while Devin Robinson and Chris Chiozza, both of whom played at Florida, are combining well with Brown. 
Each of the four teams in the middle of the pack have shown in spurts they can contend for the summer-league crown, and with an opportunity to play two of the top teams in the round of 16, they could partake in two of Wednesday's most competitive contests. 
Morris Looking To Drive Nuggets To 4th Straight Win 
Denver Nuggets guard Monte Morris turned heads during the first five days of action in Las Vegas, and he has a chance to continue his strong play into Wednesday's game against Toronto.
The Iowa State product thrived at the point as the Nuggets went 3-0 in preliminary action, and he stated his case for the final Denver roster spot, as Gina Mizell of the Denver Post noted: 
Gina Mizell @ginamizell

#Nuggets Monte Morris has 18 assists against four turnovers in three summer league games, and his assist total went from four to six to eight in each contest. As Denver's roster currently stands, it's tough to envision that final spot going to anybody but Morris.
Morris leads the Nuggets with 16.3 points and six assists per game, and he's even chipped in 3.7 rebounds per game. 
Although Morris is finding himself in the headlines the most, there are other players making a good case for themselves on the Denver roster. 
Malik Beasley, DeVaughn Akoon-Purcell and Vlatko Cancar are all averaging over 10 points per game, while Emanuel Terry's been a force on the glass. 
The Nuggets don't have the flashiest roster stacked with first-round picks, but they've come together as a team to be in good position to make a far run in the tournament portion of the summer league. 
By picking up three wins to start their time in Las Vegas, the Nuggets set themselves up for more success by obtaining the No. 4 seed and a matchup with the winless Raptors. 
If they dominate Toronto like they should and win their round-of-16 contest, the Nuggets must be taken seriously as a contender to win the summer-league title. 
Follow Joe on Twitter, @JTansey90.
Statistics obtained from NBA.com.
NBA News
via Bleacher Report – NBA https://ift.tt/2gMI6gF
July 11, 2018 at 04:13AM