NBA Summer League 2018: Scores and Highlights from Wednesday's Las Vegas Results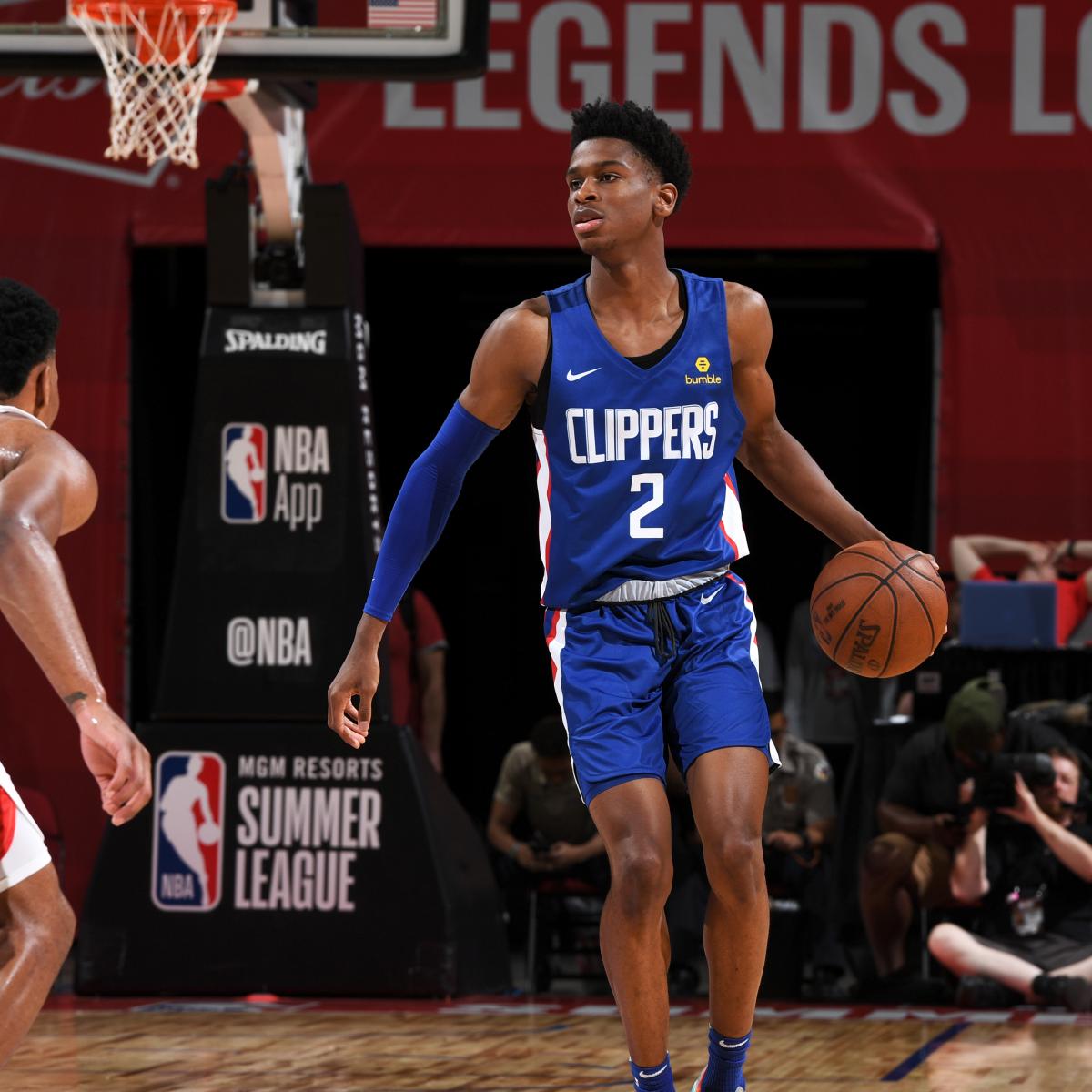 Garrett Ellwood/Getty Images
Single-elimination tournament play got underway Wednesday at the Las Vegas Summer League following three games of pool play per side. 
In all, 16 teams were in action Wednesday at Cox Pavilion and Thomas & Mack Center, including Trae Young and the Atlanta Hawks and Collin Sexton and the Cleveland Cavaliers. 
As always, the updated bracket can be viewed at NBA.com. 
Here's a look at the day's results and a rundown of which youngsters stood out with second-round berths on the line. 
Wednesday's Schedule and Results
Los Angeles Clippers def. Washington Wizards, 89-74
Sacramento Kings vs. Cleveland Cavaliers, 4:30 p.m. ET (NBA TV)
Brooklyn Nets vs. Houston Rockets, 6 p.m. ET (ESPN2)
Chicago Bulls vs. Dallas Mavericks, 6:30 p.m. ET (NBA TV)
Detroit Pistons vs. Minnesota Timberwolves, 8 p.m. ET (ESPN2)
Atlanta Hawks vs. Indiana Pacers, 8:30 p.m. ET (NBA TV)
Toronto Raptors vs. Denver Nuggets, 10 p.m. ET (ESPN2)
Golden State Warriors vs. Charlotte Hornets, 10:30 p.m. ET (NBA TV)
Wednesday's Takeaways
Shai Gilgeous-Alexander Looks the Part of Lottery Pick
Watch Shai Gilgeous-Alexander run the Los Angeles Clippers' summer league offense, and it's hard not to come away impressed. 
The Kentucky product has never looked overwhelmed by the task at hand, and he's dictated pace in the half court and transition. That was evident again Wednesday when he lived at the rim and racked up 17 points to go with a team-high six assists. 
But it wasn't just the numbers. It was the way Gilgeous-Alexander piled them up. 
SGA looked comfortable as could be running high pick-and-rolls, and what stood out most was his ability to use a sliver of daylight, turn the corner and leave defenders in the dust to finish at the rim. 
Chase Hughes @ChaseHughesNBCS

Clippers guard Shai Gilgeous-Alexander, the 11th overall pick, has been getting to the rim at will in the Vegas Summer League. He has a good handle, a very quick first step and long strides at 6-6. It's only SL, but he's been impressive.
And even when players were sitting on his hip, SGA used his 7-foot wingspan to convert close-range looks unbothered. 
Looks won't be that easy once the regular season rolls around since opponents will undoubtedly slide under pick-and-rolls in an effort to pack the paint and cut off driving lanes. But if Gilgeous-Alexander can gain some more confidence in his mid-range jumper to keep defenses guessing, his ceiling should rise in a major way. 
NBA News
via Bleacher Report – NBA https://ift.tt/2gMI6gF
July 11, 2018 at 02:58PM