Lakers Rumors: Latest on Carmelo Anthony, LeBron James and 2019 Targets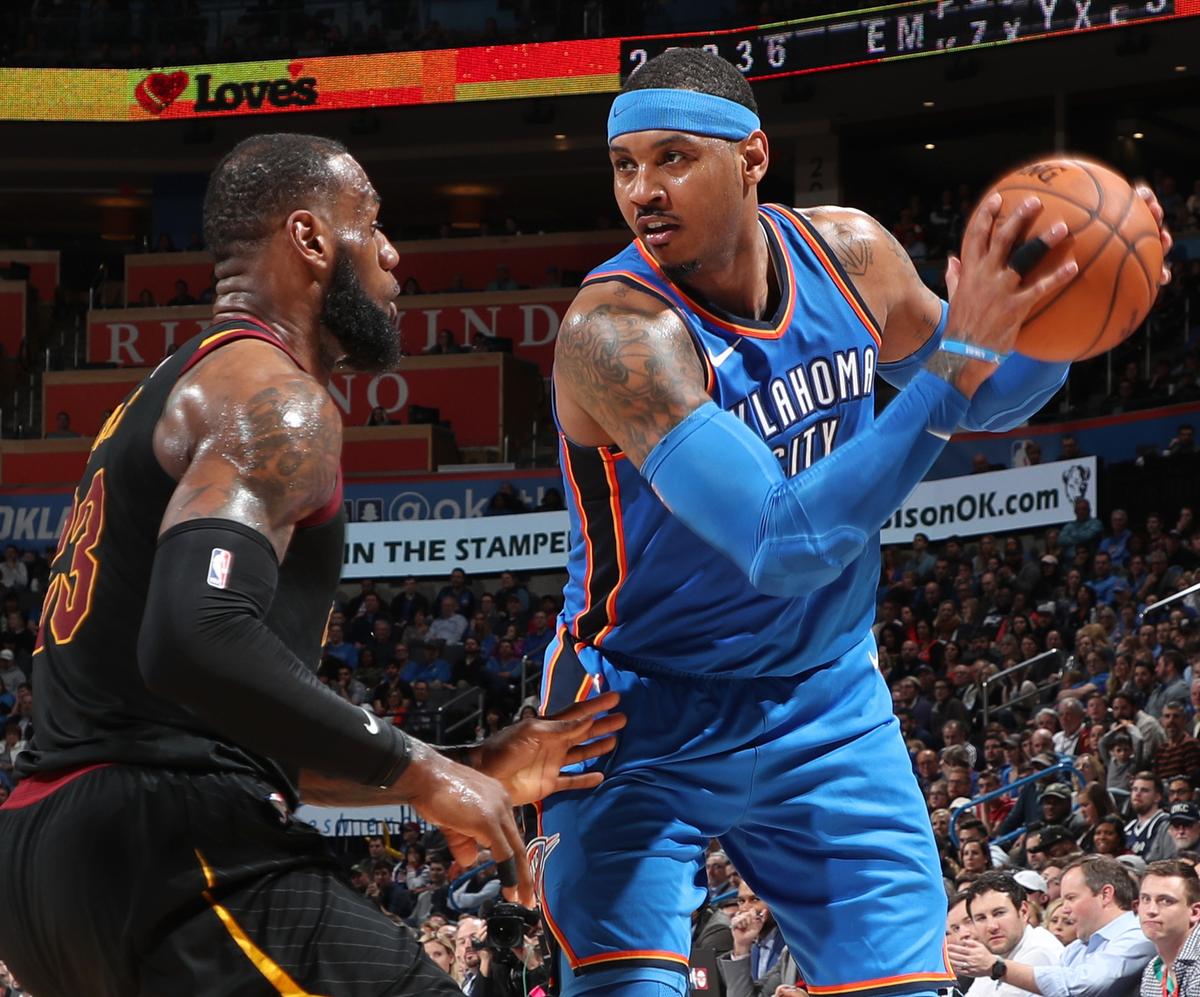 Joe Murphy/Getty Images
Congrats, Los Angeles Lakers fans—your wildest dreams have become a reality.
LeBron James is officially a member of the purple-and-gold family:
But honeymoons don't always last the longest in the NBA world, so it's right back to business for arguably the most interesting franchise in basketball.
The Lakers have kept busy in the wake of the LeBron signing, and still the rumor mill is churning right along. The latest batch of reports include a Banana Boat buddy of James', communication between head coach and new superstar and a beaming forecast for the 2019 summer.
Carmelo Choosing Between Rockets and Lakers?

Layne Murdoch/Getty Images
The Oklahoma City Thunder have two choices: Hope Carmelo Anthony can bounce back from a disappointing first go-round in the Sooner State or save more than $100 million in salary and luxury tax.
In other words, the Thunder have one choice—show Anthony to the exit.
ESPN's Adrian Wojnarowski and Royce Young previously reported the Thunder's front office "is working through scenarios that will culminate in the inevitable this summer: an ending to the brief Carmelo Anthony partnership." The ESPN scribes said this could happen via trade, the stretch provision or a combined buyout and stretch.
Either way, Anthony will soon be looking for a new home. And it sounds like the Lakers are on his short list of possible landing spots.
"The guess here, after speaking to people [at the Las Vegas Summer League], is that the decision is between Houston or Los Angeles," Tim Bontemps wrote for the Washington Post.
Anthony owns both a home in Los Angeles and a decade-plus friendship with James. If the Lakers make a pitch, it wouldn't be easy to resist.
That said, L.A.'s interest is tough to gauge.
On the one hand, the club could use more scoring and outside shooting around James. Anthony's career-low 16.2 points per game last season would have led the Lakers. Ditto his personal-best 169 triples.
On the other hand, this version of Anthony is unlikely to push L.A. over the championship edge. So, the floor time he'd get might be better utilized as developmental minutes for the Lakers' young forwards, including Brandon Ingram and Kyle Kuzma.
Anthony met with officials from the Houston Rockets and Miami Heat in Las Vegas, per Wojnarowski, so perhaps he's closer to other destinations than L.A.
LeBron, Luke Walton Have Communicated?

Adam Pantozzi/Getty Images
As the dust settled on James' latest monumental decision, a report from Yahoo Sports' Jordan Schultz suggested an ominous start to the proceedings. A source told Schultz that James had "zero contact" with Walton during the recruiting process.
Considering how scrutinized each of James' relationships with his NBA coaches has been, this seemed to be Walton's introduction to the fishbowl that is coaching LeBron.
But more recent reports say there has been dialogue between the two.
"Walton and James…had actually communicated via text message, sources with knowledge of the situation told The Athletic, and the Lakers are confident James is comfortable with Walton on the bench," Bill Oram reported.
ESPN's Ramona Shelburne also said Walton "exchanged text messages with James and made plans to meet in person soon."
While this sounds more promising than the previous narrative, the true test of the LeBron-Walton dynamic won't come until they're working in games together. To that end, Walton already revealed one strategy for how he'll deploy James, per Tania Ganguli of the Los Angeles Times:
Tania Ganguli @taniaganguli

Luke Walton loves that he has so many ball handlers on the roster now, but: "We're gonna have the ball in LeBron's hands a lot." https://t.co/vYM4o6AlZt
The initial reaction to this strategy might be "DUH!" considering James is a four-time MVP with the 11th-most career assists in NBA history. But it will be interesting to see how Walton balances James' touches with those of pass-first players like Lonzo Ball and Rajon Rondo.
Once the effectiveness of that game plan becomes clear we can get back to overanalyzing how James and Walton are getting along. 
Lakers 'All But Assured' of Adding Elite Player in 2019?

Ronald Cortes/Getty Images
Outside of locking up James for at least the next three seasons (he has a player option for 2021-22), the Lakers have been careful not to disrupt their future cap space with other signings.
Rondo, Kentavious Caldwell-Pope, Lance Stephenson and JaVale McGee all got only one-year deals from the Lakers, preserving the franchise's flexibility for next summer's talent-rich free-agency crop.
NBA.com's David Aldridge believes that careful planning could pay big dividends down the line:
"With all due respect, LeBron didn't leave Cleveland and his home because of Lance, Rondo, etc. With James on the ground in L.A., the Lakers are all but assured to get one of the group of elite players who'll be unrestricted in 2019—Kawhi Leonard, Klay Thompson, Kemba Walker or someone else who shakes free or is otherwise available."
This isn't the first time such sentiment has been expressed.
When the Lakers opened a path to two max contract slots at the trade deadline, general manager Rob Pelinka said the club could "do two max players [this summer] if that's what we decide to do, or one in 2018 and then following it up with another one in 2019," per ESPN's Ohm Youngmisuk.
Sources later told ESPN's Zach Lowe that James wasn't pushing for a second star "now," with Lowe adding James "has faith in the combined powers of his supernova talent and the Lakers brand."
Granted, that doesn't guarantee another elite talent is L.A.-bound, but the Lakers' appeal could be incredible next summer. It's hard to imagine there isn't at least one star excited about the idea of teaming up with James on the most glamorous organizations in one of the NBA's premier markets.
Statistics used courtesy of Basketball-Reference.com.
NBA News
via Bleacher Report – NBA https://ift.tt/2gMI6gF
July 11, 2018 at 08:07AM