NBA Summer League 2018: Tuesday Schedule, Latest Las Vegas Standings and Stats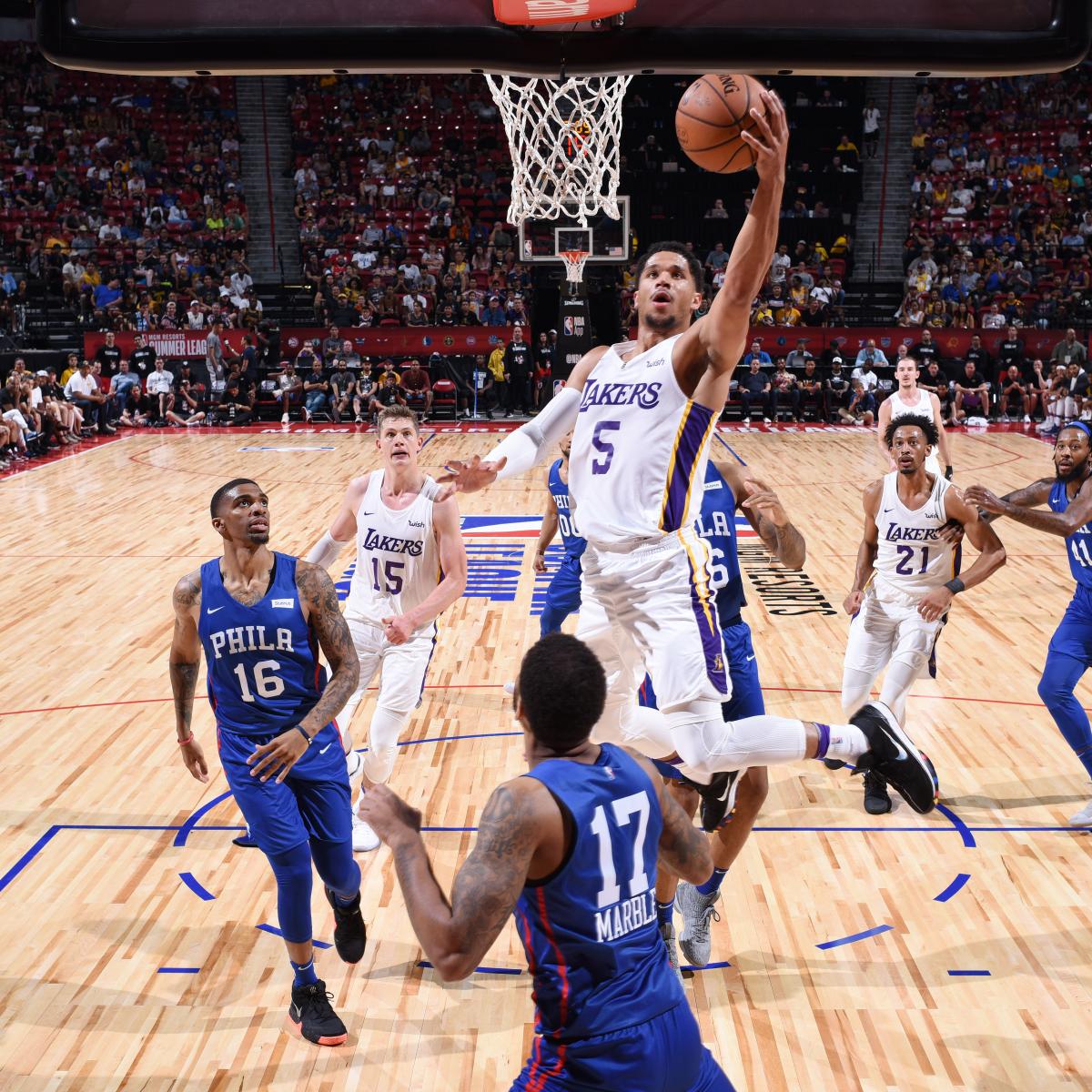 Garrett Ellwood/Getty Images
Ten teams take to the court Tuesday in the slowest day of action yet at the Las Vegas Summer League. 
Although only five games are on the schedule, there's plenty of intriguing storylines worth keeping an eye on. 
Portland and the Los Angeles Lakers are in search of their third wins in Las Vegas, which would put them level with Denver, Houston and Phoenix in the standings. 
Tuesday's games feature the top scorer and rebounder in the Las Vegas Summer League, but the biggest player news revolves around an injury to a top-five pick. 
In addition to some of the stat leaders taking the hardwood, a trio of top-10 picks from the 2018 NBA draft will be on display as well in the limited slate of contests.  
Tuesday Schedule
San Antonio vs. Portland (4 p.m., NBA TV) 
Utah vs. Miami (4:30 p.m., ESPNU) 
Atlanta vs, Chicago (6 p.m., NBA TV) 
Sacramento vs. Memphis (6:30 p.m., ESPN2) 
Los Angeles Lakers vs. New York (8:30 p.m., ESPN2) 
All Times ET
Summer League Standings
Denver (3-0) 
Houston (3-0) 
Phoenix (3-0) 
Los Angeles Lakers (2-0) 
Portland (2-0) 
Boston (2-1) 
Charlotte (2-1) 
Cleveland (2-1) 
Dallas (2-1) 
Minnesota (2-1) 
New Orleans (2-1) 
Oklahoma City (2-1) 
Orlando (2-1) 
Chicago (1-1) 
Memphis (1-1)
New York (1-1) 
San Antonio (1-1) 
Utah (1-1) 
Detroit (1-2) 
Golden State (1-2) 
Indiana (1-2)
Los Angeles Clippers (1-2)
Milwaukee (1-2) 
Washington (1-2)
Atlanta (0-2) 
Miami (0-2)
Sacramento (0-2) 
Brooklyn (0-3) 
Philadelphia (0-3) 
Toronto (0-3) 
Stat Leaders
Points Per Game 
John Collins, Atlanta (24.0) 
Malik Monk, Charlotte (23.0) 
Josh Hart, Los Angeles Lakers (21.5) 
Trevon Blueitt, New Orleans (21.0) 
Kevin Knox, New York (20.5) 
Rebounds Per Game 
Tyler Dorsey, Atlanta (14.0) 
Amile Jefferson, Minnesota (13.0) 
Landry Nkono, Miami (13.0) 
Ante Zizic, Cleveland (12.5) 
Thomas Bryant, Washington (12.0) 
Assists Per Game 
Chris Chiozza, Washington (9.0) 
Wade Baldwin IV, Portland (7.5) 
Trae Young, Atlanta (7.0) 
Shaquille Harrison, Phoenix (6.7)
Daniel Hamilton, Oklahoma City (6.7) 
Bagley Out Of Clash Between Top 5 Picks, Rest Of Summer League 
When the 2018 NBA draft unfolded, a few intriguing Summer League matchups came into play. 
While some of them delivered on the hype already, we won't get to witness a showdown of top-five selections between the Sacramento Kings' Marvin Bagley III and Jaren Jackson Jr. of the Memphis Grizzlies. 
Bagley, the No. 2 overall pick in the 2018 draft, was ruled out for 1-2 weeks with a bruise on his pelvic bone, per Sacramento's official website. 
Even without Bagley in the lineup, the Kings possess plenty of talent on their Summer League roster, including Harry Giles and Justin Jackson, who are averaging over 10 points per game. 

Rocky Widner/Getty Images
Although Sacramento has a nice collection of players, the spotlight will be centered on Jackson, who averaged 8.5 points and nine rebounds per contest in his first two games in Las Vegas. 
Jackson and the Grizzlies need a strong performance Tuesday after losing by 30 points to No. 6 overall pick Mohamed Bamba and the Orlando Magic. 
One intriguing story to watch in the Memphis-Sacramento clash is the meeting of former star guards for Kansas, as Memphis' Wayne Selden faces Sacramento's Frank Mason. 
Hart Looking To Lead Lakers To 3rd Straight Win 
Everything appears to be going in favor of the Lakers at the moment. 
Not only did they land the top free agent in LeBron James, they're 2-0 in Summer League play entering Tuesday. 
Villanova product Josh Hart's play is one of the main reasons why the Lakers come into their matchup with the New York Knicks with a chance to remain undefeated. 

Jim Mone/Associated Press
Hart ranks third in the Las Vegas Summer League in scoring with 21.5 points per game, but he isn't the only player turning heads in purple and gold. 
Draft picks Moritz Wagner and Svi Mykhailiuk are averaging over 10 points per contest, as well as Nick King, which gives the Lakers one of the more formidable offenses.
However, it won't be easy for the Lakers to keep their perfect mark, as they face a Knicks team with a solid pair of rookies in Kevin Knox and Mitchell Robinson, who could make life hard for the Lakers defensively. 
Knox looks like a good fit in the Knicks system on the wing, while Robinson is out to prove everyone wrong after falling out of the first round of June's draft. 
Follow Joe on Twitter, @JTansey90.
Statistics obtained from NBA.com.
NBA News
via Bleacher Report – NBA https://ift.tt/2gMI6gF
July 10, 2018 at 04:08AM