NBA Summer League 2018: Scores and Highlights from Tuesday's Las Vegas Results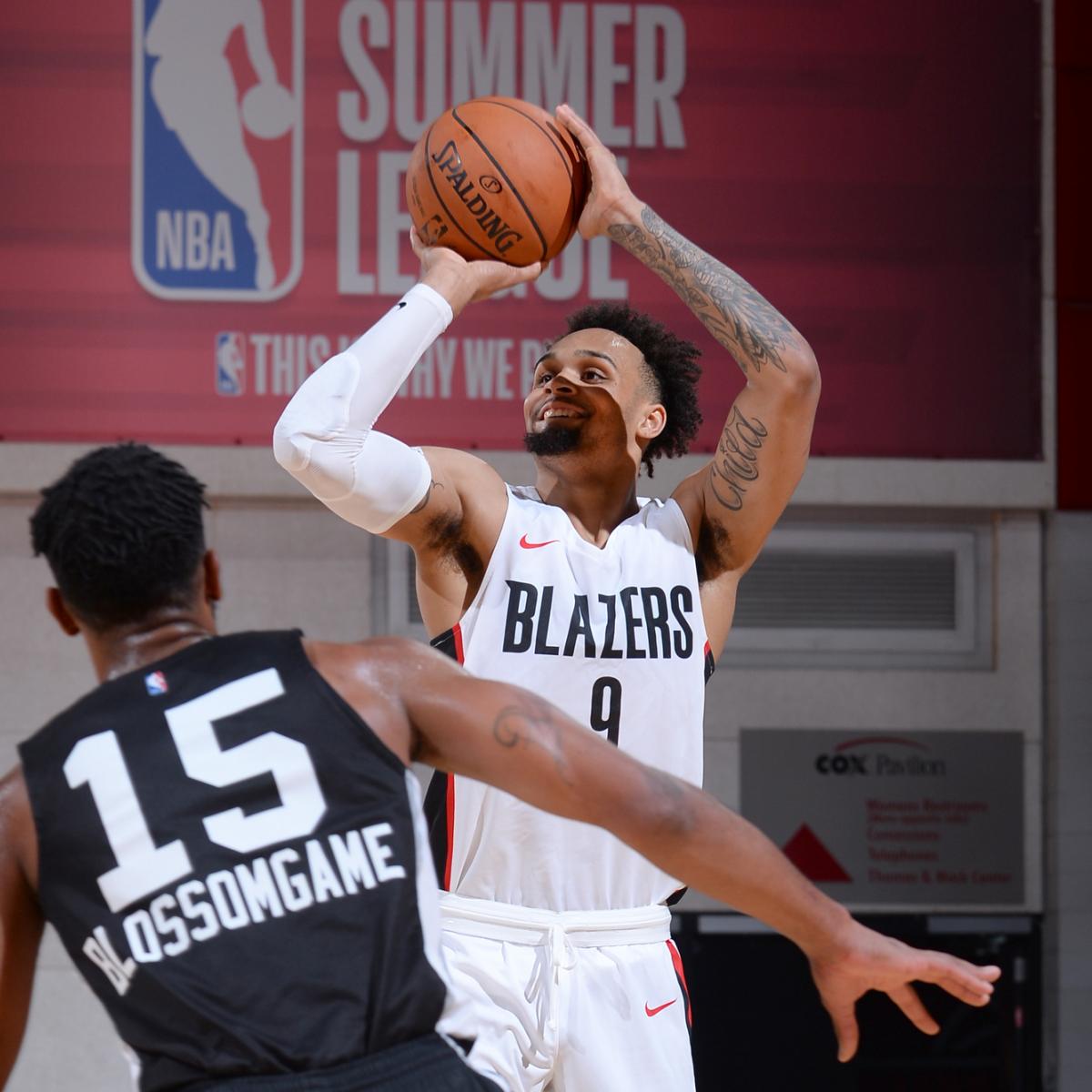 Bart Young/Getty Images
Preliminary play at the Las Vegas Summer League wrapped up Tuesday with five games at Thomas & Mack Center and Cox Pavilion as teams continued to jockey for preferred positioning before the bracket for elimination play was finalized.
Below, we'll break down the action from Sin City and highlight the day's top performers with an eye on which standouts could wind up being big contributors when the 2018-19 season gets underway. 
Tuesday's Schedule and Results
Portland Trail Blazers def. San Antonio Spurs, 95-89
Utah Jazz vs. Miami Heat, 4:30 p.m. ET (ESPNU)
Atlanta Hawks vs. Chicago Bulls, 6 p.m. ET (NBA TV)
Sacramento Kings vs. Memphis Grizzlies, 6:30 p.m. ET (ESPN2)
Los Angeles Lakers vs. New York Knicks, 8:30 p.m. ET (ESPN2) 
Tuesday's Takeaways

Portland's Investment in Gary Trent Jr. Could Pay Big Dividends
Gary Trent Jr. wasn't a first-round pick, but his bank account will soon make it seem like he was. 
The Duke product signed a guaranteed three-year deal with the Portland Trail Blazers after coming off the board at No. 37 overall, and he'll reportedly rake in $3.9 million over the life of that deal, according to ESPN.com's Bobby Marks.  
For a team that already had a bloated cap sheet, the Blazers' move may have raised some eyebrows. 
But on Tuesday, Trent made it clear why Portland believes in him. 
The 19-year-old dropped a game-high 20 points on 7-of-17 shooting, including 4-of-8 from three, and he dipped into his bag of scoring tricks to scorch the Spurs from a variety of angles. 
While he wasn't conventionally labeled as a catch-and-shoot threat throughout the pre-draft process, Trent looked particularly sharp against San Antonio when he was breaking out one and two-dribble pull-ups off screens or in isolation sets: 
The Blazers already have a crowded rotation with CJ McCollum, Evan Turner, Seth Curry, Nik Stauskas and Moe Harkless all under contract, so it's hard to see Trent picking up regular minutes in the short term. 
But if his scoring arsenal continues to expand, the Blazers' investment should look savvy once the depth chart isn't as cluttered. 
NBA News
via Bleacher Report – NBA https://ift.tt/2gMI6gF
July 10, 2018 at 03:07PM