Grealish departure inevitable, says Villa boss Bruce
Grealish departure inevitable, says Villa boss Bruce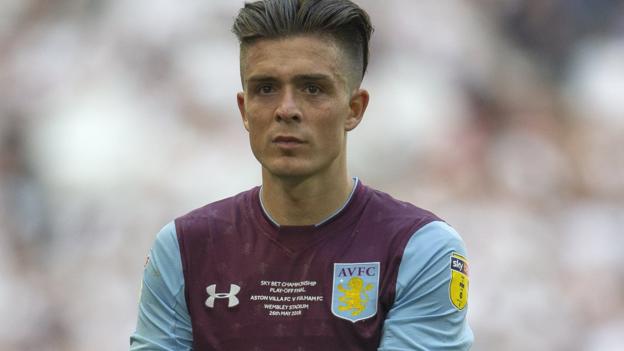 Aston Villa boss Steve Bruce says the club will have no option but to sell midfielder Jack Grealish.
The Championship side, who lost to Fulham in last season's play-off final, need to find about £40m to comply with Financial Fair Play regulations.
Grealish, 22, has scored nine goals in 92 league appearances for Villa.
"He's a special talent. Yes, you don't want to lose him, but the inevitable thing is, we have to," Bruce told Sky Sports.
"We have to to keep the club up and running and keep it in line with Financial Fair Play."
He added: "We might have to take decisions which aren't going to be easy. We will have to generate some money and inevitably that's going to be through player sales.
"And it's going to be people who I don't want to sell. The obvious one is Jack. People will know we've got financial problems and they'll sit and wait until deadline day possibly, I hope that doesn't happen but we've got to wait for it."
Former England Under-21 international Grealish has been linked with a move to Premier League side Tottenham.
Villa must 'ride the storm'
Villa have endured a tumultuous few weeks since losing the Championship play-off final in May, costing them a potential £160m in future revenue.
They missed a £4m tax payment in June, with owner Tony Xia understood to have cash flow problems because of strict rules about money leaving his native China.
The club reached an agreement with HM Revenue & Customs over its outstanding debt soon after, but Xia has been forced to restructure his senior management team.
Chief executive Keith Wyness was suspended and then subsequently left Villa Park, and director of football Steve Round departed last Wednesday.
Xia issued an open letter to fans on Friday saying the club was not up for sale but faced a "reality check".
Bruce acknowledged that supporters needed to know what the club's situation was and admitted they could be forced to sell other players, apart from Grealish.
"We are a big club with a huge fan base – that will never change. We're having a tough time at the moment but we've got to try and steer our way through it and ride the storm," he said.
"I've accepted it and committed myself to the cause and I think it's better to be open and honest with the supporters and say how it is."
Soccer News
via BBC Sport – Football https://ift.tt/OHg7x6
July 10, 2018 at 02:30AM