After revealing his own struggles, players come to Morecambe's Ellison for depression advice
After revealing his own struggles, players come to Morecambe's Ellison for depression advice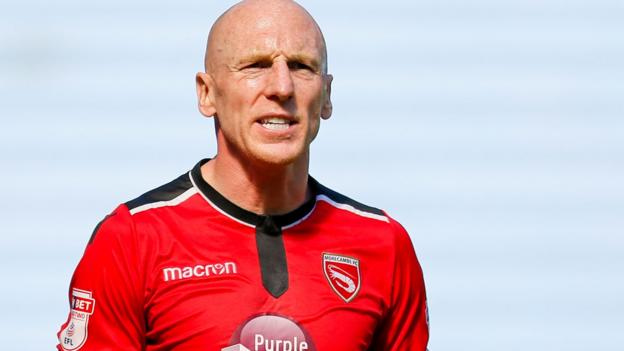 Morecambe midfielder Kevin Ellison says three fellow footballers have already visited him seeking advice since he revealed he is living with depression.
The 39-year-old posted on social media last week about his struggles with mental health.
"These guys, who you would never think would have problems, contacted me privately to me to ask for advice," Ellison told BBC Radio Lancashire.
"I don't want anyone to go through what I went through."
Ellison, who has made more than 620 league appearances over the course of his career, says encouraging other players to open up about any mental health issues is the "whole reason" he made his own struggles public.
"I'd become a very good actor in hiding my problems," he said. "I am quite loud and a prankster but you don't know what people are going though on the inside.
"I've had one or two people say to me 'I'm sorry, if only I knew'. But how were they meant to know?
"I lived at my ex-partner's for 18 years – and the last six years I lived with her she didn't know I was going to seek help.
"If she couldn't see it, how were team-mates who were there for a season or two meant to pick up on things?"
Former Hull and Rotherham man Ellison revealed that he had "bottled up" the state of his mental health for four years, and decided to make it public after speaking to Crawley Town defender Mark Connolly, who has previously spoken about his own battles in public.
"I saw a tweet from Mark Connolly and everything just came back to me," he said. "It was like 'wow, I feel for this kid'.
"I never spoke to my ex-partner, my mum and dad or brothers or anything. He was the one who made me speak out.
"I already had certain thoughts I'd written down on my phone and it actually took me four or five times to press that send button just to open up.
"I'm definitely in a better and happy place now. I've had some dark moments over the time, but now I feel I'm the best I've been for a few years."
Soccer News
via BBC Sport – Football https://ift.tt/OHg7x6
June 29, 2018 at 07:36AM