Michael Porter Jr. Increasingly Becoming NBA Draft's Biggest Wild Card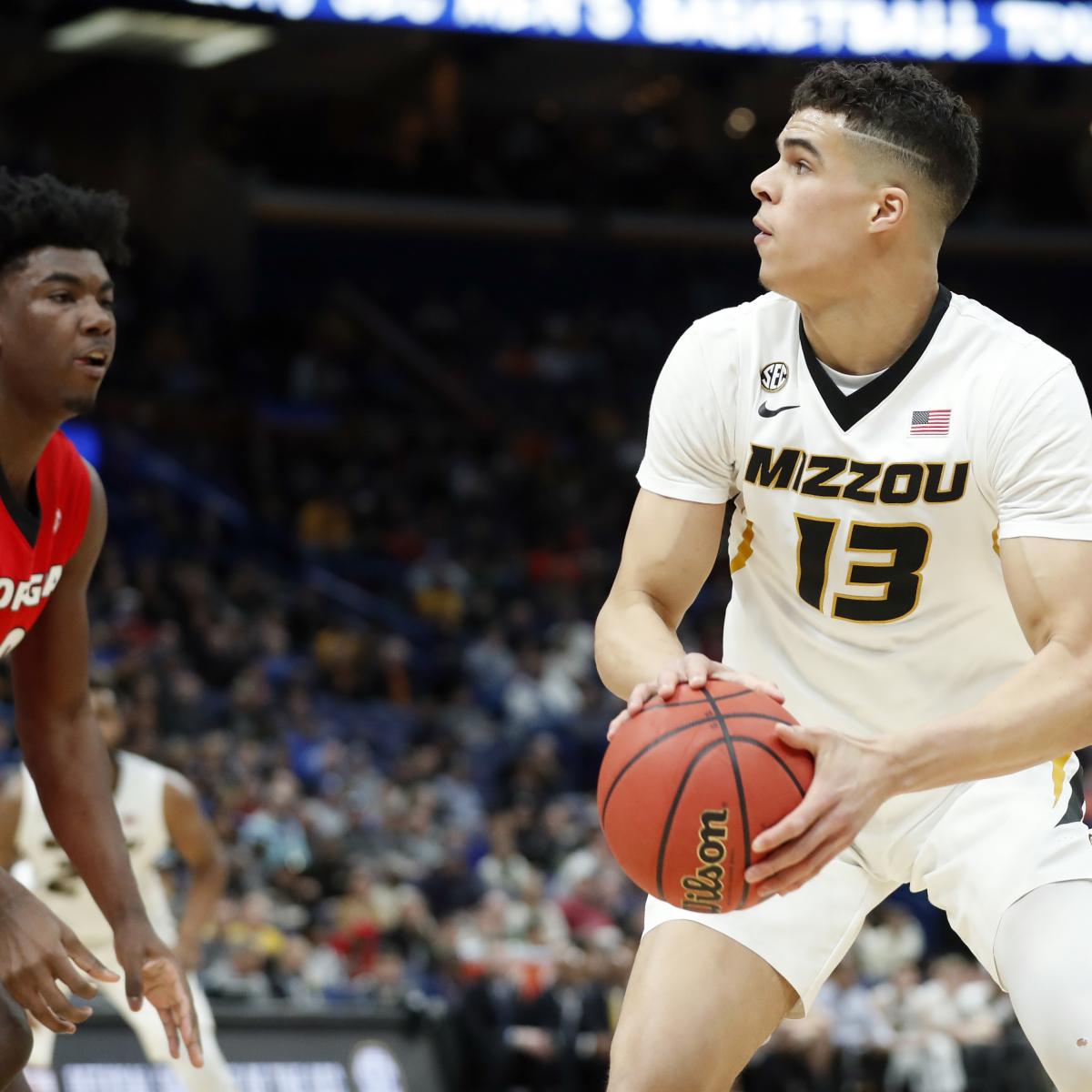 Jeff Roberson/Associated Press
NBA scouts have watched Michael Porter. Jr. since 2014 at USA basketball camp. Yet one week before the 2018 draft, he's the lottery's biggest wild card. 
Presumed to have recovered from November back surgery, Porter and his camp raised eyebrows on Thursday, the day before his second scheduled pro day, telling teams he "developed some inflammation that wrapped around his nerve and caused massive spasms," per ESPN's Jonathan Givony.
Considering Porter is receiving looks from teams high in the lottery, it's become a development worth investigating closer.
Prior to his camp's announcement, a source close to Porter's circle told Bleacher Report the family "feels good about him going top four," and that "more than likely" it's the Sacramento Kings who could pull the trigger at No. 2. 
This comes a day after USA Today's Sam Amick reported the Kings could take Porter. A rival executive confirmed to B/R that he could see Sacramento selecting him that high. 
Doing so would undoubtedly mean taking on risk, particularly with Duke's Marvin Bagley III, Slovenia's Luka Doncic, Texas' Mohamed Bamba and Michigan State's Jaren Jackson Jr. all attractive, qualified candidates once Arizona's Deandre Ayton is off the board at No. 1. 
So why would Sacramento or any other of these top teams be willing to gamble on Porter, who played 53 minutes as a freshman and now has questions to answer about his durability?

Jeff Roberson/Associated Press
Why teams may gamble
Porter measured 6'10 ¾" at the combine, which in today's league, works at the center position. But his game mirrors a wing's, pointing to mismatch scoring potential as a combo forward.
He didn't even play well in Missouri's final two contests and still managed to combine for 28 points. Porter just has a knack for putting the ball in the basket, and he can do it in a variety of ways, often outside the paint, where his shot is extremely difficult to contest for opposing 3s and 4s. 
At the 2016 U18 Americas Championships, he scored 15.8 points in just 21.0 minutes. In 2017 during three counselor games at Adidas Nations, he averaged 17.3 points in 20.0 minutes. Between his unique size, versatile shot-making ability and instincts, it's easy to picture Porter developing into a top option to feature. 
And that's exactly what teams like the Kings, Atlanta Hawks, Memphis Grizzlies, Dallas Mavericks, Orlando Magic and Chicago Bulls each could use. 
Many scouts believed before the season and surgery that Porter would be the No. 1 pick in the draft. These teams could now look at it as a chance to buy low for value—the way the Philadelphia 76ers did with Joel Embiid when a pre-draft injury made it tougher for the Cleveland Cavaliers and Milwaukee Bucks to take a chance. 
Having scouted him in high school while playing for Brandon Roy at Nathan Hale, I believe there is no question that Porter is pro-level scorer who's shown he can take over games and carry a team. The issue teams now face is deciding if that success will translate, having barely seen him over the past year, and whether his body will allow it to.

Jeff Roberson/Associated Press
Why teams would pass
Explosive was never the right word used to describe Porter before the injury. Coordinated was a more accurate term. After watching him at Missouri, the lack of explosion was evident, more so than in years' past. He was stuffed at the rim on multiple occasions.
Porter, of course, hadn't played all season, and therefore wasn't properly conditioned. But not seeing any returned burst doesn't make it easier to roll the dice. Even if the medical reports are clear, they won't account for lost bounce.
Just looking at his body shape, the eye test notices a high waist. Between that and his back, will he able to sit down and slide defensively?
In terms of other basketball-related reasons to be hesitant, there are a few worth considering.
He totaled one assist through 53 minutes this season. Last summer at Adidas Nations, he combined for one assist in three games (60 total minutes). Porter isn't a big passer, and his shot selection often includes hero jumpers.
He's a perimeter big whose handle only allows him to attack in straight lines. Porter isn't particularly creative with his dribble. His method for shot-creating is often just rising and firing over his man—because he can at his height—even if he's off balance. 
Porter also turns 20 years old a week after the draft. Jackson and Kevin Knox (another combo forward) are still 18. Doncic and Bagley turn 20 in February and March, respectively. And it seems safe to assume that Porter will need at least a year to regain his lower body strength and confidence while also having key skills to improve.
If the top of the draft didn't appear so stacked, it would be easier to see why a team felt the potential reward was worth the risk with Porter. But taking him top eight, nevermind top two, would mean having to pass on more proven—and apparently healthier—star prospects with similar upside.
Where does Porter land?
Porter could go anywhere from No. 2 to the Kings to late in the lottery, depending on medical reports and who wants to gamble. Yahoo Sports' Shams Charania already reported the MRI on his hip returned clean, and chances are, team doctors won't find any red flags based on his physical results.
The Kings appear to be a real threat to draft Porter and fill a major need. The Hawks this week worked out Trae Young, Jackson, Bamba and Bagley, and seem more likely to choose from one of those more familiar players.
Other than the Kings, the Mavericks could give Porter a look, as could the Bulls. Porter's father told Missouri radio station KMOX, per College Basketball Talk, that the Bulls were the only team Porter underwent a physical for. He's also been training this month in Chicago.
The Cavaliers and New York Knicks would also make sense as possible suitors if he slips that far. But at this stage, even with just six days to go, it's a guessing game until teams review the medicals and do more homework following Porter's latest back spasms.
The only thing that's clear is that Porter has the strangest, widest draft range of any prospect projected in the lottery.
NBA News
via Bleacher Report – NBA https://ift.tt/2gMI6gF
June 14, 2018 at 06:48PM