Scott Redding found out he'd lost Aprilia MotoGP ride on social media
Scott Redding found out he'd lost Aprilia MotoGP ride on social media
Scott Redding says he found out he would not be retained by the Aprilia MotoGP team for 2019 on social media.
Redding joined Aprilia on a one-year deal for 2018 and will not continue with the outfit past the end of his current contract, as it has already signed Suzuki outcast Andrea Iannone instead.
Iannone's Aprilia deal was confirmed last Friday, and Redding says was not informed that he'd be losing his seat ahead of the official announcement.
"They didn't inform me. Social media informed me," Redding said. "We spoke about it, I was not happy. There was some confusion.
"It's not nice to find out that way because honestly the team is great. I've not had a bad word to say about them at all.
"But this was a bit like, 'come on, we get along well, we're quite close, I would've thought you would've told me'.
"I think for them was also a hard bullet to bite, to tell me, because they feel where I am, but they need something to make the result."
Having scored only five points in his first six races on the RS-GP, Redding said the news was easier to take because it has not been unexpected.
"I'm not really disheartened about it," he said. I saw it coming, that's the only thing that I had in the pocket was, it wasn't from nothing, making good results and then they kick me out.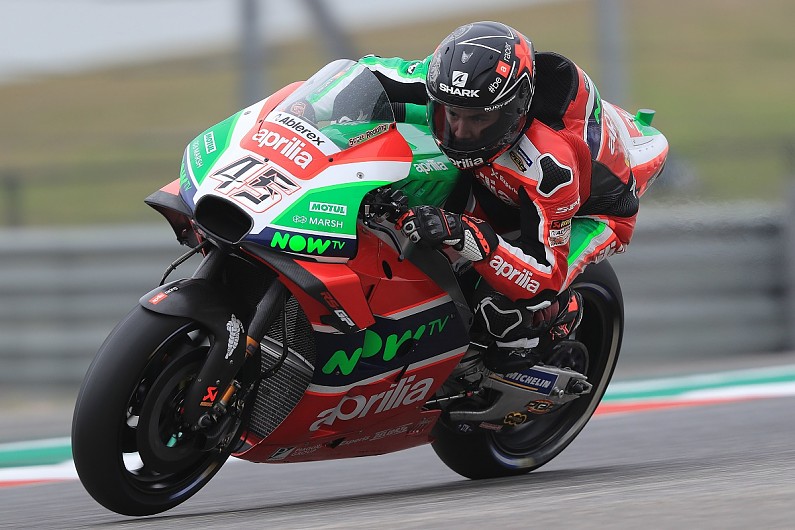 "It was no results really coming, we were trying but we just cannot put the result on the paper on Sunday.
"I've been a bit unlucky and sometimes we've had some mechanical problems, been crashed out.
"We've been struggling to make the high performance, so I knew it was around the corner."
The Briton did, however, express regret that he was not given more time to prove himself, with his Aprilia future decided less than a third of the way into the 2018 campaign.
"The problem here is, they sign you for a year, and they already want to sign the next one after two races," he said. "You don't even have a chance to prove yourself.
"It's normal when someone changes the bike, the first half you're adapting, you're understanding, the second half should be a step.
"But they're already judging you on this area, so on that hand you're a bit handicapped with it, you can't do much with it. And that's what's hard.
"I would like to see improvement throughout the year for myself, and it's not going to change my future here, but at least I can understand myself and understand that I can help them develop the bike."
Racing News
via All news – Autosport https://ift.tt/2uOa9Ei
June 14, 2018 at 08:15AM